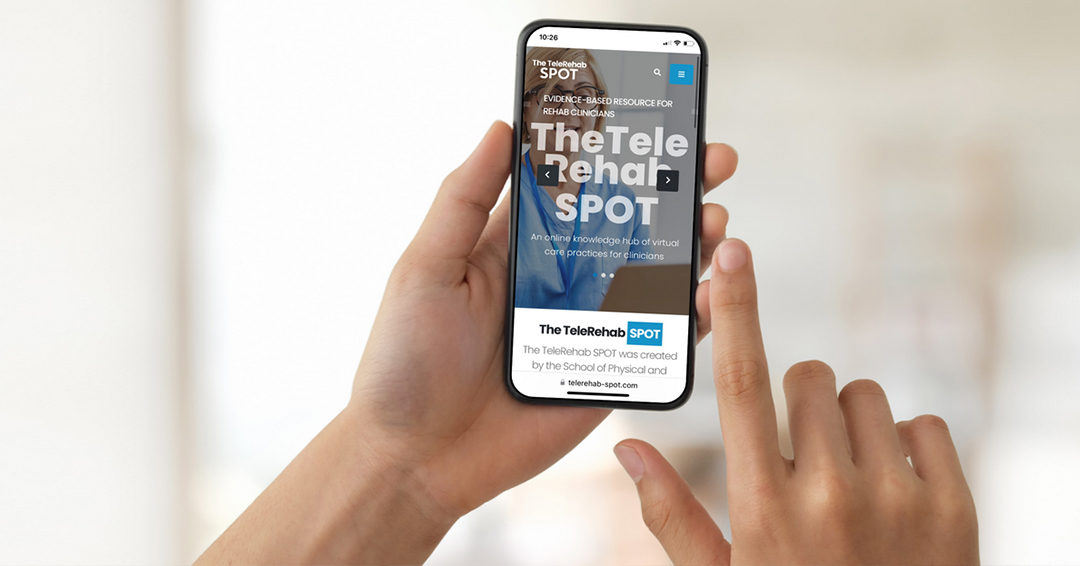 New online knowledge hub of virtual care practices for rehab clinicians launched by McGill's School of Physical & Occupational Therapy  
Launched in February 2023, The TeleRehab SPOT online knowledge hub created by the School of Physical and Occupational Therapy (SPOT) at McGill University supports rehabilitation clinicians (occupational therapists (OTs), physiotherapists (PTs) and speech-language pathologists (SLPs)) in developing their practice in telerehabilitation by curating the most current, evidence informed resources and making them easily accessible online. 
The COVID-19 pandemic rapidly accelerated a pivot to the development of virtual, evidence-based resources to support remote delivery of rehabilitation services.  Given the resulting explosion of research, clinical tools and procedures within the field, and an urgent need for clinicians to have swift accessibility to these resources, an online knowledge hub was created to provide access to evidence-informed digital tools and resources. With funding from Health Canada through the Dialogue project* and supported by the SPOT clinical community, Caroline Storr, OT, MBA, Associate Professor (Professional), SPOT, gathered an advisory group consisting of SPOT researchers and clinical managers from private and public rehabilitation settings.  A small working group led by Prof. Storr and a project coordinator then worked with a Quebec website design firm to create the bilingual site.  
The TeleRehab SPOT is a database-driven website that features easy-to-use search functions located on both the overall site and under each main category. Clinicians can find over 300 resources, including telerehabilitation start up kits, assessment tools, treatment ideas, best practices suited to remote service delivery, as well as information regarding professional development and professional networking opportunities. Resources are categorized into seven domains: cognition, neurology, musculoskeletal, communication, mental health, pain and community. Icons clearly indicate the type of resource and the available evidence behind it. The website content will be maintained and updated as new tools, research and platforms emerge.   
The TeleRehab SPOT aims to serve rehabilitation knowledge users in remote and urban settings by providing clinicians with easy access to current virtual tools and resources in their original language of development. All rehabilitation clinicians can benefit from browsing the site on a regular basis and learning about the telerehabilitation resources available.   
*This initiative is funded by Health Canada, and supported by Dialogue McGill at McGill University, under the Action Plan for Official Languages – 2018-2023: Investing in Our Future. The views expressed herein do not necessarily represent the views of Health Canada, McGill University, and Dialogue McGill. 
Website link: https://telerehab-spot.com/