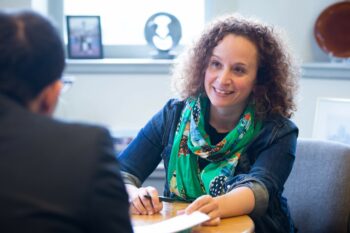 By Matthew Brett
Institute of Health Sciences Education member Dr. Mylène Dandavino was awarded the 2019 Wellness Award for Clinical Teachers by the Medical Student Wellness Committee this summer for her leadership in role-modelling wellness.

The student-voted award is given by the graduating class to a "clinical teacher that best models a commendable work-life balance through expert professionalism, clinical competence and exemplary self-care."

On the importance of wellness
Dr. Dandavino is the Associate Chair of Clinical Operations in the Department of Pediatrics and Program Head of Medical Inpatient Services at the Montreal Children's Hospital and has been an active member of the Institute of Health Sciences Education since 2003.

With a high risk of burnout across the health and social service professions Dr. Dandavino notes the importance of talking about wellbeing.

"Every day, we see people that need help and, as a healthcare provider, you always want to do more for them," she says. "You extend yourself. This intrinsic issue with health and social domains puts you under pressure to push your limits and if you are not careful, you end up putting yourself second."

Personal wellbeing is essential in this respect because wellness in life and the workplace translates to better patient care, Dr. Dandavino explains.

"We have to recognize when we're not doing well and the same with our colleagues. We owe it to ourselves and each other, but at the end of the day, it's for the patients. In pediatrics, you're really the one that needs to be on the ball and focused."

Finding balance, setting boundaries
Dr. Dandavino is a mother of three young boys and makes a point of integrating her family and work life, seeing it as more realistic than trying to completely separate personal and work life.

She makes sure to share certain aspects of her work life with her children. Dr. Dandavino has occasionally brought her children to the hospital, having them help bringing treats to the teams on service so that her children have better insight into her workplace and life.

Prior to the Children's Hospital relocation, their daycare was across the street from Dr. Dandavino's workplace so her children would join when trainees celebrated their last day of rotation with cake.

"It makes it less of a mystery and makes it healthier for them to know what I do, so that they understand why sometimes I must be away from them," she says.

Dr. Dandavino's family is a priority, so a work-life balance that allows her to be present in her children's lives is essential.

"My children are young so I have no choice," she says. "I have to be thinking about what they need while I work. I wanted to be involved in their school-life and committees because that's my way to show support for what they accomplish as well. It was a priority for me to choose a job that would allow me to stay involved. I take decisions on what new projects to engage in based on the impact it will have on the time I spend with them."

Role-modelling wellness
"I make a point of sharing how I organize my life and manage the different aspects of my life," Dr. Dandavino adds. "I encourage students to keep time for their families and whatever keeps them happy because that's important for our patients too. I don't think we can be good doctors if we're not doing well."

Sharing aspects of her family life also allows students to relate to Dr. Dandavino, making the learning environment more safe and open, which has tangible benefits.

"Having good relationships allows people to speak up and express their concerns, so whenever I'm on service I want people I work with to feel comfortable," she says. "I make a point to role-model this explicitly to trainees. It also encourages them to perform to their maximum potential because they feel good.

"I'm happy that students think this is the future of healthcare provision. "It's important to take care of ourselves and each other. And at the end of the day, our wellbeing benefits our patients."

September 11, 2019