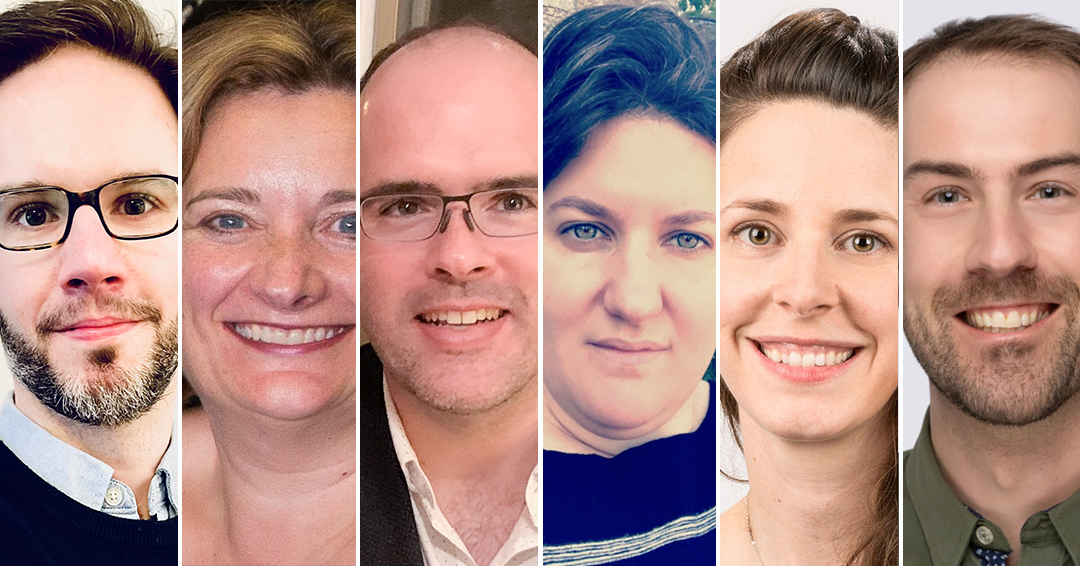 Six exemplary faculty members have been nominated by their learners and peers to the 2023-2024 Faculty Honour List for Educational Excellence.   
Created and promoted by the Faculty Development Office, the Faculty Honour List recognizes outstanding contributions to education in the Faculty of Medicine and Health Sciences in the areas of teaching; educational leadership and innovation; faculty development; and education research and scholarship.  
The six honourees were selected from nominations by the Faculty Honour List for Educational Excellence Award Selection Committee. They will be celebrated at the Faculty Honour List Symposium on June 8, 2023. 
Michelle Elizov, MD, MHPE, Associate Dean, Faculty Development, said: "The past three years have not been easy for anyone, including the educators, teachers and instructors in our faculty. However, so many have strived towards providing the highest levels of educational excellence in each of their schools, departments and units." 
"In particular, the valuable contributions of our six honourees this year have been deeply felt throughout our community. We are grateful for their continued advancement of our educational mission and their wonderful achievements," she added. "My colleagues at the Faculty Development Office and I are excited to celebrate this year's honourees in person on June 8." 
Farhan Bhanji, MD, Vice-Dean, Education, also congratulated the honourees. "Your dedication to teaching, learning and educational scholarship makes an enormous impact within your units and across our faculty. Thank you for your amazing commitment to the learners you teach and to your colleagues. In addition, a huge thank you to the Awards Committee members, who volunteer their time to make these important decisions." 
Meet this year's honourees and read testimonials from their Faculty Honour List nomination forms:  
Stéphane Beaudoin, MD
Associate Professor, Division of Respiratory Medicine, Department of Medicine
Fellowship Co-Director, McGill Interventional Respirology Fellowship Program
Quality & Pleural Care Lead, Division of Respiratory Medicine 
What his colleagues said:  
"He has an exceptional ability to motivate learners, creating a simultaneously supportive and stimulating environment."  
Another colleague highlighted Dr. Beaudoin's five teaching awards in his 10 years on faculty, as well as numerous commendations from students through the Thank A Prof initiative. 
What his learners said:  
"Dr. Beaudoin has always gone above and beyond what was expected as a clinician-educator. Not only did he care about teaching the science of medicine, but he also taught me important life lessons on the art of medicine."  
"I have never had such an urge to learn and improve on myself than when I worked with this preceptor…he believes in you to set your own standard of excellence even higher." 

Susan Drouin, RN, Doctor of Social Sciences
Associate Professor, Ingram School of Nursing
What her colleagues said:
One testimonial from a colleague noted Prof. Drouin's work to gain approval for McGill's first fully online bachelor program and Quebec's first online post-RN bachelor's degree, the Bachelor of Nursing (Integrated) or BNI.  
Another colleague also called Prof. Drouin an "inspiration and a role model in both leadership roles and in the classroom". 
"We all learn and benefit from her outstanding, innovative contributions and commitment to education at the ISoN (Ingram School of Nursing), the Faculty of Medicine and Health Sciences, and beyond. This learning is not by happenstance: Professor Drouin deliberately engages in mentorship relationships with her peers, including myself." 
What her learners said:  
"Professor Drouin is the best teacher I had in my program…The course is challenging in a way that it is truly academic but stays true to what is happening in real life." 

John Kildea, PhD
Medical Physicist, McGill University Health Centre
Assistant Professor, Gerald Bronfman Department of Oncology
Associate Member, Departments of Physics and Biomedical Engineering
Scientist, Cancer Research Program, Research Institute of the McGill University Health Centre 
What his colleagues said:  
One colleague called Prof. Kildea "one of the most devoted and successful educators in our department of 260+ faculty members." 
"[Prof. Kildea's] course notes for health physics have traveled beyond McGill and have been used by students and professionals in preparing other courses and exams, notably by individuals preparing for professional certification exams at the Canadian College of Physicists in Medicine and the American Board of Radiology. This course material, in the form of a short book, has been shared online and around the world." 
What his learners said:  
"I am particularly grateful for how he enables his students to get involved in activities outside of their primary project work. As an example, John invites his students to guest lecture in both of the courses mentioned above. For the students enrolled in the course, this approach provides opportunity to learn directly from individuals with expertise in a particular area. For his graduate students it provides an opportunity to strengthen their communication skills and, in my case, discover a passion for teaching." 

Norma Ponzoni, RN
Associate Professor, Ingram School of Nursing
Associate Member, Institute of Health Sciences Education 
What her colleagues said:  
"Norma was born to teach. Whether in the clinical setting or in the classroom, she excels at validating concerns, integrating various perspectives and providing feedback gracefully, tactfully and with humour. She is always available to meet with students who may be struggling with certain concepts, doing her utmost to ensure their success." 
"Norma offers outstanding support and coaching to clinical instructors, empowering them with the tools and the confidence to provide students with the best possible clinical experiences in an increasingly stressful healthcare context." 
What her learners said:  
"Norma is an excellent educator; she makes us feel welcomed and in a safe place during her classes. She is open-minded and really comprehensive." 
Stéphanie Thibaudeau, MD
Program Director and Assistant Professor, Division of Plastic Surgery, Department of Surgery, School of Medicine 
What her colleagues said:  
"Armed with exceptional training, Dr. Thibaudeau directly offers our residents among the best hand and extremity reconstruction teaching in the country. Furthermore, her teaching efforts have expanded to overlapping specialties such as orthopedic surgery, whose residents she has offered to train under her supervision as well." 
Another colleague noted that "one only needs to mention her name to a resident to elicit their appreciation of her commitment to their training".  
What her learners said:  
"She helped ensure I was set to start my elective and offered me the opportunity to meet to discuss anything I needed help with."  
"She also gave me the opportunity to push myself as a learner and to make the project my own," the learner added. 
Gabriel Venne, DO, PhD
Director and Associate Professor, Division of Anatomical Sciences, School of Biomedical Sciences
Associate Member, Institute of Health Sciences Education 
What his colleagues said: 
"[Prof. Venne] has already demonstrated great promise as a future academic and research leader. He has taught several undergraduate courses in the department and consistently receives glowing praise from both his students and his peers." 
"His major achievements were the design of two integrated courses in our undergraduate curriculum as well as a 'teach-the-teacher' program to train teaching assistants to lead tutorials for not only internal courses, but external workshops as well."  
What his learners said: 
"The devotion and care that [Prof. Venne] shows to his students, to his research, and to his colleagues is his superpower. This was a constant for the two years I knew him at McGill, and I am sure that generations of students will benefit from it in the future." 
"[Prof. Venne] was one of the most invested and interactive professors I've had at this school. He was obviously very well-versed in the course material and was always eager to answer any questions students had."
 
The Faculty Honour List Symposium is open to all learners, faculty and staff and will take place in the Meakins Amphitheatre at the McIntyre Building on June 8 at 4pm. To confirm your attendance, please register here.