Dr. Christoph Borchers, world renowned proteomics researcher, recruited to McGill University and Segal Cancer Centre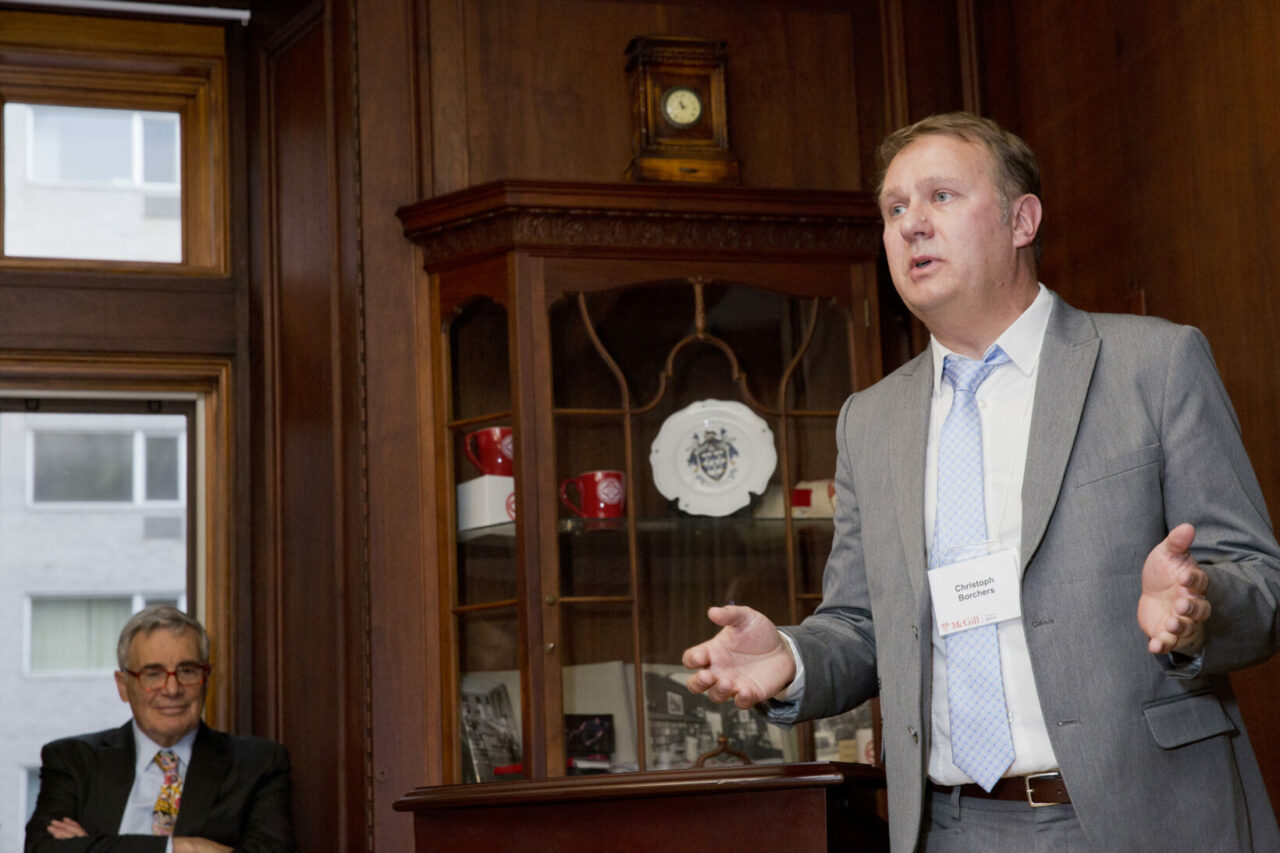 Montreal, June 16, 2015– Last night, Dr. Christoph Borchers was formally installed as the inaugural appointment to the Segal Family Chair in Molecular Oncology at McGill University. He will carry out his research on clinical proteomics at the Segal Cancer Centre at the Jewish General Hospital (JGH).

By recruiting Dr. Borchers, who continues to serve as Director of the University of Victoria (UVic) – GenomeBC Proteomics Centre, the JGH and McGill become a central hub for the first pan-Canadian proteomics program.

"Rather than duplicating the equipment we have in Victoria, the ideal solution is to use those facilities to analyze tumor samples from patients, available at the JGH through its major programs in tumor profiling and personalized medicine, thereby making the most efficient use of both institutions' strengths," Dr. Borchers explains. This partnership takes novel technologies for protein identification and quantitative proteomics developed at UVic and applies them to clinically testable hypotheses for biomarker discovery and validation at the Dubrovsky Molecular Pathology Centre. They will then be evaluated at the Segal Cancer Centre's Clinical Research Unit to determine whether they can help match the best targeted treatment to each individual patient. Proteomics holds the promise of providing deeper insights into biological processes underlying cancer by identifying the proteins expressed in a patient's tumor.

Dr. Borchers explains the importance of his research for the development of personalized medicine in cancer, "We can determine, very quickly and accurately, whether drugs are affecting the proteins that are active in a tumor. With a simple blood test, we correlate a genomic profile with a proteomic profile, giving us a very accurate diagnostic tool to help define a therapeutic strategy, and to modify it over time as a tumor evolves. This allows us to devise treatments that are most likely to be effective for each individual patient."

The significance of this initiative was recognized when it received funding as one of Genome Canada's ten new national Genomics Innovation Network nodes that will push the boundaries of technology in genomics, metabolomics, proteomics, and related sciences.

"After years of effort, the technology to bring proteomics into the clinic with the required sensitivity and precision is finally emerging, and Professor Borchers is among the world's leaders in making this possible," said Dr. Gerald Batist, Director of the Segal Cancer Centre and Professor of Oncology at McGill."It is a major achievement for us to be at the forefront of this field. What is being pioneered here will be a model for other hospitals to emulate in cancer and other diseases."

Dr. David Eidelman, Vice-Principal (Health Affairs) and Dean of Medicine at McGill University, said, "Cancer and personalized medicine are priorities in the McGill Faculty of Medicine's new strategic research plan, and we are deeply committed to fighting this disease with the JGH and our other partners in the McGill affiliated health network. We are delighted to be able to add Dr. Borchers' expertise and knowledge to our team of world-class cancer researchers, and we are confident the new Chair will help us accelerate the work being conducted for the benefit of patients provincially and nationally."

"It was the vision of Alvin Segal that ensured the realization of the Segal Cancer Centre at the Jewish General Hospital for the people of Quebec," said Myer Bick, President and CEO of the JGH Foundation. "The inauguration of the Chair is yet another manifestation of his generosity and vision. He believes that it is people and research that fuels the advancement of treatments, ultimately leading to a cure for this terrible disease."