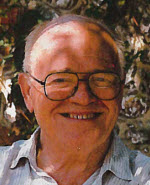 We regret to announce that Professor JC McDonald passed away peacefully in Montréal on April 25th 2016, at the age of 98 years.

Dr. McDonald was the founding Chairman of the Department Epidemiology and Health, which later became the Department of Epidemiology and Biostatistics. He chaired the Department for a decade and after stepping down from this position, he then created the Institute of Occupational Health of which he was the Director for many years.  Decades later the Institute and the Department merged to create the Department of Epidemiology, Biostatistics and Occupational Health that we know today.

Dr. McDonald led an eclectic research career making notable contributions in the area of asbestos and health and in health services research among many other areas.  He played a major role in modernizing the Québec Public Health System in the early 1970s through his contribution to the Castonguay Commission.

Our thoughts and prayers are with Dr. McDonald's family and friends.

April 29, 2016