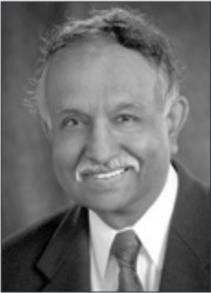 It is with great sadness that we announce the passing on Sunday, November 1, 2009, of Samarthji Lal, MD, Staff Psychiatrist at Douglas Institute, Senior Psychiatrist at the Montreal General Hospital, Professor of Psychiatry at McGill and former Director of the McGill Centre for Research on Schizophrenia, after a lengthy battle with cancer.
Samarthji Lal has been a member of the Douglas family since 1976. Although a major figure within our Research Centre, Samarthji Lal will be remembered first and foremost as a clinician. During his years at Douglas, he worked on a lot of different inpatient wards.
Samarthji Lal is the author of numerous publications centering on monoaminergic function in man with particular reference to schizophrenia. In recognition of his research contributions, Samarthji Lal was the recipient of the CCNP Heniz Lehmann Award in 1986; the Joey and Toby Tannenbaum Distinguished Scientist Award for Schizophrenia Research in 1997 and the 2002 CCNP Innovations in Neuropsychopharmacology Award.
Samarthji Lal is a co-founder of the Douglas Institute's Research Centre, and a year later, in 1980, was responsible for the establishment of the brain bank at the Douglas. In 1991, Samarthji Lal obtained funds from the EJLB Foundation to establish a McGill Centre for Research on Schizophrenia at the Douglas Hospital Research Centre. In 1997 he played a key role in obtaining funds from the Graham Boeckh Foundation to establish a chair in schizophrenia.