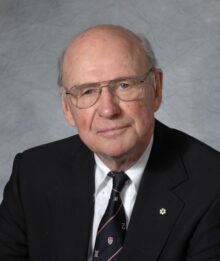 It is with great sadness that we inform you that Dr. Lloyd Douglas MacLean passed away peacefully on the morning of January 14, 2015 at the age of 90.

"LD", as he was affectionately known to colleagues and friends, was born on June 15, 1924 to Wilfred and Azilda MacLean in Calgary, Alberta. He graduated medical school from the University of Alberta in 1949 and went on to complete his surgical training at the University of Minnesota, under the mentorship of Dr. Owen Wagensteen.

In 1962, he was appointed Surgeon-in Chief at the Royal Victoria Hospital in Montreal, Quebec; a post he held until 1988. He was credited with Canada's first lung transplant in 1966 along with Dr. D.D. Munroe. He was Chairman of the McGill University Department of Surgery from 1968-1973, 1977-1982 and 1987-1988. He was the first Edward W. Archibald Professor, Department of Surgery, McGill University from 1987-1993.

Dr. MacLean made significant contributions to the study of shock, peritonitis, host resistance, transplantation and the development of surgery for obesity. Throughout his career he remained a passionate advocate for the advancement of patient care and the promotion of excellence in academic surgery.

He was a member of numerous surgical societies and held officer roles in many, including President of both the American Surgical Association (1992) and the American College of Surgeons (1993). He received many honours including The Gairdner Wightman Award (1989) for his outstanding contributions to Canadian medicine as a surgeon, scientist, teacher and administrator. He was appointed an Officer in the Order of Canada in 1985 in recognition of his considerable contributions to the field of Medicine.

Dr. MacLean was a wonderful ambassador for McGill and Canadian Surgery. His contributions are recognized each year with an annual LD MacLean Visiting Professorship in General Surgery. Through the generosity of Dr. MacLean, his family, friends and his patients, an annual traveling award was established to foster educational collaborations between McGill's Department of Surgery and leading surgeons around the world. In 2013 another award was established in Dr. MacLean's name to honour an individual for a lifetime of outstanding contributions to the Department of Surgery. The Department of Surgery plans to celebrate the life and career of Dr. MacLean later this spring.

A loving husband and a devoted father, Lloyd shared generously of his broad interests in golf, tennis, skiing, hiking, gardening, cycling, and life-long learning. He will most be missed for his unbounded sense of humour. His lifelong documentation of his family in pictures earned him the moniker "Foto" from his grandchildren.

A memorial service celebrating Lloyd's life will be held at a later date. In lieu of flowers, the family respectfully requests that those wishing to make a donation contribute to the charity of their choice. For those wishing to contribute to the Lloyd D. MacLean Awards for advancement of the McGill Department of Surgery, please contact Joanne Marie Kotjila at 514-398-2919

Our thoughts and prayers are with Dr. MacLean's family at this time.

January 23, 2015