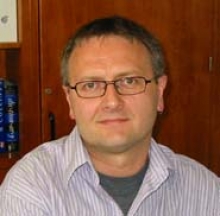 By Dr. Samantha Gruenheid and Dr. Benoit Cousineau

It is with great sadness that we inform you of the sudden passing of Dr. Hervé Le Moual on Saturday, March 3, 2018.

Following Postdoctoral studies with Dr. Daniel E. Koshland Jr. at UC Berkeley and 2 years as an Assistant Professor at the Université of Sherbrooke (Département de Pharmacologie), Hervé spent 17 years at the Department of Microbiology and Immunology at McGill University.  Hervé will be remembered as a scholar in the truest sense of the word: he was a passionate scientist, a wonderful colleague, a dedicated teacher and an excellent mentor and coach of his trainees. He will be greatly missed by the McGill and whole Montreal scientific community.

Hervé's research focused on elucidating the mechanisms by which Gram-negative bacterial pathogens such as Salmonella enterica, Citrobacter rodentium, and pathogenic Escherichia coli sense and resist the host's response to infection. Specific areas of interest were bacterial resistance to antimicrobial peptides as well as the role of two-component signaling systems in adapting to the host environment. The overarching goal of his research program was to validate protein targets for therapeutic intervention. Dr. Le Moual also had a long-standing interest in Oral Microbiology, and was cross appointed to the Faculty of Dentistry at McGill.

Hervé was also passionate about enjoying the good things in life. An avid foodie, he could often be found early weekend mornings shopping at the Jean Talon market, and he loved to read scientific papers in a café or discuss science over a good meal and a glass of wine.  He enjoyed his weekly piano lesson, and in the past few years greatly appreciated spending his weekends with his partner, Dr. Sylvie Fournier, at their place in the country.

Dr. Le Moual is survived by his parents, Françoise and Pierre Le Moual, his partner, Dr. Sylvie Fournier, his sister, Solange, his other family members as well as his many friends, colleagues, and students.

The ceremony to honour Dr. Le Moual's memory will be held on Sunday March 25, 2018 from 2:00pm to 6:00pm at the Alfred Dallaire Memoria, 4231 boulevard St-Laurent, Montreal, H2W 1Z4.

March 22, 2018