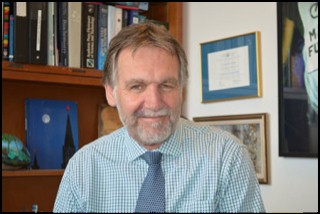 It is with great sadness that we share the news of the passing of Dr. Gordon Shore, Professor Emeritus in the Department of Biochemistry at McGill University.

Dr. Shore received his PhD in Plant Biochemistry from McGill in 1974. As a post-doctoral student in Jamshed Tata's Laboratory of Developmental Biochemistry at the National Institute for Medical Research (Mill Hill) in the United Kingdom he found and studied the cross-talk between the endoplasmic reticulum (ER) and mitochondria. This led to his interest in mitochondrial protein biogenesis, in particular the regulation of protein insertion and orientation in the outer membrane, and mechanisms that sort proteins between the outer and inner membranes.

Dr. Shore's work was conducted primarily in the Department of Biochemistry at McGill, where he became Professor in 1986. In the early 1990s, his interests shifted to cancer and Bcl-2, with special attention on p53 and Bcl-2 regulated ER pathways. Together with his Biochemistry and McGill Cancer Centre colleague Phil Branton, he founded Gemin X Pharmaceuticals inc. in 1998 with the goal to translate the understanding of these de-regulated pathways in cancer into therapeutic opportunities. The creation of this company, which inspired many of his colleagues to develop their own companies, helped bring investments of more than $100 million to Montreal and enabled the training of many people.

Dr. Shore made a lasting impact on international science. Each contribution he made was pristine. His longtime colleague and friend Dr. David Thomas recalls conversations with colleagues in the U.S. and Germany about Gordon's contributions to mitochondrial research and the high regard in which it is held.

Dr. Shore was dedicated in the care he took with every student and post-doc that he trained, spending quality time with them and helping them throughout their careers, both professionally and personally. In his trainees he instilled an ability to be both rigorous and imaginative. He believed deeply that the most important and lasting contribution of scientists is their trainees.

The manner in which Dr. Shore tackled his disease since being diagnosed three-and-a-half years ago was exemplary. His colleagues note his openness, he was always willing to talk about his diagnosis with them and offered to speak individually to others who had been diagnosed with cancer. The personal strength with which he approached his disease exemplified the qualities with which he lived his life.

Dr. Gordon Shore will be remembered as a great husband, father, grandfather, friend, teacher and colleague. We extend our condolences to his wife Alexandra, to his children Bobby, Michael, Dominique and Dylan as well as to his grandchildren, extended family, friends and colleagues. He will be missed by all.