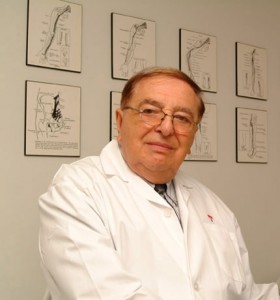 Passed away suddenly in Montreal on February 6, 2009. Beloved husband of Shira for 42 years and loving father of Adam and Joshua.
He was born in Debrecen,Hungary, survived the Holocaust, and emigrated to Canada in 1957. He leaves family and many close friends in Canada, the United States, Israel, and Hungary.
His high spirit and intelligence will be sadly missed, no more so than by his childhood friends, including his best friend, Dr. Laszlo Adler. A distinguished physician and scientist, he held the I.W. Killam Chair and was Professor of Neurology and Neurosurgery at McGill University. He spent his long career at the Montreal Neurological Institute, where his sensitive and insightful clinical acumen was appreciated by his patients, students, and colleagues. He made highly influential and original contributions to research in neuromuscular disease and was respected internationally by his peers for these achievements. His accomplishments have been officially recognized in numerous ways: He was an Officer of the Order of Canada and Chevalier de l'Ordre nationale du Quebec and a recipient of the Prix Wilder Penfield (Prix du Quebec). He was also a member of the Royal Society of Canada and the Hungarian Academy of Sciences, and received honorary doctorates from the University of Debrecen (in Hungary) and University of Marseilles (in France).