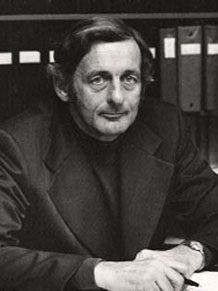 It is with great sadness that we inform you of the passing of a McGill legend, Dr. F. Clarke Fraser, at the age of 94.

Born in Norwich, Connecticut, and raised in Nova Scotia, Dr. Frank Clarke Fraser was a visionary in human genetics, teratology and genetic counseling, who made history in the 1950s as the country's premier medical geneticist.  He was an iconic figure in Canadian medicine, as well as a biomedical pioneer, a fine teacher, and an outstanding scientist.

A three-time (MSc, PhD and MDCM) graduate of McGill University, Dr. Fraser founded the first medical genetics department in a Canadian pediatrics hospital at the Montreal Children's Hospital, which was renamed in his honour in 1995.

A gifted researcher, he brought critical genetic insight to the study of development and the effects of prenatal maternal exposure to environmental agents. The Melnick-Fraser syndrome, a rare genetic disorder on which he authored numerous articles, bears his name.

Dr. Fraser's contributions reached far beyond the lab to the very lives of patients everywhere. His gentle, compassionate approach was much appreciated by his patients and he passed this warmth and understanding onto a succession of graduate students, physicians and genetic counsellors in both Canada and the United States. Dr. Fraser's classroom techniques were renowned among students and he coauthored several textbooks, many still used today.

His achievements in his chosen field are legendary. He was appointed Officer of the Order of Canada in 1985 and was awarded the Government of Quebec's Prix Wilder-Penfield in the biomedical sciences in 1999. More recently he was recognized both by the awarding of an Honorary Doctorate from McGill and induction into the Canadian Medical Hall of Fame.

Dr. Fraser was known for his intelligence, for his kindness and for his passion for both science and its clinical application. He launched many in the direction of first chromosomes and then genes and now the epigenome. As once described by his long-time friend and colleague, Dr. Charles Scriver, he was the "most senior and respected human and medical geneticist in our nation."

He will be missed. He will be remembered.

Our thoughts and prayers are with Dr. Fraser's family at this time.

McGill will fly its flag at half-mast on Friday in Dr. Fraser's memory.

Click here to read Dr. Fraser's entry into the Canadian Medical Hall of Fame and to view a related video.

January 8, 2015