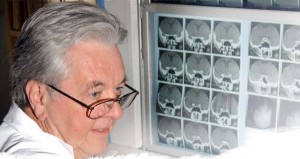 Regretfully we share with you news that our esteemed, long-serving colleague, Dr. Denis Melançon, passed away Thursday, January 21, 2016 at The Neuro, at the age of 81.

Dr. Melançon's career at The Neuro, where he was Director of the Department of Radiology from 1995 to 1999, spanned more than 40 years. His outstanding achievements as a neuroradiologist are part of the history of radiology in Quebec and in Canada. He helped to pioneer CT and MR scanning. He gathered and analyzed data from many hundreds of brain scans to improve diagnostic accuracy. Scores of medical residents and fellows used the knowledge he gave them to make careers around the world. For the general public, he organized a major historical exhibition devoted to the history of X-Rays that was shown at the McCord Museum and at Ottawa's Science and Technology Museum. He was the first president of FRER now called FARQ, the Association des radiologistes du Québec and served as president of the Canadian Association of Neuroradiology. He founded and maintained a quarterly magazine, Neuroimage.

To be sure, Dr. Melançon was highly regarded by his peers. The Neuro began its Denis Melançon Lecture series in 2008 to honor him in addition to bestowing him with a Lifetime Achievement Award. Among his numerous other distinctions was the Prix Albert-Jutras, a lifetime achievement award bestowed by La Société canadienne-française de radiologie, where he served as president from 1990 to 1992.

We would like to thank Dr. Melançon's colleagues and friends at The Neuro who cared for him with kindness and compassion.  On behalf of The Neuro, we express our condolences to Dr. Melançon's family and our thanks that Dr. Melançon chose to make The Neuro the site of his beautiful career.

Guy Rouleau, MD, PhD, FRCPC, OQ
Director, Montreal Neurological Institute and Hospital

Wilder Penfield Chair in Neuroscience

Chair, Department of Neurology and Neurosurgery

Donatella Tampieri MD,FRCPC

Director Diagnostic and Interventional  Neuroradiology
Montreal Neurological Hospital and Institute

Professor of  Radiology,Neurology and Neurosurgery

Osler Fellow

Family will receive condolences at Mount Royal Funeral Complex, 1297 Chemin de la Forêt, Outremont, Quebec on Thursday, February 11, 2016, 6:00 to 9:00 p.m. and Friday,

February 12, 2016 from 2:00 to 5:00 p.m. and 6:00 to 9:00 p.m.

A memorial service will take place Saturday, February 13, 2016 at 10:30 a.m. in the chapel of the complex.  An expression of sympathy may also be sent to drdenismelancon@gmail.com.

In lieu of flowers, donations can be made to the 'Fonds commémoratif Denis Melançon' of the Montreal Neurological Institute and Hospital.  www.theneuro.ca; 514-398-8825

January 28, 2016