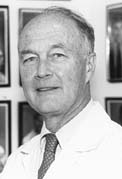 It is with great sadness that we inform the McGill community of the passing of Dr. Anthony Dobell on Wednesday, June 17th, 2015 at the age of 88.

Dr. Dobell was beloved by his patients, their families, his colleagues and the wider community, as a caring gentleman with extraordinary skill. He has left a wonderful legacy at McGill and its pediatric and adult teaching hospitals where he worked his entire career.

Dr. Dobell was born in Montreal at The Royal Victoria Hospital, a place where he would go on to make a great impact later in life. Despite his extensive contributions to surgery and his tireless commitment to his patients, Dr. Dobell was a truly well-rounded person. One of the things he was particularly proud of was his stint as goalie for the McGill Redmen.   Dr. Dobell, who stopped pucks for the Redmen from 1943 to 1945 and 1948 to 1950, also played on the intermediate rugby team. He graduated with a science degree from McGill in 1949 before entering medical school. He was a three-year member of the Scarlet Key Society (1945-47), an honorary organization elected by the student body and appointed for outstanding service to the University. He served as president of the group in 1946 and also sat on the Students Athletics Council. In the 1951 Old McGill Yearbook, he selected the following inscription to accompany his grad photo: "Time must be fought with, rushed at, over-awed, and threatened with a sword."

After earning his medical degree from McGill University in 1951, and following his internship at The Montreal General Hospital, Dr. Dobell went to Philadelphia from 1952 to 1956 to train in General and Thoracic Surgery at Jefferson Medical College, under John H. Gibbon Jr., who pioneered the first heart-lung machine. In Dr. Gibbon's iconic textbook "Gibbon's Surgery of the Chest" one can see Dr. Dobell pictured during the first operation using the heart-lung machine.

In 1956, Dr. Dobell returned to Montreal and was one of the first physicians to perform open-heart surgery in Canada. Shortly thereafter he established the training program in Cardiovascular and Thoracic Surgery at McGill University. During his career, he performed more than 2,000 heart operations on children. He served in many leadership positions at McGill, nationally and internationally, and was the consummate teacher and mentor to generations of surgeons to follow.

Dr. Dobell served as the Director of the McGill Division of Cardiovascular and Thoracic Surgery for almost 20 years, from 1973 to 1992. He was the Surgeon-in-Chief at The Montreal Children's Hospital from 1974 until 1992. In 1993, he became a Professor Emeritus of Surgery at McGill. He was President of the prestigious Society of Thoracic Surgeons in 1981-82. He also served as chair of the Royal College of Physicians and Surgeons of Canada Committee in Cardiovascular and Thoracic Surgery, where he played an important role in establishing national standards for training in this specialty. In 1997, he was named a member of the Order of Canada for his contributions to medicine.

In December 2012, the McGill Faculty of Medicine and the Montreal Children's Hospital (MCH) of the MUHC came together to celebrate the creation of the Anthony Dobell Chair in Pediatric Surgery, in recognition of his pioneering contributions to both pediatric and adult cardiovascular thoracic surgery. Dr. Christo Tchervenkov, Professor of Surgery at McGill, current Director of Cardiovascular Surgery at the MCH and a Senior Surgeon at the Montreal General and Royal Victoria hospitals is the inaugural holder to the Anthony Dobell Chair. The Anthony R.C. Dobell Visiting Professorship of Congenital Cardiac Surgery is another fitting tribute to his contributions to the field of Congenital Cardiac Surgery as well as to his impact on the careers of the next generation of outstanding cardiac surgeons.

Tony had a wonderful ability to bring calmness and focus to his team during even the most stressful operations. His son, Curzon, who had the opportunity to observe his father during surgery while working as an orderly at the Children's, remarked, "That was one of the most unique things about my dad: he never looked like he was stressed out and he never caused anyone to feel stress," He said his dad would keep everyone calm during surgeries and play classical music in the background. "He loved what he did," said Marion Doheny, his second wife. "He was totally devoted to his career. He just loved people and everybody just loved him."

He was very active well into his 80s, skiing at Mont Tremblant and traveling. He enjoyed spending time with his loved ones and playing tennis in the Laurentians and at the Montreal Indoor Tennis Club.

Tony was married to his first wife, Cynthia, for over 50 years until she died in 2006. He is survived by his second wife, Marion. He leaves behind four children, seven grandchildren and a great-grandchild.

Beyond the numerous prestigious awards which are a testimony to his remarkable talent as a surgical innovator, his legendary poise and humility have to be remembered as difficult to emulate outstanding qualities for those who follow in his footsteps. It should not surprise anybody that he entitled his Society of Thoracic Surgeons' Presidential Address "The Human Touch " in 1982. This is WHO he was.

A wonderful oral history of his personal life and of cardiac surgery, done by Dr. William Stonely for the Annette & Irwin Biomedical Library at Vanderbilt University Medical Center can be found at http://www.mc.vanderbilt.edu/diglib/sc_diglib/cardiac_surgery/dobell.html

The Montreal Gazette published a beautiful tribute to Dr. Dobell on June 19th.  http://montrealgazette.com/news/local-news/obituary-anthony-dobell-fixer-of-thousands-of-childrens-hearts
A memorial service will be arranged later in the summer. In lieu of flowers, donations may be made to The Montreal Children's Hospital — Cardiovascular Surgery Department.