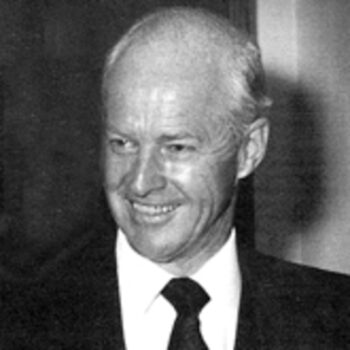 Dr. Alan G. Thompson. Age ninety-one, of Ste-Agathe-des-Monts, Quebec, died suddenly Tuesday, January 19, 2010 at home. Survived by his sister, June Thompson, and his children, Hugh (Francine), Joy (Paul), Andrea (Gary), Alan (Dori) and grandchildren, Mylene (Chris), Matthew, Christopher, Catriona (Lorenzo) Zoe (Nick), Emily (Jessie), Tim (Keighley), Brandon (Jeannie), Sarah, Erica, and Robert, and great grandchildren Ella, Hugh, Julia, Camilla, Thomas, Anna, Cooper, and Isabella.
Alan was born on December 3, 1918 in Montreal and attended Westmount High School. He completed his pre-medical education at McGill University and Oxford in England. He graduated from McGill University Faculty of Medicine in 1943.
After internship at The Montreal General Hospital he entered the Royal Canadian Army Corps in 1943. In September 1943, Alan married Marjorie Louise Schofield, recently deceased. At the end of his military service he returned to enter the McGill Diploma Course in Surgery. This included one year at Ohio State University where he completed a surgical residency/understudy course. He finished his surgical training at McGill in 1952 and became a Fellow of the Royal College of Surgeons of Canada and of the American College of Surgeons, also a Diplomat of the American Board of Surgery.
Alan joined the Surgical Staff of the Montreal General Hospital in 1953. He assumed the dual role of Director of the Surgical residency Program at the Montreal General Hospital and Associate Director of the University Surgical Clinic, McGill University in 1963. Two years prior he initiated laboratory investigations into pancreatic disease which continues today. He was appointed Surgeon-in-Chief at The Queen Mary Veterans Hospital in 1969. In 1972 he was appointed Surgeon-in-Chief at The Montreal General Hospital, Director of the University Clinic, and served as Chairman and Professor of the Department of Surgery of McGill University from 1973 to 1976.
He was a member of the Board of Trustees of the Society of Surgery of the Alimentary Tract and Governor of McGill University. His service to the Royal College of Surgeons of Canada spanned all of its important functions. He was a member of the prestigious North American Surgical Societies. In their years of retirement, Alan and Marjorie spent their time at the beloved Lac Brule/ Lac Noir house enjoying their favourite pastimes of Tennis, Gardening, Skiing and being visited by all of their loving family and their many, many friends. A memorial service was held on Saturday, January 23, 2010, 2 p.m., at Holy Trinity Church, Ste-Agathe-des-Monts, Quebec.