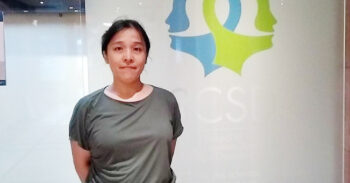 Although the pandemic made in-person Convocation ceremonies impossible once again this year, the event represents an important milestone in a graduate's journey as the recognition of years of hard work. It also provides an opportune time to reflect on that journey, as Dr. Haruka Saito, the lone 2021 graduate from the School of Communication Sciences and Disorders (SCSD), did in taking some time to answer a few of our questions.
What was the focus of your PhD, and what led you to that topic?
Being a former teacher who taught foreign language classes, my thesis work was focused on comparing different training methods for second language speakers. In my work, I discussed and applied motor learning theories, which has been done in clinical speech therapy studies, but very rarely in second language studies. I think this could only be done because of the SCSD – which is home to both linguistic and clinical research/practice.
Why did you choose McGill?
I knew a McGill alumnus back in Japan, who spoke highly of the SCSD. Then I got a chance to visit Montreal for an academic conference and I really thought I should come back one day! The SCSD was my first choice because my research aspiration coming in was to explore a broad, interdisciplinary body of research on languages; The SCSD is home to speech-language pathologists and researchers in various aspects of language and communication – from linguistics to neuroscience to cognitive/developmental psychology to motor/kinematic research to non-verbal communication. Basically, anything about human communication can find its place at the SCSD. The diversity in research was what attracted me the most.
Despite the last year being unusual due to the pandemic, how was your McGill experience?
I loved my time at McGill. I liked walking in the downtown campus, bright and beautiful. I also enjoyed various events/workshops hosted by PGSS, CaPS or other organizations; as an international student, I found it particularly helpful at the beginning of my time (introductory workshops/social events) and toward the end (job hunting workshops). Even before the pandemic, McGill's libraries already had expanded online resources, so I could find most of my references online through McGill's database, which I think minimized the impact of the pandemic on my academic work.
Is there anyone (or number of people) at the School of Communication Sciences and Disorders that made a particular impact on you?
While my supervisors and other professors at the SCSD were always supportive, I think the best support system for my PhD was my fellow students. Research students at the SCSD always organized official or unofficial activities to socialize or just for fun! (for example bowling, trip to sugar shacks, Secret Santa, karaoke, etc…) Because working on a degree is a long journey, I feel that the kind, welcoming atmosphere I experienced at the SCSD was one of the most important factors to any success I have had here.
What are your future plans/what's next?
I'm currently working as a postdoctoral fellow at UQAM, working on research projects in linguistics. I don't know what the future holds, but my experience at the SCSD helped me to find my passion for research and I do aspire to be a researcher/scientist, either in an academic or industry setting.
Congratulations Dr. Saito!
June 17, 2021