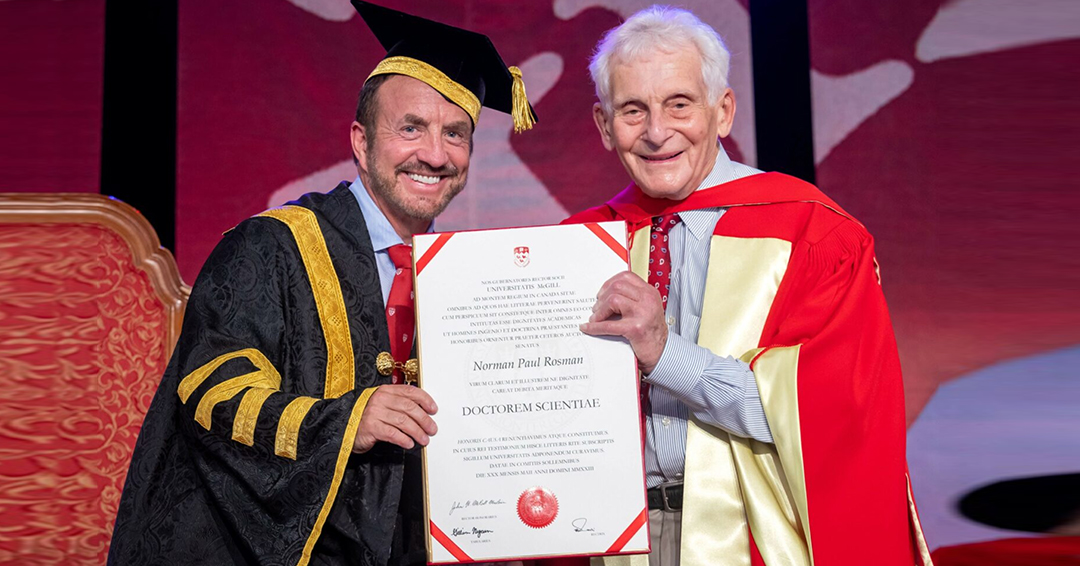 Paul Rosman, MDCM, was bestowed an Honorary Doctorate at the afternoon Health Sciences Convocation on May 30, 2023. A renowned child neurologist beloved by families and trainees alike for his warmth and his creative clinical approach, Dr. Rosman is Emeritus Professor of Pediatrics and Neurology at Boston University Chobanian & Avedisian School of Medicine, Boston Medical Center. A founding member of the field of child neurology, his wide-ranging research output includes groundbreaking work on febrile seizures and studying an association of prenatal ultrasound and autism spectrum disorder. Chief of Pediatric Neurology at the Boston City Hospital for 17 years, he went on to develop the child neurology service at the Floating Hospital for Children (now Tufts Medical Center), where he spent the next 18 years as Chief of the Division of Pediatric Neurology. A two-time McGill grad (BSc in 1955 and MDCM in 1959), Dr. Rosman is a loyal and generous supporter of his alma mater, including establishing the Dr. N. Paul Rosman McGill Medical Student Research Bursary to help medical students pursue research under the close supervision of a McGill faculty member. We spoke to him in Montreal the day after the Convocation ceremony.
What does it mean to you to receive this honorary doctorate from McGill?
It was a happy surprise. Michael Shevell called to say I had been nominated and then McGill sent me a list of all the recipients dating back to 1935. There were some very, very famous people. I felt like I was walking in the steps of giants. I felt privileged. And the fact that this is taking place in Montreal at McGill, where I first came in 1952 – 71 years ago – has made it extra special for me. Yesterday was one of the great days of my life.
Child neurology was a new field when you were starting out. How and why did you choose it? 
I decided to go into pediatrics and had been to the States to train. I came back to Montreal and spent time at the Montreal Neurological Institute. I loved pediatrics, but this was my first real exposure to neurology and I thought, "Wow, this is terrific. I really want to go into this field." I started looking at places where I might do this and the program at the Massachusetts General Hospital was very well-known and inspirational to me. Fortunately, I was accepted for residency. I later went on staff there before I was approached to start a new program in child neurology at Boston City Hospital.
People say to me, "Child neurology is depressing." But it's not depressing at all. I always tell trainees, don't ever eliminate hope because every child can be helped in some way and it's up to you as a clinician to find the ways how you can be most helpful to the child, even if they have a progressive neurological disorder.
The parents are absolutely inspirational. They would say, "Dr. Rosman, do you know what Jimmy did for the first time today? Jimmy rolled from his front to his back!" Jimmy was 1 1/2 years old, but this, to the parents, was just so thrilling.
My life was a mixture of clinical care, research and teaching and it's just been a wonderful, wonderful voyage. I would do it all over again.
You founded the Center for Children with Special Needs, a multi-disciplinary clinic, in the 1980s. How did that come about and why was it important that the team be from a variety of fields?
When I was at Tufts, I cared for a child named Benjamin, who had a degenerative condition called Canavan disease. It's a terrible disease that usually takes a child's life in two or three years. The family called me and said: "Dr. Rosman, the other child neurologist told us to take our child home and make him comfortable for the next two years. We weren't satisfied with that. We want more help."
I suggested several things that I thought would be helpful, not necessarily in arresting the disease but in helping Benjamin realize some potential in the time ahead. I said, "He needs physical therapy, occupational therapy, speech therapy, play therapy, psychosocial support and his medical needs cared for…." With all these specialist appointments, I likened it to Benjamin being a cork on the sea being tossed from one wave to another and the parents trying to catch up. I thought: "Wouldn't it be great if we could get this all done by one group of professionals at one centre?" So, we received a grant, to which Benjamin's family added substantial financial support, and started the Centre for Children with Special Needs. There weren't many people doing that, partly because many insurers wouldn't pay if a child was seen by two specialists even in different disciplines. It wasn't always easy, but we managed to keep it going and it was a great success. It's now been turned into a Division at Tufts, so I was very happy about that.
Looking back on your incredible career, what are you most proud of?
Especially as child neurology wasn't recognized as a separate field till 1969, I was very proud of the fact that I went to Boston City Hospital, we built a program, the field was recognized and I am considered one of the founders. And when I went to the Floating Hospital, I was also proud of building that program because it had been quite small and not hugely productive despite the large number of pediatricians affiliated with the Floating.
Another thing I'm pleased about is that about 10 years ago, I started a research bursary for McGill to give medical students an opportunity I never had when I was a student here. The students got in the habit of sending me the research papers that they had written and which were usually very well done. I didn't have much to suggest, but I made some suggestions and over the years I developed friendships with several students.
The happiness I've experienced just meeting people from all over and making lasting friendships – I've been very blessed and I'm very appreciative.
You've won countless teaching awards. What do you think makes for a great teacher?
One of my residents, Alan Silken, commented: "Dr. Rosman never raised his voice or lowered his expectations." I guess there was something in that. I think to be a great teacher, you first have to love what you do. You need to know the background literature of what you're teaching. And you must be open to the ideas and suggestions of others and grow together.
You're a very active and generous member of the McGill Alumni community. What is it about McGill that keeps you coming back after all these years?
One thing is the professors I had. The professor that probably had the greatest impact on me was Joan Rattenbury. Using different coloured chalks, she would draw cross-sections of the central nervous system starting from the top of the brain to the end of the spinal cord, drawing with both hands simultaneously, in beautiful symmetry, with all the different layers of tissue depicted by different colours. I was never so thrilled. Years later, I was delighted to learn that Dr. Rattenbury became Chair of Embryology at McGill. She was really inspirational. I also did a rotation at the Montreal Neurological Institute with Francis McNaughton, who was called Saint Francis because he was so gentle and so kind. He was a real source of inspiration for me during my time in Montreal. And I love visiting the Osler Library. So, all these memories keep you coming back.
You ended your Convocation Address with these lines of verse:
Soar like an eagle,
As far as you can see,
My blessings go with you,
Class of Two Zero Two Three!
 Do you have any final words of wisdom for the Class of Two Zero Two Three?
My parting words to the students were: "Give to the world the best you have and the best will come back to you." What could be better than that?
Related:
Listen to Dr. Rosman's Convocation Address (begins at around 1hr4 mark) and view the Health Sciences B Convocation program.
"Getting a good night's sleep" – Dr. Paul Rosman's contribution to the Faculty's Bicentennial storytelling project, 200 Years, 200 Stories.
Paul Rosman, MD: Scholar, Teacher, Clinician, and Humanist, Journal of Child Neurology, Volume 20, Number 10, October 2005