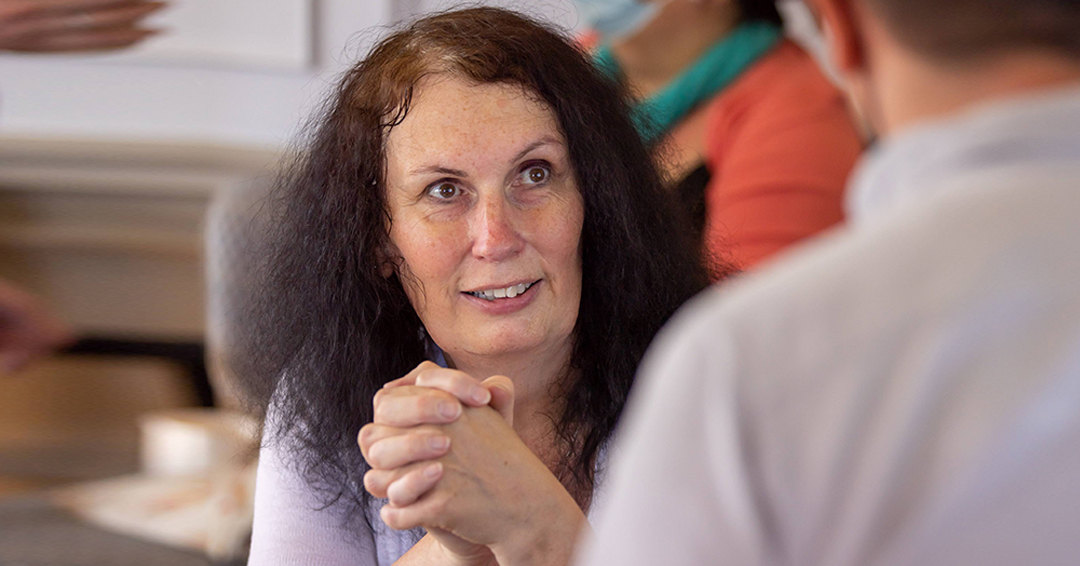 The Institute of Health Sciences Education (IHSE) was honoured to welcome Rachel Ellaway, PhD, Professor of Medical Education in Community Health Sciences at the University of Calgary, as an esteemed IHSE visiting scholar May 9 to 12. Prof. Ellaway presented her compelling talk, Resistance in Health Professions Education, on May 12, in which she outlined concepts of professional resistance and the ways in which they can and should be woven into the cultures of medicine. On May 10th, Professor Ellaway presented two engaging workshops on Primum Non Nocere (First do no harm) in health professions education scholarship, and Pattern theory in health sciences education.  We caught up with Prof. Ellaway while she was at McGill to get her views on the latest trends in health sciences education research, her concerns about global health "beneficence" and the long-term impact of the pandemic on the field. 
How can health sciences education research (HSER) improve health care systems and patient care?
HSER has always had great potential to improve things, and I think that it has done so in many ways, although this is less often acknowledged than it might. Nevertheless, there is often a perceived disconnect between research and practice. In large part this is because the impact of our research has been limited in many ways by the nature of the systems within which we work, and the extent to which we can or do acknowledge those limitations. For instance, rather than asking "What is the best way to do X?", we might be better seeking to answer questions like "What are better ways to do X given the constraints we have?" We also need to ask whether X is the right thing to be doing and whether we should be doing something else altogether. The real potential in HSER is not only to help the health professionals and systems do better, it is to help everyone to think differently.
What are the biggest challenges – and opportunities – facing the HSER community in Canada?
We certainly face many challenges. From a practical and applied perspective, we are always challenged by the questions of who pays for HSER, what value it adds, and to whom. If we are only about problem solving and service, then we are like educational plumbers who are only called in when the curriculum springs a leak. If, on the other hand, we are intellectuals wrestling with the deep questions and paradoxes of educating tomorrow's health professionals then the value proposition can look very different. Another challenge is whether our field should become or might become a discipline or whether we should remain a field. At present we are rather betwixt and between. Maybe that is not a bad place to be, but sooner or later we may have to go one way or the other and accept the consequences. A third challenge is that there are those who question legitimacy of scholars to direct and shape HSE practice when they perceive it as being ideologically driven rather than being objective and evidence-based. This is not a new phenomenon, but my sense is that it is growing, and it is, I think, a reflection of the eroding sense of trust we have in HSE generally and the resulting shift to accountability. So, opportunities? Every crisis, challenge or wicked problem is an opportunity for good scholarship, and with growing challenges come growing opportunities to figure out what questions need to be asked and how they might be answered. Sometimes we may even come up with an answer.
What has been your greatest insight as editor of Advances in Health Sciences Education?
Well, the breadth of the field seems to know no bounds, and I do get a sense of general improvement and growth in the quality of research and in how it is presented. However, I would say the greatest insight I have had has been how much we depend on community members volunteering their time and mentoring others through peer review. As an editor, I see all the traffic through the journal and I am struck again and again how much effort, thought and investment there is from the community back into the community. This often goes unnoticed and unrewarded, but without it we wouldn't have a field or a community around which we can build and develop that community.
Have you noticed any trends in the journal that reflect emerging directions in the field?
I see a broader range of methods, theories, and legitimate areas of inquiry. I see a more substantial engagement with the philosophy of science as well as with the practices of science, and I see a trend towards more basic and conceptual research.  After all, as the sense of rigour and integrity of the field has strengthened and deepened, many scholars are finding they cannot rely on others to do the basic and conceptual work for us. This means there are more scholars in HSER stepping back from the applied frontline, and this has the potential to reduce the legitimacy of being an applied scholar in the eyes of those we are trying to help. It is a necessary part of a maturing field, but it has its costs.
What do you think about the growing movement of global health professions education research?
To be honest I'm still concerned about the asymmetry of it all, with high income countries (HICs) showering beneficence on low- and middle-income countries (LMICs) as if we have all the answers. The challenge is to make these activities more symmetrical in terms of where the activity happens, who is involved, whose resources are involved and whose questions are being answered. I am also concerned about epistemic injustice in terms of whose voices are heard in this research, how they are heard and who has access to those voices. Given that context matters a lot, we would, I think, be better asking "What works here?" and "What is needed here?" than "What is the very best way of doing things?".
What are your thoughts on the state of medical and health sciences education, and priority areas for research, after two years of pandemic?
Well, COVID is still here. We are behaving as if it's no longer the concern it was, but people are still catching it and dying of it. Moreover, our healthcare systems have been stretched to the limit over the past few years, and there is still burnout, trauma and disruption throughout our teaching and learning populations. Can we go back to normal? Is there any going back? What will we sacrifice to recover peace of mind and stability? As an example, my sense is that there has been a shift in the culture of healthcare given that many providers have lost professional autonomy and have been left feeling more like foot soldiers who are required to walk into danger as directed. So, yes, we can explore the mid- and long-term impacts of the pivot, the hidden curricula experienced by our learners and the dents and compromises to programing etc., but I am more interested in understanding what the new landscape looks like and what the deeper implications are for all we do.
Donor thanks
The Institute of Health Sciences Education would like to acknowledge the role of the Dr. Martin A. Entin Endowment Fund in Medical Education in bringing prominent lecturers like Professor Ellaway to the Institute of Health Sciences Education, with thanks as well to the family and estate of Dr. Entin (BSc'42, MDCM'45).
About Rachel Ellaway
Rachel Ellaway, PhD, is Professor of Medical Education in Community Health Sciences at the University of Calgary and Director of the Office of Health and Medical Education Scholarship for the Cumming School of Medicine at the University of Calgary. Prior to these appointments, she was Assistant Dean for Curriculum and Planning at the Northern Ontario School of Medicine. She is also Editor in Chief of the journal Advances in Health Sciences Education (AHSE) and Chair of the National Medical Education Centre Directors' Group. As an internationally acclaimed scholar, her work has touched on many aspects of contemporary medical education including educational technologies and philosophies of both educational science and of equity and service.