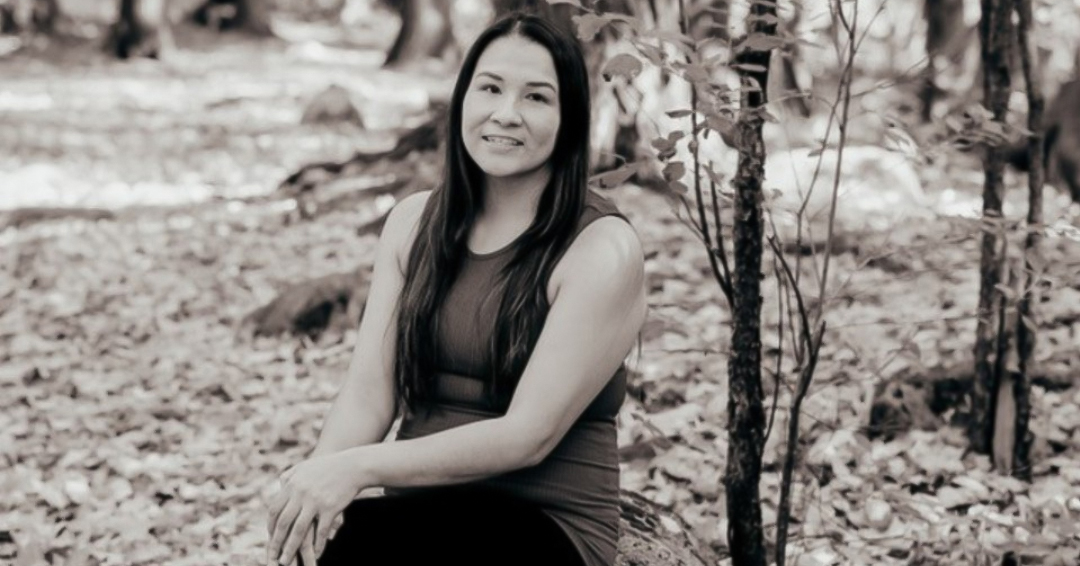 We are pleased to announce the appointment of Amy Shawanda as a tenure track Assistant Professor and Indigenous Scholar at the Department of Family Medicine. Ms. Shawanda, an Odawa Kwe, is an Indigenous health researcher, and a Provost Post-Doctoral Fellow at the Dalla Lana School of Public Health at the University of Toronto. Ms. Shawanda was born and raised in Wikwemikong Unceded Territory on Manitoulin Island, Ontario. She has been immersed in Indigenous education and land-based learning since daycare to secondary school, then repositioned her strengths in Indigenous Knowledges in undergraduate and graduate schools.
Ms. Shawanda has a background in Law and Justice and Indigenous Studies and her master's in Indigenous Relations (both from Laurentian University) where her research focused on smudging policies in northeastern Ontario healthcare facilities. She obtained her PhD at Trent University and her doctoral work focused on Anishinaabe Motherhood and examining the challenges, tensions, and strengths of traditional teachings and pedagogies in a contemporary context. Ms. Shawanda has specialized knowledge on strengthening Indigenous ways of being, doing, knowing, and reclaiming. She has been teaching undergraduates and graduate students about Indigenous health, health care, land-based learning, Indigenous maternal health, Indigenous pedagogies, Indigenous methodologies, and spiritual health.
Please join us in welcoming Ms. Shawanda to the Department of Family Medicine at McGill University and congratulating her on this appointment. We wish her every success in her new role.
We interviewed Ms. Shawanda and she shared the highlights that came out of her graduate research, the importance of unburdening Indigenous health professionals and the responsibility to speak up for those that are marginalized.
Your doctoral work had a focus on Anishinaabe Motherhoodand examining traditional teachings and pedagogies in a contemporary context. Can you tell me a bit about that work? What is Anishnaabe Motherhood?
Anishnaabe Motherhood is about encompassing all our teachings and bringing them into a 21st century setting so it becomes applicable to our children today. My research was really interesting because a lot of mothers do not think of themselves as "traditional", but they do a lot of traditional things. The women I met thought it was all about attending ceremonies but it's not. These women did traditional Anishnaabe teachings every day and did not even realize it. My research was very much strengths-based, as opposed to the deficit that we see written about our Nations. We already know about what is wrong in our communities, let's start focusing on the things that we do well. It is not about ignoring those challenges but shifting that narrative.
What did you learn while doing your research?
Intergenerational cycle breakers is the key thing that I took away from my research. Many mothers today are understanding the intergenerational harm from residential schools and Indian Day Schools and understand that it can stop with them. Many mothers are actively working on addressing the traumas they are dealing with, but also working every day to incorporate their languages and cultures with their children, so it is being passed on. This is Intergenerational healing and I thought that was the most beautiful thing that came out of my research.
What is your personal approach to health and research?
I tend to look at it through the lens of "How does it benefit Indigenous communities?" Health is such a broad term, it can mean the health of our languages, the health of our culture. It can also mean the mental, physical, emotional, and spiritual aspects of our mind, body, and spirit. It can also include Treaties and the Land. Health is a broad term which I love, and, for Indigenous Peoples, we can't just talk about one aspect and isolate it because it is all interconnected.
What would you like your students to learn coming out of your classroom?
To be anti-racist first and foremost. Secondly, to continue to unlearn any biases that they have about Indigenous Peoples and to continue their learning journey beyond the classroom. I would also like to help unburden Indigenous doctors and nurses and other medical professionals so that they do not have to take time away from their day to educate non-Indigenous doctors and other licensed professionals within the medical field.
What is it that the western world can learn from Indigenous cultures?
I feel like western culture is very extractive. One of the things that we try to practice in my culture is reciprocity and giving thanks. We are very thankful of the things that we do have and therefore we share those gifts too with others and give back to our community when we can. Western culture is very singular and Indigenous cultures are very communal. With a communal mindset, we are always thinking of our actions and our children and those past, present and future generations.
What motivates your work?
I want to research Indigenous health so that there is no more harm for our communities. You would be very surprised to hear how I, as a visibly Indigenous women, get treated in healthcare institutions before they find out that I have a PhD and that my work involves examining institutions to see how they are approaching healthcare. I feel that I have a responsibility to represent those voices that are often scared, oppressed, marginalized. If people are treating me like this in these healthcare institutions, I think to myself, who else have you treated like this? That is what motivates me.