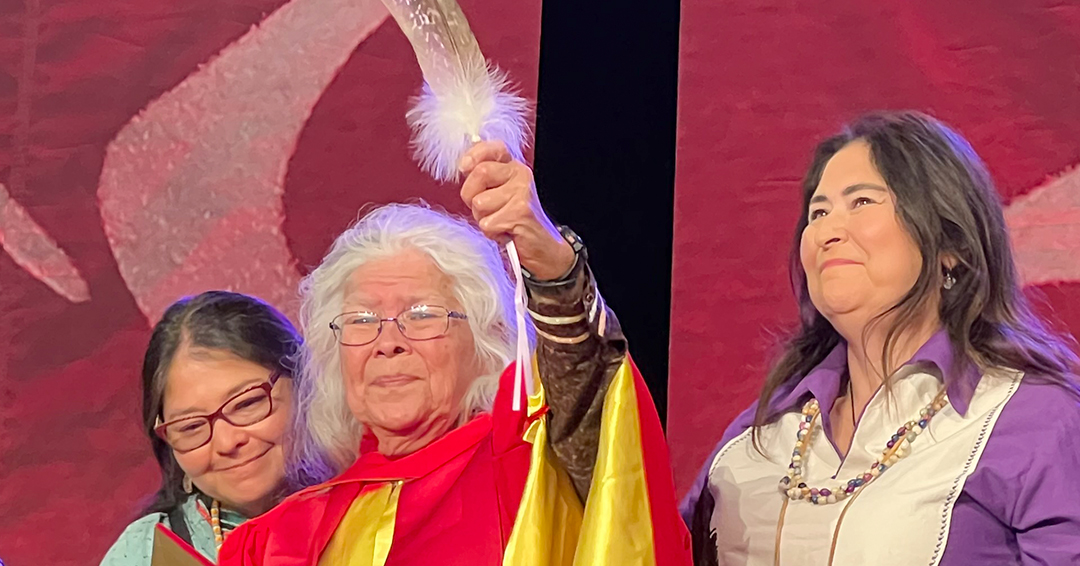 Kanien'kehá:ka elder Amelia Tekwatonti McGregor was conferred an honorary doctorate as part of the Health Sciences morning ceremony for Spring Convocation on May 30, where she was also presented with the gift of an eagle feather, one of the highest honours in Haudenosaunee culture.  
A daughter, mother, grandmother, great-grandmother and wife, Elder McGregor is a founding member of the Kahnawake Schools Diabetes Prevention Program (KSDPP), a pioneering outreach and participatory research project launched in 1994 to stem alarming increases in Type 2 diabetes in Kahnawake. Elder McGregor has been invited around the world to speak about the project, inspiring similar initiatives in other Indigenous communities. A knowledge holder and fluent Kanienkehaka speaker, she has generously given her time to mentor countless scholars undertaking research in her community while fiercely protecting the fundamental right of the Kanien'kehá:ka to decide whether and how that research would be conducted and used. We spoke to Elder McGregor about the KSDPP, where she gets her inspiration and her message for Faculty of Medicine and Health Sciences grads as they begin their journeys as health professionals and scientists. 
You are a founding member of the Kahnawake Schools Diabetes Prevention Program in 1994 and have served as a board member, chair and volunteer. The project has won many awards for its work and its approach. How did it get started? 
A circle of people came together to talk about how to handle Type 2 diabetes, which was very, very quickly going up in our community. They went to organizations, they went to businesses, they went everywhere and gave the statistics about diabetes. The elders in the community said "We are already living with diabetes, so what we would like to see is a project or an intervention that will stop the rise of diabetes in our children." It bloomed from there.  
How did you get involved? 
It was by accident. I was at a combined school committee parent meeting, just before '94. We had been invited to go to a meeting about the statistics of diabetes. The member of the committee that was supposed to go to the meeting was double booked so they were asking who would be able to go and fill in and bring back the information. Nobody said anything so I put up my hand and I said OK, I'll go if they don't mind me being there instead. So I went to the meeting and that's where I've been ever since. 
The KSDPP has been a pioneer in participatory research in Indigenous communities. You led the creation of the Code of Research Ethics for the project, which emphasizes the self-determination of the Kanien'kehá:ka of Kahnawà:ke to make decisions about research within a climate of mutual respect. Why is this particular aspect so important to you? 
For us Kanien'kehá:ka, there's a point where we make a stand and we don't go any further unless we're included in whatever they're talking about. If we don't sit at the table, then we can't play. Because we've had people come to the door of KSDPP that have wanted to do blood tests on the students to see if they're predisposed to becoming diabetic. Can you imagine if we went to the school and said these researchers are coming here and they want to do research project and take blood samples of the children? I don't think so. We'd be the ones that would be run out of town on a rail.  We know the community so well, we know the things that will be accepted and we know the things that will not So we're very careful.  
That's how we started organizing the Code of Research Ethics. It's a guideline for any researcher that wants to come into the community. I give presentations when we have research students coming in. I say, "Welcome to our community, we hope that we're going to give you a wealth of information that you might be able to use within your research project. But there's one question I'm going to ask you: How many of you have been in the community to know what it's like?" Some of them that will put their hand up and say they were at the Pow Wow. I say, but you haven't been in the community. You've just been to one event. And they say "That's a very good question." We're only 10 minutes away across the Mercier Bridge, but a lot of them didn't know what Kahnawà:ke was. 
What has been the impact of the KSDPP in the community in terms of curbing the rates of Type 2 diabetes and changing lifestyles?  
Our land has been cut up so many times, it's getting smaller and smaller. But we're still surviving. And so, as survivors, that's how we are with diabetes prevention. We've been trying to show people and not say "You should do this, you should do that." We invite people to come to meetings and we ask "What is it that you would like to see change in the community in order to prevent Type 2 diabetes?" With the suggestions from all sectors of the community coming together to one table and talking, like a traditional council meeting, we can make changes. With the children, we encourage using other ideas, such as to make sandwiches with brown bread and make their own lunches so they own it. It's not changing them, it's just giving them alternatives. There's still Type 2 diabetes in our people, but it's not going up as high as in the mainstream Canadian population.  
Looking back on your incredible career, what are you most proud of?  
Some of the stories that I tell about myself. I'm not really talking about research. I just tell my story about my mother. This is my story I tell: My mother was living with diabetes and got into a car accident with my father and her arm was badly mutilated. She had a cast on her arm for five months until they finally allowed her to come home. She was home for two days and she passed away in her sleep. That's all she wanted was to come home.  
She's my role model and that's what got me determined to be involved in diabetes prevention. I know what it looks like as I looked at her arm with the gangrene setting in.  And I don't want to ever see that again. All I'm doing is spreading that story and getting people to think about it.  
What does receiving this honorary doctorate from McGill University mean to you?  
I got the phone call and I said, oh, yeah, this is a joke and I hung up. And she called back and said here's the Dean. He said: "It's not a joke. We want to honour you because of all the work you do with diabetes prevention." And I said, "But that's not work." I just do it because of my role model mother and to take care of our children. As for me, I don't need to be appreciated. I just like to see the results of some of the stories that have gone out there. 
Since the ceremony, people stop me to say, "Congratulations, I saw the livestream!" People are contacting me from all over the world. My feet aren't touching the ground, my heart is so big, I can't take it all in. But it was the feather that was the biggest for me because I know what that means – it's the biggest gift you can get from our community.  
You already addressed the health sciences graduates on May 30, but do you have any final words of wisdom to share with our Class of 2023? 
I would say to the students that you've chosen this path, so do it well. Leave behind some of the teachings that you get from the people that you're speaking to. Not just what you are giving them, but also listen to what they can give you.  
Related: 
Watch Amelia Tekwatonti McGregor's Convocation address (begins at the 1h mark)