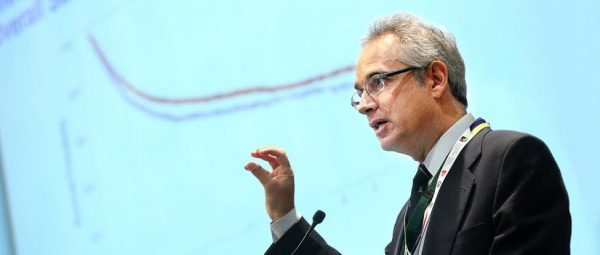 Dr. Armen Aprikian, the new clinical lead of the Rossy Cancer Network, shares his vision for the future.
Improving the quality of cancer care is a tall order amid a pandemic. But when Dr. Armen Aprikian, PGME'90, took the helm as clinical lead of the Rossy Cancer Network (RCN) on July 1, 2020, he was determined and well-equipped to drive forward a series of key initiatives aimed at improving many facets of patient care across the network. These include both new initiatives to improve patient experience and outcomes, and innovative priority projects that need to move rapidly forward to help realize Aprikian's long-term vision for the RCN, a partnership of McGill's Faculty of Medicine and Health Sciences, the McGill University Health Centre (MUHC), the Jewish General Hospital, and St. Mary's Hospital Center.
"My long-term vision is to create a true network that integrates patient care across sites for all cancers and to improve the quality of care across all our hospitals. During the pandemic, a lot of time and energy has been targeted to managing cancer care under COVID-19 restrictions, so it wasn't easy to start new initiatives," explains Aprikian, who is also professor of oncology and urology in the Faculty's Gerald Bronfman Department of Oncology, Medical Director of the Cedars Cancer Centre at MUHC, and Richard Tomlinson Chair in Urologic Oncology.
"Being new in the position, I understood the need to keep the pressure on to forge ahead with new quality care initiatives and other priority projects to optimize patient care that were getting started. I did inherit a strong executive committee and commitment to the RCN, thanks to Dr. Wilson Miller [former RCN clinical lead, McGill professor of oncology and medicine, and Distinguished James McGill Professor]. RCN had established before the pandemic innovative pilot projects to improve the patient experience and trajectory from diagnosis to treatment in lung cancer and bladder cancer, as well as improving urgent care for cancer patients and remote distress screening initiatives," he says.
New patient navigation, cancer registry and digital health initiatives
Over 10,000 patients, newly diagnosed with cancer, are treated by RCN member institutions each year. Most receive their treatments and services—imaging tests, surgery, chemotherapy, targeted treatments, radiation, and psycho-social counselling—in multiple facilities. To benefit from integrated, streamlined care across all sites in the network, patients need help in navigating the system to get timely and optimal treatment.
"To improve patient outcomes, RCN needs to invest resources within the hospitals to hire more professionals on the ground to help patients navigate the system. As a new initiative, we invested in more nurse navigators, who have the clinical experience and knowledge to help patients navigate the cancer hospitals in the network more easily and smoothly through diagnosis and treatment. They can explain things clearly to patients, ensure adherence to tight timelines, and help with their physical and emotional symptoms while accompanying them through their cancer care journey," he says.
To provide the highest standard of care and make the necessary improvements to do that, a cancer care network must have the capability to accurately measure and evaluate its performance. Aprikian has launched a new project to develop an integrated cancer registry to collect, maintain and report data on all patients diagnosed and treated in hospitals across the RCN.
"If we want to know how RCN is performing in providing cancer care, we need to benchmark ourselves against the highest-performing institutions. We also need to measure and evaluate the impact of the pandemic on care across the network. We've done a full blitz on incoming cancer registration data and hired registrars, who are certified trained professionals, to carry out this important work," he says.
Creating a seamless IT network across the RCN will allow for better access and sharing of information in real time for patients, clinicians and researchers, which can increase operational efficiency, improve patient care, and help advance research to develop new, life-saving therapies. "The pandemic has put more focus on how much we rely on information technology and digital health to help deliver and improve patient care. We hope to use RCN funding to improve information technology across the network to give patients more access to information, educate patients, and support efficient, real-time sharing of information among clinicians across the hospitals," he says.
Applying network-wide lessons in urology to cancer care
When Aprikian headed up the Division of Urology at McGill from 2004 to 2016, he demonstrated the ability and value of integrating urology care across multiple hospital sites. "When I was chief of urology across the McGill-affiliated hospitals, the urology groups from each hospital worked as one, which wasn't true for most other specialties. We shared patients. We shared expertise. We had a McGill-wide vision, as opposed to a hospital-centric vision. That led us to develop different kinds of expertise by hospital. We could agree on which hospital should lead in the management of different types of patients and procedures, allowing for concentration of expertise, improved academic performance, and avoiding duplication. That experience has helped in my current role integrating care and expertise across hospitals in the RCN," he explains.

The RCN's two pilot projects to integrate and streamline the trajectory of care for patients with lung cancer and bladder cancer are prime examples of how integrating care across the network can potentially improve the quality of care in multiple ways. The projects cover the entire trajectory of care including screening and prevention, diagnosis, treatment, survivorship, and surveillance for each cancer. Their aim is to improve patient experience and outcomes by
reducing harmful delays in diagnosis and treatment;
increasing multi-site collaboration, and using all available data, for fully personalized care;
delivering evidence-formed, standardized care according to RCN-specific guidelines.
"As our investments in these projects demonstrate improvements for lung and bladder cancer care and outcomes, resources can be freed up to tackle and optimize the care trajectory for other cancers in the years ahead and build the true network in a fully integrated way," says Aprikian.
The RCN is also supporting the creation of outpatient urgent care centres within cancer care clinics in the three RCN partner hospitals. About half of cancer patients have symptoms that are severe enough to require an emergency intervention. "The urgent care centres are places where patients in trouble can go and avoid visits to overcrowded emergency departments, which are less suited to cancer care. Patients can be managed and helped most effectively in cancer clinics, where they are also more comfortable with the care," he says.

Supporting patients' psychological well-being is another important way to improve quality of care. Research shows that distress seriously affects patient outcomes, including adherence to treatment and quality of life. The RCN is supporting and implementing the network-wide use of an electronic distress screening system, called DART (Distress Assessment Response Tool), to recognize and monitor patient distress levels. "This electronic screening tool measures distress levels and quality of life for all patients undergoing treatment in the network. The information is used by clinicians to identify when patients are in trouble physically or emotionally, enabling the clinical team to intervene at the right time," he says.
As one of the leaders of the RCN's four original work streams in 2012 and a founding member of Procure, a Quebec-based prostate cancer foundation, Aprikian has seen the powerful impact of philanthropy in advancing cancer care and research. "Most of the leading cancer care institutions in the world rely heavily on philanthropy, which can play a major role in improving patient outcomes and academic productivity. RCN is a major philanthropy project and helping to improve patient outcomes using a strong network-based approach is very satisfying."
April 13, 2021