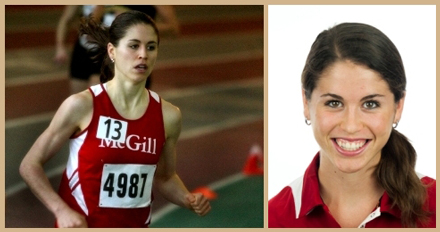 Unlike many university students who take time off from their studies to travel around the Continent, Sarah McCuaig has never been to Europe. That will change next fall, as McCuaig, a 22-year-old Immunology student, will be packing her bags for the University of Oxford after becoming McGill's 134th Rhodes Scholar.

Just 11 Rhodes Scholarships are awarded in Canada annually and McCuaig joins Harvard rugby player Madeleine Ballard, of Baie D'Urfé, Que., as the two recipients from Quebec this year.

On top of being an award-winning student, McCuaig is an accomplished distance runner and team captain of the McGill track and cross-country teams. One of the most decorated student-athletes at the University, in both the classroom and on the track, the conference all-star runner earned Academic All-Canadian status, made the Principal's Student-athlete Honour Roll and qualified for the Dean's Honour List.

Established in 1902, the Rhodes Scholarships rewards individuals who have achieved high academic standing and who have demonstrated respect for their fellows, an unselfish spirit and the potential for leadership. The world's oldest and pre-eminent academic fellowship, the Rhodes covers two years of study, valued at approximately, $20,000 U.S. per year, with the possibility of renewal for a third year, at Oxford. All educational costs, including travel, are paid on the Scholar's behalf by the Rhodes Trustees. Each Scholar receives in addition a maintenance allowance adequate to meet necessary expenses for term-time and vacations.

Read the fulls story on the McGill Reporter

November 30, 2012