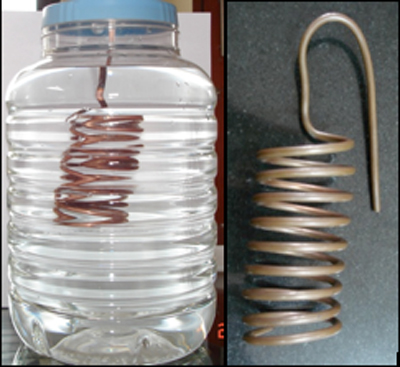 Low-cost water-purifying copper device to be field-tested in India and Kenya

Students in McGill University's International Masters for Health Leadership (IMHL) program — Drs. Padma Venkat, Caroline Kisia and Ahmad Firas Khalid — are pleased to announce that a low-cost copper device, which has been proven in the lab to kill deadly water-borne pathogens, will be field-tested in poor urban and rural households in India and Kenya with a $100,000 Grand Challenges Canada (GCC) Phase I Proof-of-Concept Grant as part of the 2013 Global Health Stars.

The students thank IMHL, part of McGill's Desautels Faculty of Management, for drawing out their shared values, common purpose and talents, and encouraging a collaborative initiative for global impact.

"It will be very fulfilling to move my team's research out of the lab and into communities," says Dr. Venkat, Director of the Institute for Ayurveda and Integrative Medicine (I-AIM) in Bangalore, India. "Infectious diarrhea causes up to 2.2 million deaths per year, and most of these are children below the age of five. The situation is particularly dire in India and Africa, but it's a global issue in need of a sustainable solution. Our team hopes to end some of the senseless suffering in the world and, ultimately save lives."

Each year, water-borne bacteria, viruses and protozoa cause infectious diarrhea. According to World Health Organization data, more than 1 billion people lack access to an improved water source. Particularly vulnerable are children, immune-compromised persons, the poor and refugees, making a sustainable solution an urgent imperative.

Inspired by the traditional Indian practice of storing drinking water in copper pots, Dr. Venkat designed a device made from high-quality electrical copper wires purchased from local hardware shops for people who can't afford a regular water filter. Her team tested the device in the lab and found that storing water overnight with the copper device kills deadly water-borne, diarrheagenic pathogens. The device, for use in 10L water containers, is expected to cost about $10 and lasts a lifetime. It is "safe, effective, inexpensive, easy-to-use, requires no electricity to function, and no cartridges to recharge," adds Dr. Venkat. As with all research, however, its application needs to be field tested and the successful GCC application provides this opportunity.

"IMHL created a sanctum sanctorum for this global health initiative because it brought together a great group of people with diverse healthcare backgrounds that augmented our learning and collaboration capacity," Dr. Venkat says. "Thanks to IMHL, I met Dr. Kisia from Kenya. As the Executive Director of Action Africa Help International (AAH-I), a non-governmental organization based in Nairobi, she connected right away with the copper device's potential impact. Dr. Kisia sent me the GCC link and asked if we could submit a joint proposal." The pair asked classmate Dr. Khalid, an energetic strategist from Jordan who has worked with the WHO on maternal-fetal health programs and currently teaches medical practice in Ottawa, to join them. Desautels professor Leslie Breitner, the students' IMHL Cycle Director, agreed to mentor the group while other like-minded IMHL students such as Ms. Judith Horrell and Prof. Satish Chetlapalli contributed their expertise to the collaboration.

"Each of us understands the ramifications of water safety and brings something special to this initiative. Together, we're accomplishing far more than what we could if we worked alone," says Dr. Kisia. "We are very grateful for Grand Challenges Canada's support and its Government of Canada funding. Our priority is to demonstrate the copper device's safety, effectiveness and acceptability to the communities that are in need. Our success should influence governments to promote it and support our next goal, which is to apply for GCC's Phase 2 Transition-to-Scale Grant of up to $1 million."

About McGill University's International Masters for Health Leadership (IMHL)

IMHL is the brainchild of the internationally-renowned academic and author of management and organization, Professor Henry Mintzberg. The IMHL is a specialized and novel learning opportunity for managers in healthcare organizations who wish to enhance their leadership and managerial skills while having a lasting impact in health care. Participants work in all manner of healthcare organizations, including hospitals, community care, public health, government ministries, international agencies, and foundations. The IMHL is a collaborative effort of McGill's Desautels Faculty of Management and the Faculty of Medicine; IMHL graduates earn a Master of Management degree. www.mcgill.ca/desautels/programs/imhl

About the Institute for Ayurveda and Integrative Medicine (I-AIM)

I-AIM is a new-age health science institute based in Bangalore, India that focuses on the rediscovery of Ayurveda's holistic and sophisticated theoretical foundations. It strives to revitalise Indian medical heritage by strengthening both its natural resource base (such as medicinal flora) as well as the associated traditional knowledge. This it does by developing an integrated, epistemologically-informed interface between Ayurveda and biomedicine, life sciences and technologies. I-AIM also works to restore links to the oral traditions that are rooted in the community so as to strengthen the self-reliance of rural and urban households in primary healthcare, both preventive and curative. www.iaim.edu.in

About Action Africa Help International (AAH-I)

AAH-I is an African-led non-governmental organization based in Nairobi, Kenya whose mission is to support livelihood-challenged communities in Africa to sustainably improve their well-being and standard of living. AAH-I has over 20 years' experience working with communities affected by conflict and assists them transition to better lives after conflict. Directed by its philosophy of doing things with people rather than doing things to people, AAH-I focuses on creating long-lasting development through an integrated approach that supports communities to become self-reliant and regain control over their lives. AAH-I has Country Programs in South Sudan, Kenya, Uganda, Somalia and Zambia. www.actionafricahelp.org

Contact:

Chris Chipello, Media Relations

McGill University

514-398-4201

chris.chipello@mcgill.ca

Video
of the project
April 29, 2013