McGill medical student launches Stenoa, a promising start-up that reimagines the invasive diagnosis and treatment of cardiovascular disease.

By Diane Lynn Weidner, Ms. 

Jeremy Levett always wanted to be a physician. He remembers proudly drawing his chosen career on a poster to share with his preschool class. Over the years, his vision has evolved to become a physician-scientist, cardiovascular surgeon and innovator.

"I have always been hopeful and curious in nature, sensitive to the human condition, and fascinated by research and innovation. While medicine places a powerful emphasis on the art of healing, science has always appealed to me as the discovery and establishment of new knowledge, carrying a profound meaning and perpetuity which I've found to be very fulfilling," says Levett.

This passion is what led the second-year McGill medical student to found Stenoa, a promising start-up that reimagines the invasive diagnosis and treatment of cardiovascular disease, a leading cause of death globally.

Novel technology for analyzing coronary blood flow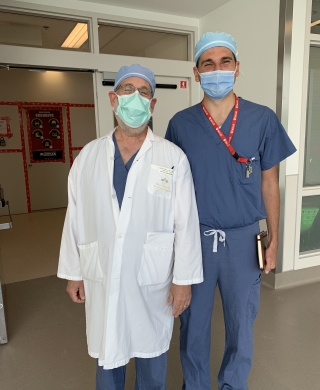 Coronary artery disease is the leading cause of death worldwide, claiming more than 9,400,000 lives annually. The gold-standard for diagnosing patients with coronary artery disease is a coronary angiogram, a procedure that involves the endovascular guidance of a catheter to a patient's heart. Once in position, contrast is injected and a sequence of X-ray images are acquired to visually estimate the (coronary) flow of blood to the heart. In the vast majority of cases, operators will interpret angiograms with no further objective guidance. However, additional invasive wires can be inserted to assess the physiological severity of coronary lesions and guide treatment with significantly improved outcomes.

Stenoa is developing novel technology for the cardiac catheterization laboratory, noninvasively modelling the physiological severity of coronary artery lesions, and reimagining the operative workflow. Their technology leverages computer vision and machine learning algorithms to interpret coronary angiograms in real-time, and provide objective diagnostic measures on the ischemic severity of coronary lesions in order to guide operators in diagnosis and treatment.

"Stenoa is striving to seamlessly integrate a data-driven experience into the cardiac catheterization laboratory, optimizing an intuitive environment natural to operators. But most of all," explains Levett, "Stenoa is here for patients." Ultimately, their innovations hold the potential for saving lives, improving clinical outcomes, and reducing unnecessary, invasive and costly interventions in a multibillion-dollar market.

Gravitating towards cardiovascular medicine
"There's a breathtaking beauty to touching the first organ system that develops and tirelessly beats to sustain life, from the beginning until the very end," explains Levett, who has always been fascinated by the cardiovascular system.

The sheer prevalence of cardiovascular disease also motivates Levett to pursue this area of expertise. "I feel a natural responsibility and sense of purpose to work on a disease that is the number one cause of death." Levett is inspired by the targeted approach in clinical research popularized by cardiovascular medicine to design large and simple studies that answer powerful questions. "The transformative nature of innovations that can translate to benefitting such large numbers of patients is a rare privilege to partake in," he says.

Looking for answers through research
Throughout his adolescence, Levett was always very observant and curious in nature, and troubled by the sudden suffering and loss of loved ones. "I couldn't reconcile how fatal diseases can cause so much suffering and grief, yet be unified by a common pathophysiology that science was in the process of ascertaining and advancing," he explains. "Nothing is a greater testament to this reality of science than the unprecedented circumstances we are living."

Searching for a role model to shape his understanding of science, at the young age of 14, Levett reached out to leading researchers around the world, proposing advanced stem cell projects that were inspired by personal losses and adversity. Among the over 30 professors Levett reached out to globally, the only one to take Levett's request seriously was Dr. Nahum Sonenberg, James McGill Professor at McGill University, Gilman Cheney Chair in Biochemistry, and researcher at the Goodman Cancer Research Centre. "Dr. Sonenberg, in all his wisdom and humility, has nurtured the foundations for my lifelong commitment to science and medicine. I owe him an unrepayable debt for entrusting me at such a young age, and inspiring my passion for fundamental research," says Levett.

"In my 41 years as a Professor at McGill University, my interactions with a student like Jeremy have been unprecedented," says Dr. Sonenberg. "Jeremy approached me when he was in Grade 9 as an aspiring physician-scientist. Over the past eight years, I have had the great pleasure of developing a unique relationship with him. Jeremy's passion, intelligence, curiosity, optimism, and dedication to science are exceptional. He would travel to my lab to perform experiments almost every day after school, and when he left late in the evening, he always thanked me for the opportunity to do science. His graceful disposition, kindness and contagious smile are unrivaled."

Levett also conducts research with Dr. Mark Eisenberg, a Professor of Medicine and Director of the MD-PhD Program at McGill University, interventional cardiologist, and researcher at the Jewish General Hospital. Levett credits Dr. Eisenberg with having inspired his interest in clinical epidemiology and aspiration for a career as a physician-scientist. "Dr. Eisenberg took me on before even officially entering medical school, and has since been a guiding compass. His efficiency, vast clinical and scientific expertise, encouragement, and support have imprinted a lasting and immeasurable impression on me," says Levett. In their first year collaborating, Levett published over three peer-reviewed articles with Dr. Eisenberg and presented at international congresses.

This early exposure to research helped shape Levett's vision for Stenoa. "While Stenoa doesn't work at the cellular level, I find many parallels between basic science research and machine learning. The amazing responsibility of working with entities at unbelievable orders of magnitude and dimensions, with implications that far extend the petri dish or database, is simply magical," he explains.

Bringing together the right expertise
Levett had a vision, but understood there was no way of getting there alone. He considers himself exceptionally fortunate to have discovered the right team along the journey.

Dr. Ivan Ivanov, a College Professor Levett encountered in his studies, is one of the people who helped propel his vision forward. Levett was impressed with Dr. Ivanov's intelligent, calm, and thorough mind. "Dr. Ivanov always had an appreciation for the fundamental mathematics that underpinned machine learning advancements, and continues to entertain the extents of our imagination." Dr. Ivanov is now the Chief Scientific Officer at Stenoa.

Further along his journey when he was in his first year at McGill, Levett met Dr. Marco Spaziano, an interventional cardiologist at the McGill University Health Centre and Assistant Professor of Medicine at McGill University. "Being at the frontlines of the battle against cardiovascular disease, Dr. Spaziano is intimately familiar with the needs of operators and clinicians to best care for patients. He believes in the potential of artificial intelligence to disrupt the cardiac catheterization laboratory, and this shared vision nurtures limitless possibility," says Jeremy, who recruited Dr. Spaziano to be Stenoa's Chief Medical Officer.

"Bringing this team together, and having their trust to lead this, is the most empowering experience. They are both such talented experts, courageous and kind mentors, and so dedicated to this endeavour that I feel privileged building this with them," says Levett.

Unprecedented circumstances create opportunities
While the coronavirus pandemic has been an obstacle for many, at Stenoa, its been the opposite. The pandemic has offered them the opportunity to maximize efficiencies.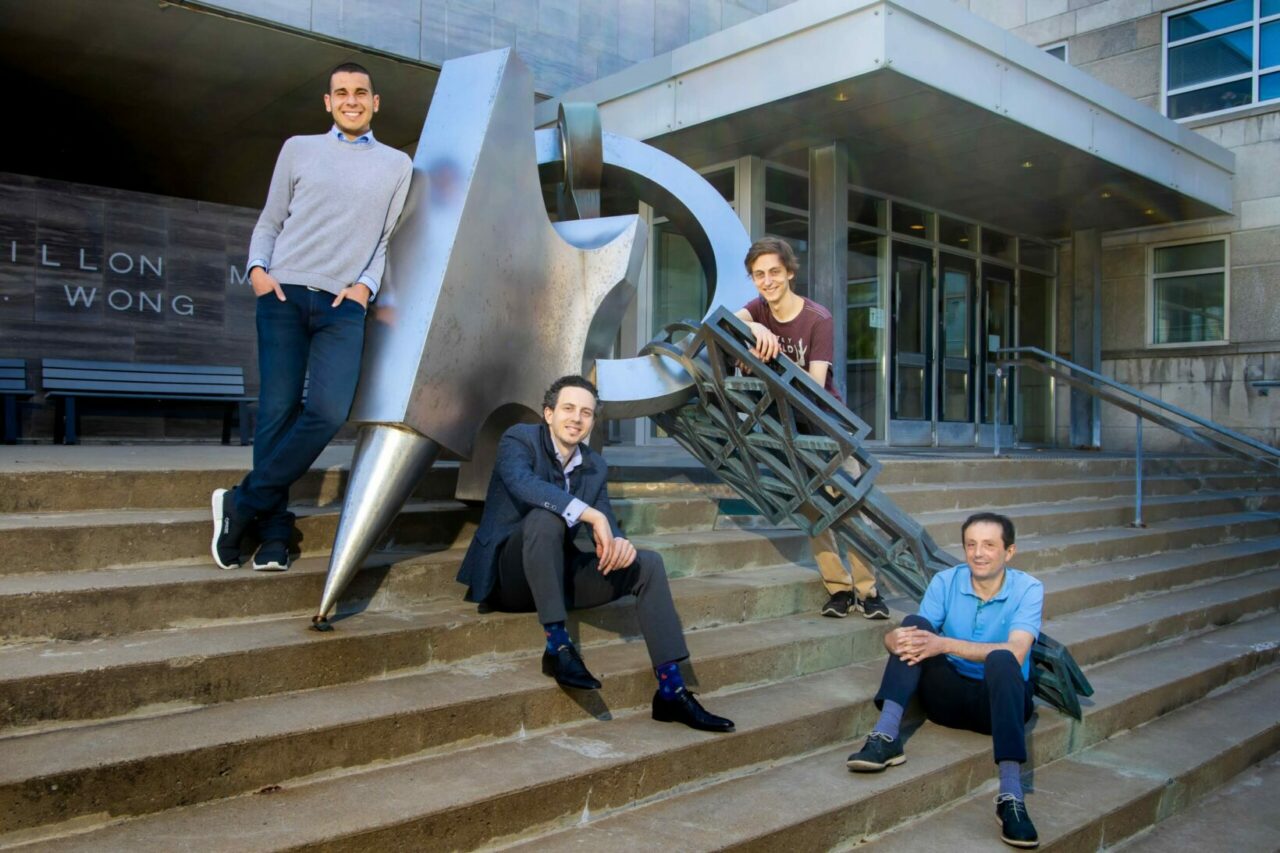 "Winning the Hakim Family Innovation Prize at the McGill Clinical Innovation Competition (CLIC) in May 2020 has brought magnitude to what we are doing. Over the past months, we've quickly established the foundational corporate and organizational structure necessary for significant growth," says Levett. "Industry professionals, from our legal team to the financial, regulatory, and clinical experts that advise us, have been extremely accessible and supportive. We've had direct access to national leaders in emerging technology, and are excited for the mutual success ahead."

Stenoa has been working with academic hospitals to leverage angiographic data for the training and validation of its pipeline of algorithms. In October of 2020, Stenoa was selected to present at the Cath Lab of the Future Session of the world's largest conference on interventional cardiology, TCT 2020. In parallel with the team's growth, machine learning and backend development, Stenoa is maximizing non-dilutive funding opportunities with government agencies and through grant competitions.
Preparing to fly

"This began as a dream," says Levett, reflecting upon his journey. "I remain forever indebted to my incredible parents, brothers, family, friends, and community. I attribute much of my success to the humility I observe in the many simple, honest, and hardworking individuals that surround me. They bring me an incredible sense of pride in even the smallest accomplishments, and remind me to cherish every moment. I am also sincerely grateful to the internationally renowned, research-intensive, and mission-driven community at McGill University. It is an honour and privilege growing to become a physician-scientist with the support of a trailblazing institution."
March 22 2021