Growing up in the Croatian capital city of Zagreb, Dr. Ante L. Padjen, Associate Professor (post- retirement) at McGill University, found inspiration in the orchestra of the Croatian Institute of Music (CIM). Founded in 1827, the CIM has mostly been an ensemble comprised of physicians, lawyers, engineers and students, conducted by a professor from the Zagreb Music Academy. Following an opportunity to play briefly with CIM himself, Dr. Padjen's career path, and his passion for music, landed him at McGill some 42 years ago as professor of pharmacology and therapeutics.

"When I joined McGill, I met several physician-musicians, including the late Dr. Israel Libman, Dr. Michael Kramer, Dr. Deborah Black and Dr. Michael Rasminsky, who together formed string and piano quartets," shares Dr. Padjen, who was often simultaneously playing with a second string quartet and began to find the time demands overwhelming, particularly for a junior faculty member. "I started to think about fusing two quartets into a chamber ensemble and shared the idea of a 'doctors' ensemble' with a young conductor, Wanda Kaluzny whom I knew from different social events in the Faculty. Wanda took to my idea, and Israel Libman accepted to be the Concertmaster of the future ensemble. I learned that Dean Richard Cruess had a great interest in music, and when presented with a proposal to create an orchestra in the Faculty, he agreed to be the sponsor and provide us with initial funding." And so, in 1989, I Medici di McGill, a name proposed by Dr. Hans Zingg, an early member of the ensemble, was born.

The orchestra began as a small group of 14 string players, which included nine faculty members and two medical students.  At the beginning of each season, the group holds auditions, and over the years the number of medical and other students has increased relative to the faculty members. Of the estimated 450 musicians who have been associated with I Medici di McGill over the past 30 years, Dr. Padjen estimates that 300 have been students from the Faculties of Medicine, Science, Arts as well as the Schulich School of Music. During their current season, I Medici di McGill has featured 25 faculty and friends, 7 retired persons and 35 students.

Helping to humanize medical education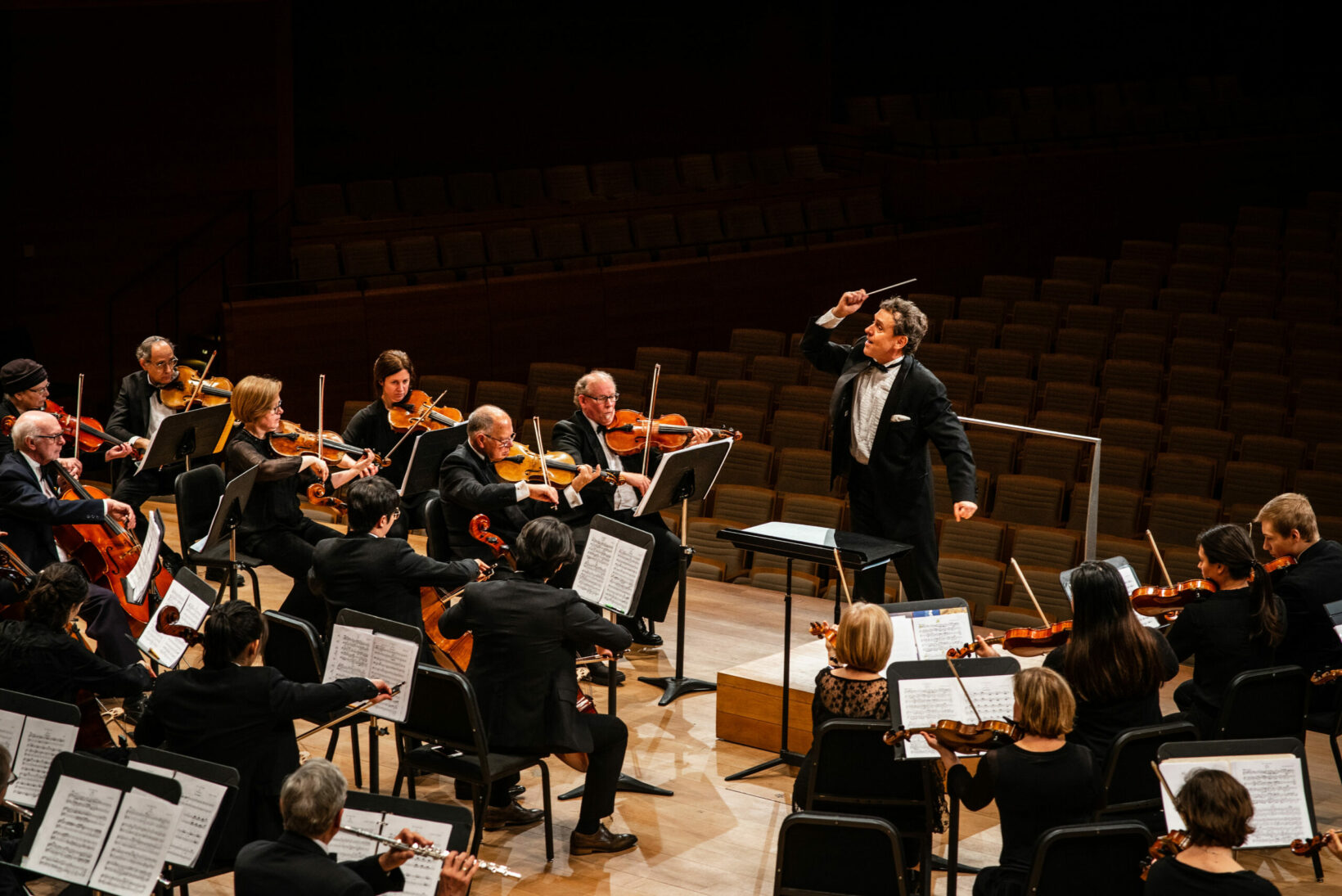 I Medici di McGill appeared on the scene at a time when ideas were changing around medical education. "It had become clear that strong scientific basis dominated by an ever increasing role of technology was not enough to train physicians best-prepared for current medical practice," explains Dr. Padjen. "Gradual inclusion of humanistic subjects in the curriculum blossomed. In line with this thinking, I Medici brings a unique artistic and social dimension to medical education and the medical profession, contributing to the idea of 'humanized' medicine at the Faculty." From the beginning, I Medici di McGill has provided an opportunity for those with musical talent at the Faculty of Medicine to share in the joy of making music, through their weekly rehearsals and their three to four concerts per season.

Over the three decades of their existence, I Medici di McGill has performed some 200 works, running the gamut of great composers, including, among others, Stravinsky, Prokofiev, Shostakovich, Elgar, Vaughan Williams, and Janacek. The concerts have also allowed I Medici to serve an outreach function for the Faculty, both through their annual lecture concerts, which combine health science-related workshops with music, and in their efforts to raise both awareness and funds for important causes.

"We have always considered our role as primarily promoting or drawing attention to important medical or other social causes," notes Dr. Padjen. He estimates that in total they have raised approximately $500,000 with approximately 67 sponsors of benefit events, all Montreal or Canada-based.

As they get set to conclude their 30th season with a concert led by their current maestro Gilles Auger on April 28 to benefit Epilepsy Canada, Dr. Padjen, who, along with I Medici di McGill found a new home at the Faculty within the Dean's Office, is keeping busy, with many plans for the ensemble's future.

"I Medici di McGill was an early contributor to the idea that humanities and arts are important for medical education and practice," he notes. "We hope that music will be recognized as a key contributor to medical education, and ultimately, we would like to see some formal academic recognition of the participation of students in our program in the medical curriculum. We are also working on having playing with I Medici recognized as a credited elective for science and art students, and are working on establishing a foundation to ensure the continuity of this orchestra as the founding members are now at retirement age."

Still in the early stages of implementation, I Medici di McGill is getting set to send out an invitation to audition for its soon-to-be launched I Medici di McGill Choir. Dr Padjen is also working to establish a Performing Arts Medical Network – a multidisciplinary team containing a rheumatologist, a neurologist, a psychiatrist, a neuroscientist, physical therapists and kinesiologists, to deal with injuries of practicing musicians, students and professionals.

More information on I Medici di McGill: http://www.imedici.mcgill.ca/Pub/Pub_Front.asp

I Medici di McGill wraps up its 30th year with a concert benefiting Epilepsy Canada at 4 pm on April 28 at L'Église St. Andrew and St. Paul Church, 3415 rue Redpath, Montréal, QC H3G 2G2. For more information and to purchase tickets for the concert, visit:
http://www.imedici.mcgill.ca/Pub/Pub_Main_Display.asp?LC_Docs_ID=6124
April 25, 2019