McGill's Faculty of Medicine and Health Sciences welcomes the Class of 2024
By Lisa Dutton
The largest cohort of medical students in McGill's history started their four years of training on August 17. The Faculty of Medicine and Health Sciences welcomed 202 students at its annual orientation and information session: 178 will study in Montreal and 24 in Gatineau, where the language of education is French.

For the first time, the undergraduate medical education (UGME) orientation session was held by Zoom for Montreal students. Students in Gatineau assembled in an amphitheatre at the Université de Québec en Outaouais (UQO) to tune into the webcast. Because of the smaller class size, the students could join in-person, equipped with facemasks and respecting public health directives, at UQO. McGill's new Campus Outaouais facilities will officially open in the late fall once construction, delayed by the pandemic, is completed.

"This is an exceptional year," Dr. David Eidelman, Vice-Principal (Health Affairs) & Dean of Medicine and Health Sciences told the students during the orientation. "We're in the midst of a global health emergency – a pandemic. This is probably not what you thought your first year in medical school would be like. That said, occasions like today give us a wonderful reason to celebrate. You are the newest members of McGill's School of Medicine, preparing to join a community of outstanding physicians and researchers at an extraordinary time in our history. Congratulations on your admission to McGill; this is a great achievement."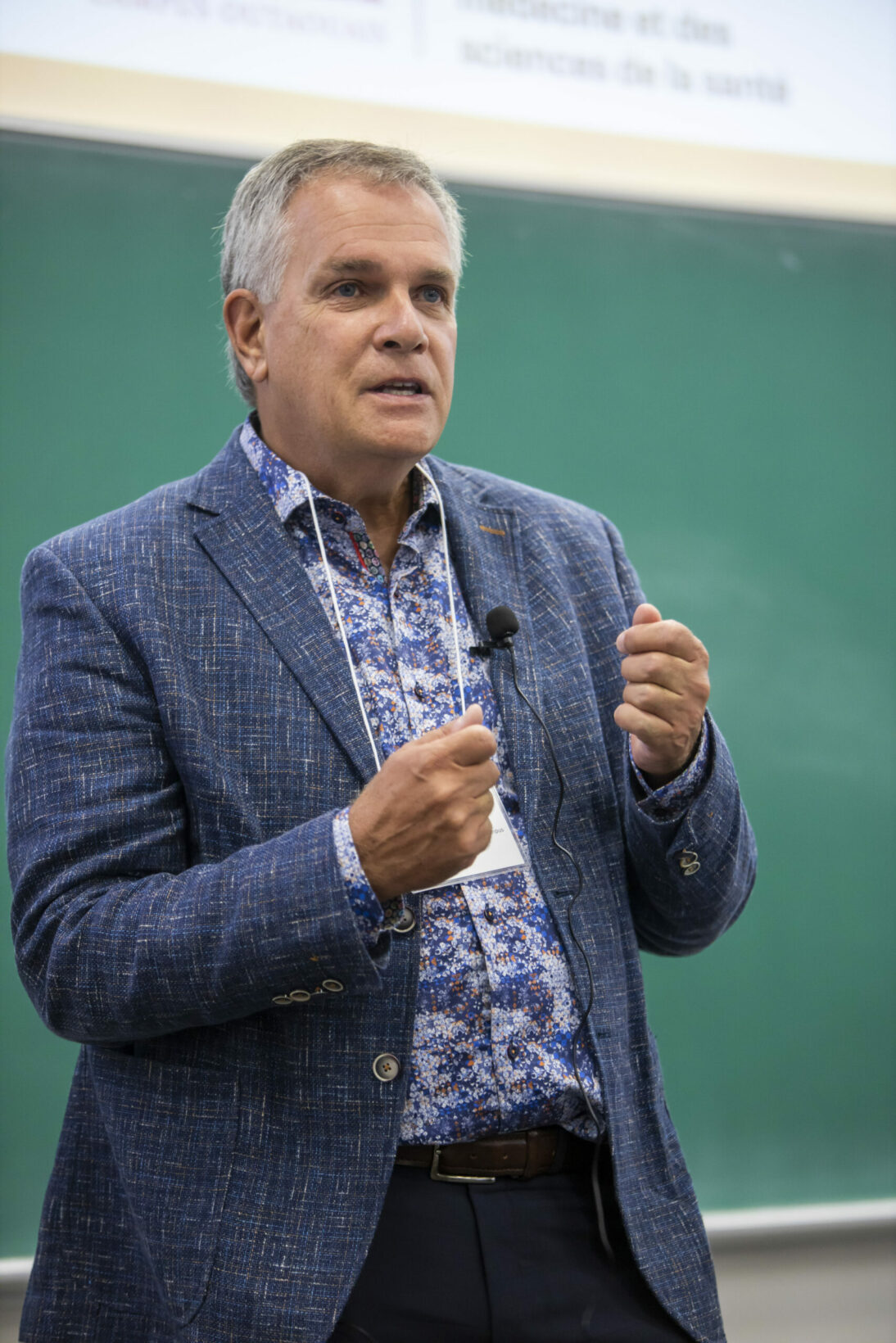 Passing on advice to the next generation of physicians
Before delving into the ins and outs of the first 18 months of the MDCM curriculum, Dr. Gilles Brousseau, Vice-Dean and Director, Campus Outaouais; Dr. Mélanie Mondou, Associate Dean, UGME; Dr. Marion Koch, Program Director, Campus Outaouais; along with Denis Rompotinos and Meng Zhu of the McGill Medical Students' Society, welcomed the students and shared some words of wisdom.  In particular, they urged students to take advantage of all the opportunities that will come their way in research, volunteering, advocacy and much more, while also reminding them to be mindful of their health and wellbeing. Pace yourselves – was the big take away message.

Addressing both cohorts of students, Dr. Brousseau reminisced about his time as a student. "Over 40 years ago, like many of you, I left the region where I grew up to attend medical school. During my studies, I had the chance to do two regional rotations. This experience was extremely rewarding, in terms of both the learning opportunities and clinical training. After practicing medicine for several years, I decided to devote myself to offering the same type of enriching experiences in Outaouais to medical students like you."

Dr. Brousseau encouraged students to let their compassion for people and passion for medicine guide them. They are the flame that will light the way throughout their training, he said.

The next generation of McGill trained physicians start their trajectory
"I am so excited! I have been waiting for this moment for years," said Nicolas Daccache, a member of the first cohort of medical students starting the MDCM program in Gatineau. "I chose McGill because of the MDCM program structure, which includes more clinical clerkship semesters than most other Canadian medical schools. I am pleased to be studying at Campus Outaouais; because we are a small cohort of students, our professors will provide us with personalized attention. Additionally, I am proud to be among the first medical students to represent McGill in the Outaouais region."

Med-P graduate Emily Oulousian, a Conservatoire de musique de Montréal trained concert pianist, said she was motivated to study medicine at age five, "My father suffered a severe heart attack, and underwent a quintuple bypass operation.  We nearly lost him. That experience changed my perspective on what I wanted to achieve in life. I wanted to give back what my father and my family were so lucky to receive. That is the root of my desire to become a doctor, a desire that has not waned over the years." Emily, who is studying in Montreal, admits she is daunted by the sheer amount of knowledge she and her colleagues need to process, but said, "if the pandemic taught us one thing it is: 'Ça va bien aller.'"

Words of wisdom from the Dean
Dean Eidelman, a McGill MDCM graduate himself, passed on three pieces of wisdom, which he hopes will serve the Class of 2024 well throughout medical school and their careers:

"
Be Compassionate. Compassion is powerful. It undeniably improves patient outcomes." Alongside the countless other things students will learn in the years ahead, the Dean urged students to cultivate genuine compassion for the people in their care.
"Be attentive. Truly excellent doctors, real healers, are those who listen to their patients and strive to understand their situation," His advice: talk less, listen more.

"Be humble. Outstanding doctors are humbled by the task of mastering their profession and their accountability to their patients and society. You are embarking on a journey of lifelong learning. It's thrilling, it's a privilege, and it's a humbling responsibility. Stay humble, always."

Orientation by Zoom is a huge success
The teams in the Undergraduate Medical Education Office, both in Montreal and Outaouais, are commended for their hard work in transforming the Orientation session to an online event. It takes months of planning and many meetings to line up the speakers, topics and presentations. Plus, planning all of this while working from home adds another layer of complexity as you can't merely drop by someone's office to confirm participation or ask a quick question.  Thanks to the joint efforts of the UGME team on both campuses, students received the vital information they needed to start their medical education off right.

In Gatineau, McGill launches the MDCM and Med-P programs
During orientation week, the Gatineau team welcomed two cohorts of students: 24 future doctors in the MDMC Program and 16 who started the Medicine Preparatory Program, offered in partnership with UQO.  The local media turned out for a meet and greet and a chance to meet the new students. A huge thank you to UQO, who hosted the regional orientation sessions.

Read more
and look at the
photo album
.
August 28 2020