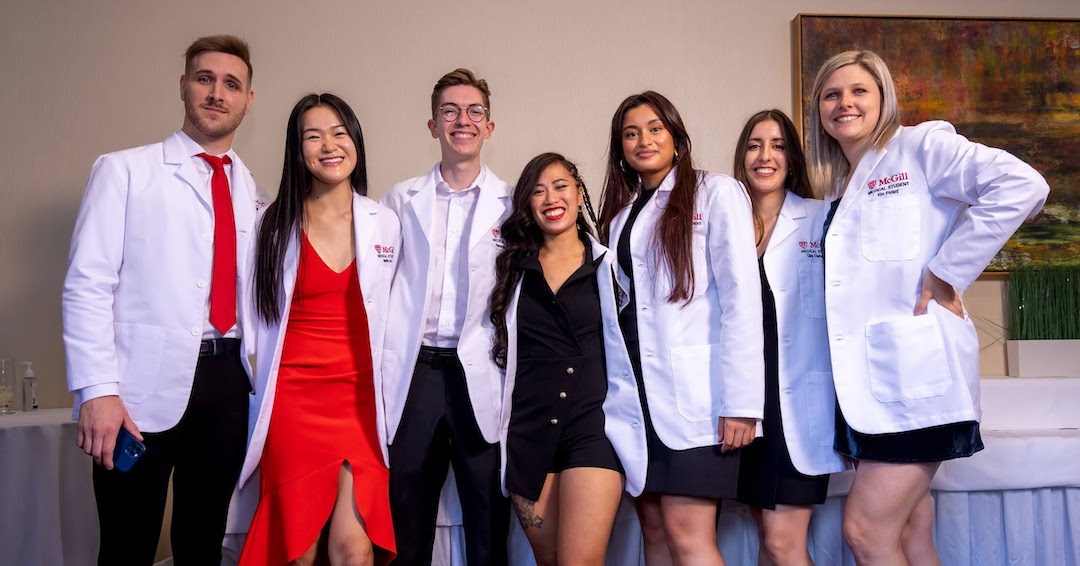 For the first time in history, Class of 2025 MDCM students from Montreal Campus and Campus Outaouais celebrated together, in person, the important rite of passage marking second year students' transition to clinical practice that is the White Coat Ceremony. Now in its 21st edition, the White Coat Ceremony, also known as 'Donning the Healer's Habit Ceremony', was hosted by Associate Dean for UGME Melanie Mondou, MDCM, and Program Director for Campus Outaouais Marion Koch, MD.
Opening with a delightful performance by the quartet I Medici di McGill, the MDCM Class of 2025 was reminded of the importance of this momentous event by David Eidelman, MDCM, Vice-Principal (Health Affairs) and Dean of the Faculty of Medicine and Health Sciences. "You all have been given a powerful gift, symbolized by the white coat; that gift is the talent and the opportunity to train to become a doctor, to make a big difference in people's lives," he said.
Keynote speaker Jillian Horton, MD, Associate Professor, Internal Medicine, Health Sciences Centre, University of Manitoba, delivered a powerful keynote address, reminding students of the importance of compassion within the healthcare professions. Students also heard personal reflections by fellow student Jeffrey Sioufi, Class of 2023.
Following the donning of the white coats, the ceremony concluded with recitations of the class pledge in English and French. The ceremony was a resounding success for the 204 students, who are now looking forward to their clinical rotations: "The White Coat Ceremony means everything to us students. It's an important step on our journeys as future physicians. And it's a day we'll look back on, 20, 30 years from now" said Oma Toubar, Class president for Campus Outaouais.
The occasion was made even more special since students were able to invite their friends and family to join them in person for the first time since the pandemic. Overall, over 650 people attended the 2022 White Coat Ceremony.
Congratulations once again to Class of 2025!