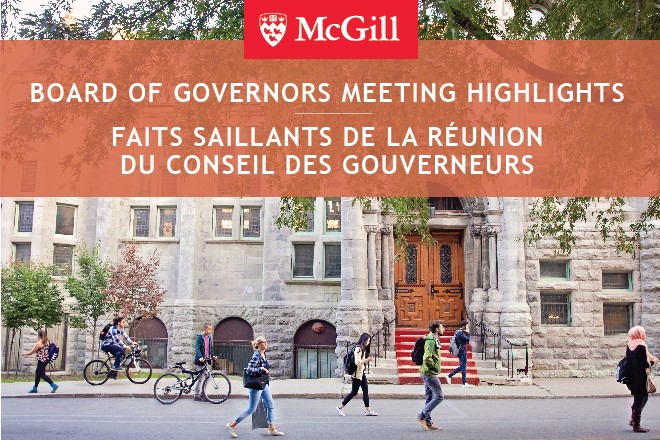 Dear members of the McGill community,

It is once again our pleasure to provide you with an update on the recent activities of McGill's Board of Governors. You can learn more about the Board's mandate and membership on its website.

On March 13, the Quebec government announced the suspension of teaching activities and all non essential activities in light of COVID-19.

McGill's Board therefore held its fourth meeting of the 2019-2020 governance year virtually on April 23, 2020 in order to comply with government directives. The full minutes of the meeting's open session will be available following approval at the Board's next meeting, on May 21, 2020. In the meantime, we would like to share with you the meeting's important discussions, decisions and developments.

Thank you for your interest in the work of the Board of Governors. If you have any questions, ideas or comments, please write suzanne.fortier@mcgill.ca.

Sincerely,

Suzanne Fortier, Principal and Vice-Chancellor

Ram Panda, Chair, McGill Board of Governors

May 4, 2020