Spending time with inspiring leaders reminds us of how far health care has progressed and sheds light on opportunities for improved patient care and outcomes that we all strive for.
Every year, we invite world-leaders in medical simulation to visit the Steinberg Centre for Simulation and Interactive Learning (SCSIL) to share insights and expertise with the McGill community, thanks to the generosity and vision of the Flanders Family Visiting Professorship in Medical Simulation.  This year, we were fortunate to welcome both Dr. Vinay M. Nadkarni and his wife and surgical colleague, Dr. Ellen Deutsch.

Dr. Nadkarni is a Professor and Endowed Chair at the Children's Hospital of Philadelphia (CHOP), Departments of Anesthesiology, Critical Care and Pediatrics, Perelman School of Medicine at the University of Pennsylvania; he also founded and directs the CHOP Center for Simulation, Advanced Education and Innovation. Dr. Deutsch is a Pediatric Otolaryngologist and Medical Director of the Pennsylvania Patient Safety Authority and ECRI Institute.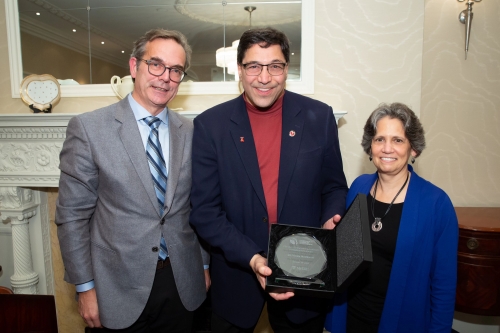 "It gives me such great pleasure to welcome not one, but two, visiting professors who have vast experience leading successful in-situ simulation and resuscitation programs that have a huge impact on patient safety and outcomes," says Dr. Kevin Lachapelle, Founding Director and current Interim Director of the SCSIL. "We opened our Centre in 2006, and it's been quite successful, with huge uptake from the Faculty of Medicine, from our affiliated hospitals and from the University as a whole. But one of the things that we are trying to understand is how we can take what we've learned, and what we do at the SCSIL, and integrate it into our daily clinical practice so that education and simulation become one with what we do every day. Our visiting professors' expertise in this area will help guide us towards this goal."

This dynamic duo eagerly shared their expertise during two jam-packed days, lecturing at Pediatric Medical Grand Rounds, at Combined Surgical and Anesthesia Grand Rounds, and delivering a special lecture for health care professionals at the McGill University Health Centre. They also spent time discussing resuscitation and patient safety with staff at the Montreal Children's Hospital Pediatric Intensive Care Unit, met with students from the McGill Experimental Surgery Program, and offered guidance to residents and fellows on research opportunities and career goals. Their visit culminated with a special dinner in their honor hosted by the Flanders Family.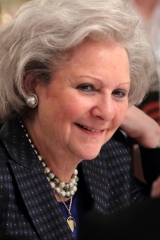 Mrs. Kappy Flanders and the late Arnold Steinberg were two of the visionaries who first brought the concept of a simulation skills centre to the McGill Faculty of Medicine leadership. Along with Drs. Abraham Fuks and Kevin Lachapelle, they propelled the vision forward and established the Centre in 2006."I am delighted to welcome you all, to share in the Centre's achievements and to recognize all of the incredible leaders who have helped to inspire, to innovate and to move the Centre forward," expressed Mrs. Flanders. "The title of our visiting professors' combined lecture is 'Simulation and Systems at the Cutting Edge… What Next?' which seems like a good question to ask ourselves."

Read the interview  Heart-to-heart with Dr. Vinay M. Nadkarni, a Resuscitation Giant.

Read the article on  Patient Safety with Dr. Ellen Deutsch.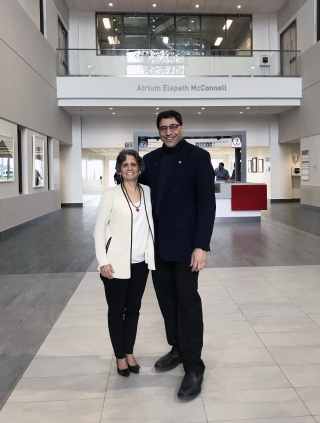 The lectures have been recorded and are available for viewing online:
Pediatric Medical Grand Rounds on October 17, 2018:

Pediatric Resuscitation: State of the Art…
Combined Surgical and Anesthesia Grand Rounds on October 18, 2018:

Simulation and Systems at the Cutting Edge… What Next?
Special Lecture on October 18, 2018:

Resuscitation: Past, Present and Future
November 14, 2018