By McGill Reporter Staff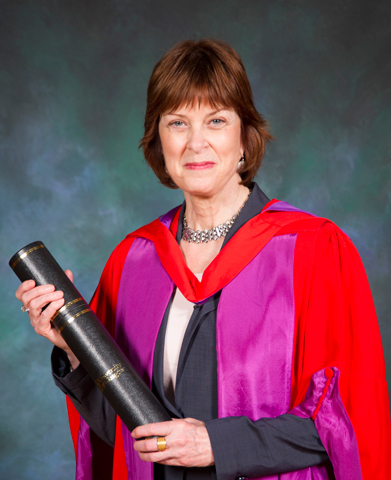 Talk about coming full circle. Principal Heather Munroe-Blum received an honorary degree Thursday from the University of Glasgow, in Scotland – the alma mater of the University's founder, James McGill.

Prof. Munroe-Blum was made a Doctor of Letters (D.Litt.) at the University's Commemoration Day ceremony, which celebrates the founding of the University of Glasgow in 1451, the fourth-oldest university in the English-speaking world.

The ties between the two universities run deep. McGill also celebrated its Scottish roots in May 2012, as part of the 190th anniversary celebrations, when it bestowed honorary degrees on Prof. Anton Muscatelli, Principal and Vice-Chancellor of the University of Glasgow, and Professor Sir Timothy O'Shea, Principal and Vice-Chancellor of the University of Edinburgh.

Muscatelli and O'Shea at the time unveiled three commemorative benches made of Scottish granite installed in the McGill Visitor's Garden to celebrate the longstanding ties that bind the three universities.

"I am very pleased to be able to award an honorary degree to Professor Heather Munroe-Blum in recognition of her vital academic work in the fields of psychiatric epidemiology and public policy, and for her commitment to championing the role of universities in enriching society," Muscatelli said Thursday.

Read more in the McGill reporter.

June 17, 2013