MUHC-led study evaluates gender and age differences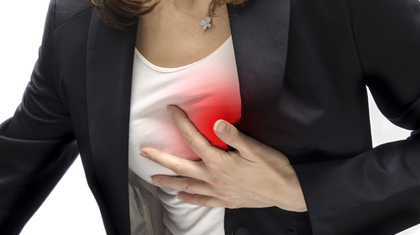 Chest pain is recognized as a symptom of heart troubles, but one out of five women aged 55 years or less having a heart attack do not experience this symptom, according to a study led by the Research Institute of the McGill University Health Centre (RI-MUHC). The research findings, gathered from partner institutions across Canada including the University of British Columbia (UBC), are the first to describe this phenomenon in young women. The study, published in JAMA Internal Medicine, has implications for emergency room healthcare professionals and for at-risk individuals, as seconds matter when it comes to the accurate diagnosis and treatment of heart attack.
"We need to move away from the image of an older man clutching his chest, when we think about acute coronary syndrome (ACS – the umbrella term referring to heart attacks and angina), says senior author of the study, Dr. Louise Pilote, director of the Division of General Internal Medicine at the MUHC and McGill University and professor of medicine at McGill University. "The reality is that chest pain, age and gender are no longer the definers of a heart attack. Our study demonstrates that young people and women who come into the emergency without chest pain, but other tell-tale ACS symptoms such as weakness, shortness of breath and/or rapid heartbeats, are in crisis. We need to be able to recognize this and adapt to new standard assessments in previously unrecognized groups such as young women."

"Women less than 55 years old are more likely to have their ACS misdiagnosed in the ER than men, and they have higher risk of death," adds first author Dr. Nadia Khan, associate professor of Medicine, UBC. "The public and physicians need to be aware of this problem."

Pain not an indicator of disease severity
Drs. Pilote, Khan and colleagues evaluated more than 1,000 young patients who were hospitalized for ACS. Their findings showed that women were less likely to experience chest pain compared with men and that the absence of this pain did not correlate with less severe heart attacks. Patients without chest pain had fewer symptoms overall but their ACS was not less severe. The diagnosis of ACS, therefore, depended on detailed cardiological assessments.

"It is important to remember that chest pain is a main indicator of ACS, but not the only one," says Dr. Pilote.

"We need to remind ourselves that even without chest pain, something serious could still be happening," adds Dr. Khan.

This research was made possible thanks to funding from the Heart and Stroke Foundation and the Canadian Institutes of Health Research (CIHR).
September 23, 2013