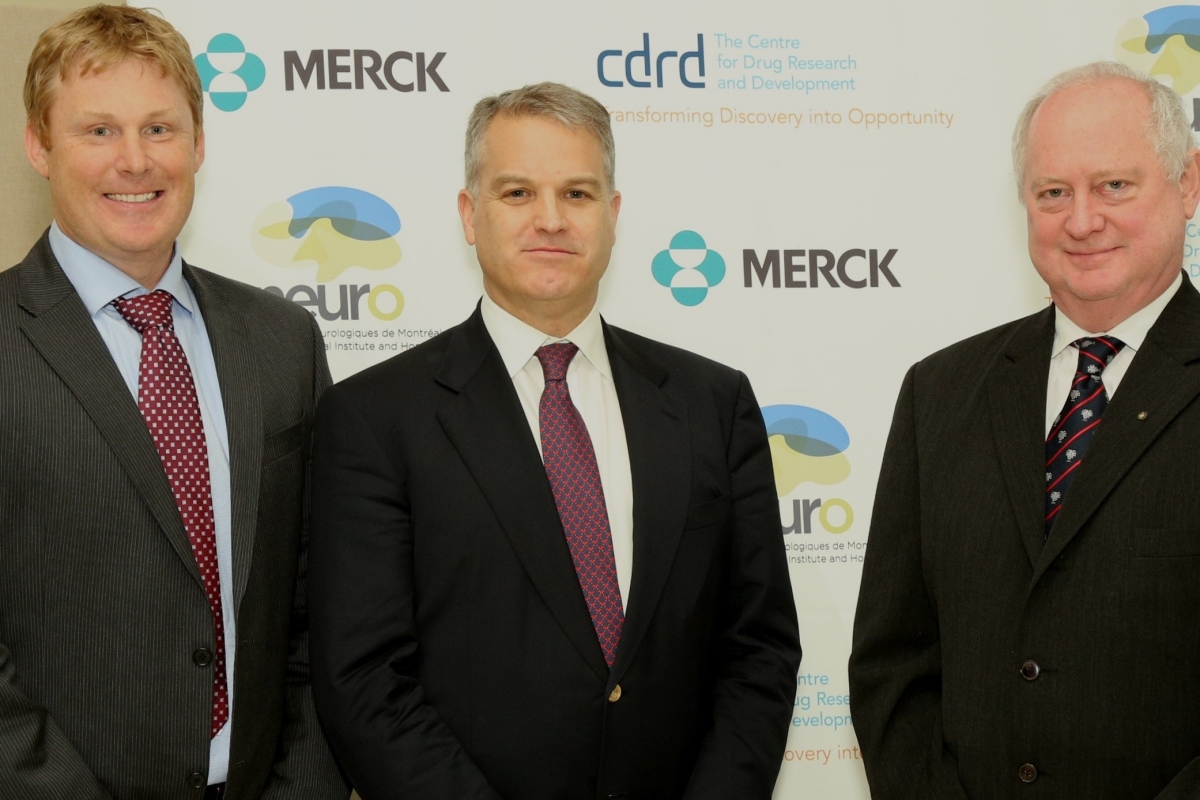 From The Neuro

Working together to accelerate research into neurological diseases, three leading players in Canada's health sciences sector are joining forces in a unique multi-million dollar partnership to create a novel drug development platform that will help advance new therapeutics for some of the most debilitating conditions such as amyotrophic lateral sclerosis (ALS), also known as Lou Gehrig's disease, and Parkinson's disease.

The initiative, under the banner of 'NeuroCDRD', is jointly led by The Centre for Drug Research and Development (CDRD), Canada's national drug development engine, the Montreal Neurological Institute and Hospital at McGill University (MNI), and Merck, known as MSD outside the United States and Canada. Its initial focus is the creation of a high-content hiPSC (human-induced pluripotent stem cell) screening platform that will help researchers better model neurological disease, aiming to break down barriers that have slowed the development of new treatments for neurological diseases.

Gordon McCauley, President and CEO of CDRD commented, "CDRD is a bridge, bringing together national and international partners and our respective resources to advance promising discoveries into innovative therapeutic products and improved health outcomes. This partnership is a perfect example of how we can combine the cutting-edge science of our academic partners, such as McGill, with CDRD's translational abilities, and the commercial resources of a top industry partner like Merck. It also speaks to the spirit of collaboration that exists in Canada. By working together, we are a catalyst for Canadian life sciences leading the world."

Development of new drugs for neurological diseases has long been hampered by the lack of predictive humanized models, and many treatments that have looked promising in animal studies have thus failed in subsequent human clinical trials. To mitigate this challenge, this new collaboration will use the MNI's renowned hiPSC platform and bring together experts from MNI's neurological and CDRD's drug screening and assay development teams to develop the next generation of disease-specific research models using patient-derived hiPSCs. The partnership will help significantly reduce research timelines and costs, making it possible to develop future hiPSC models for neurological diseases with smaller patient populations.

"The burden of neurological diseases and injuries on society is growing each year, and as a physician I see the impact on patients and families every day. At the Montreal Neurological Institute and Hospital, our mission is to drive forward innovation, discovery and advance patient care.  We are grateful to CDRD and Merck for developing this partnership and sharing this goal with us," said Dr. Guy Rouleau, Director of the Montreal Neurological Institute and Hospital.

"This initiative exemplifies our ongoing approach to R&D, building collaborative relationships among talented researchers across the country.  We are confident that this partnership with CDRD and MNI has the potential to accelerate development of new treatments for neurological diseases," said Chirfi Guindo, President and Managing Director, Merck Canada Inc.

March 17, 2017