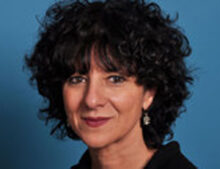 Dr. Mimi Israël, psychiatrist-in-Chief at the Douglas Mental Health University Institute and Chair of the Department of Psychiatry at McGill University, has been awarded the 2013 prix Reconnaissance de carrière Persillier-Lachapelle.

This award honours individuals who have devoted their career to developing and improving health and social services network services. It was presented to Dr. Israël by the Minister of Health and Social Services and by the Minister for Social Services and Youth Protection at a ceremony on November 15 in Quebec City.

"Dr. Israël is an exceptional clinician, researcher and administrator. All who know her can attest to her professional rigour, and to her humanity and ability to mobilize the health sector to improve access to mental health care. An award like the Persillier-Lachapelle is certainly fitting as it recognizes the contributions of an exceptional career dedicated to the well-being of people with mental illness. We are extremely proud and extend our warmest congratulations," said Lynne McVey, RN, MSc, Executive Director of the Douglas Institute.
An extraordinary journey
Mimi Israël, MD, FRCPC, joined the Douglas in 1998 and was appointed Psychiatrist-in-Chief in 2001. She was named Chair of the Department of Psychiatry at McGill University in 2008, the first woman to hold the post. Since 2002, Dr. Israël has also been President of the Association of Chiefs of Departments of Psychiatry of Montreal. In 2002, after teaching for fifteen years, Dr. Israël became an Associate Professor in the Department of Psychiatry at the McGill University Faculty of Medicine. For many years, she has helped train medical students and psychiatry residents.

A clinician, teacher, researcher and administrator, Dr. Israël is interested in eating and mood disorders, crisis intervention, emergency psychiatry, and the organization and delivery of mental health services. She has overseen major organizational changes at the Douglas. This has included playing a leading role in improving living conditions for patients who must deal with the forensic system. Her reorganization of clinical services has been innovative, improving both the quality of and access to care.
A passion grounded in "real life"
Dr. Israël practises psychiatry at the Douglas Eating Disorders Clinic because she is sensitive to the suffering of people with these disorders. She is also a "médecin spécialiste répondant en psychiatrie" for CSSS du Sud-Ouest – Verdun, and chair of the Mental Health Subcommittee of the Réseau universitaire intégré de santé of McGill University.

Her interest extends beyond the illness, which is why she frequently speaks about a psychosocial context that focuses on the female body as the measure of self-esteem and value. She is recognized for her longstanding commitment to public education and community-based training.
Beyond the clinical mission
Mimi Israël is sensitive to the needs of young professional women and well aware of the challenges they will face during their career. For this reason, she acts as a mentor for many women who are training or starting their career. Her research interests focus primarily on the influence of personality traits on neurobiological and genetic factors in eating disorders.
An appreciated and recognized contribution
In 2011, she was named Fellow of the Canadian Psychiatric Association. She was a 2008 finalist for the Women of Distinction Award in the Science and Health category. In 2006, Dr. Israël received the Grand Prize of the College of Physicians of the Quebec Medical College of Physicians, the first psychiatrist to receive the highest honour from that organization. She was the recipient of three McGill University teaching awards and also received the National Alliance for the Mentally Ill Exemplary Psychiatrist Award in 1998.

Watch the video portrait of Mimi Israël shown at the ceremony.

November 20, 2013