By Elizabeth McPhedran, MUHC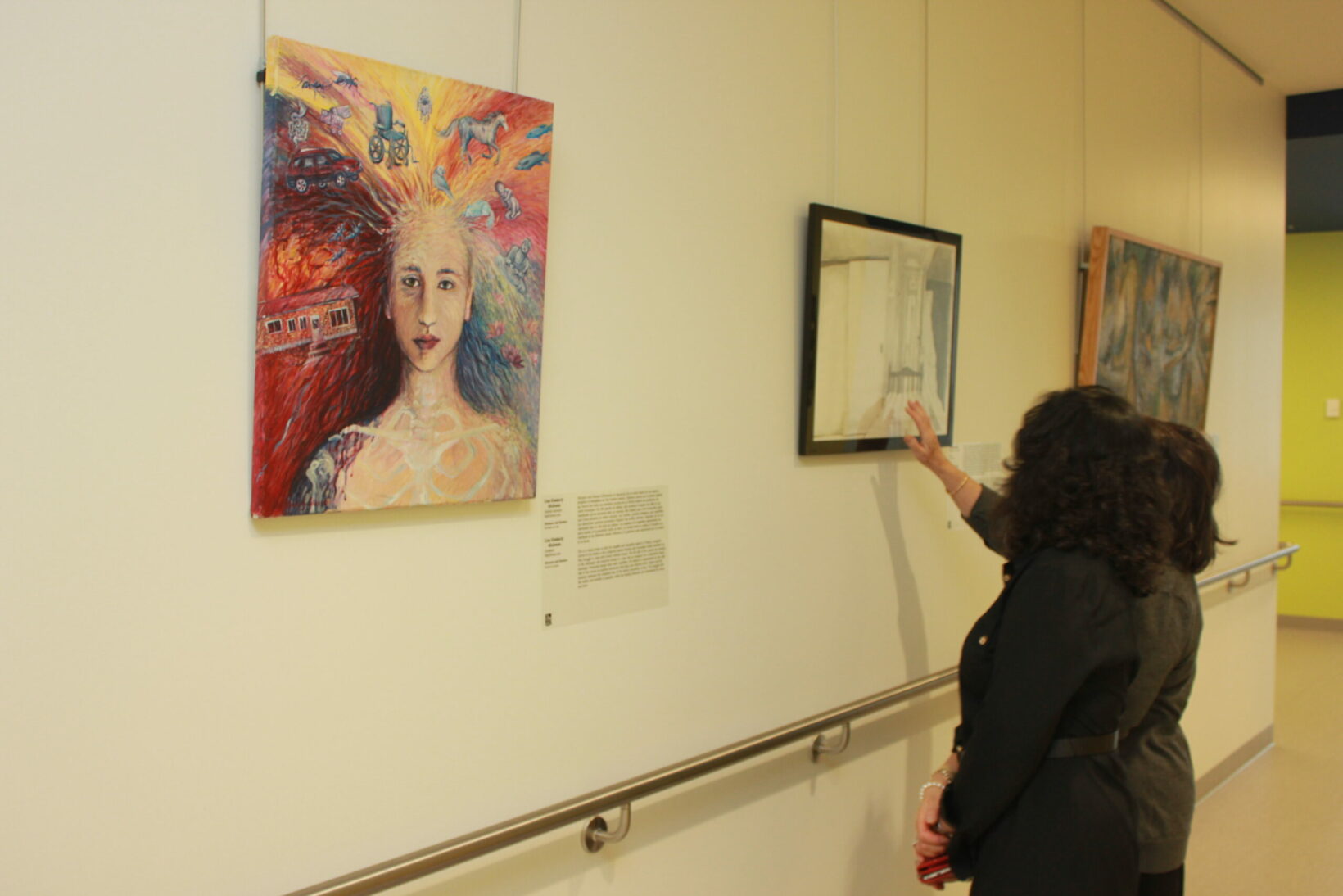 For some, art is an expressive outlet for experiences related to health and illness. While certain individuals may find hope and strength in dealing with disease, others may face despair and a sense of isolation. Sometimes what arises is a need to make sense of and derive personal meaning from what has occurred. With this theme in mind, the McGill Humanities and Arts in Medicine (McHAM) group and the McGill University Health Centre (MUHC)  RBC Art and Heritage Centre are holding a public art exhibition entitled "Journeys Through Healthcare".

Patients, caregivers, students, and healthcare professionals alike who have expressed their emotions about health and illness through art were encouraged to submit their masterpieces for consideration. After receiving over 150 submissions, a jury selected 21 pieces that, beginning March 17, 2016, will be temporarily on display on Floor 2 of Block D at the Glen site of the MUHC. The goal is to provide those from the MUHC and the Montreal community a space to share and reflect upon their healthcare experiences.

Anita Raj is a former MUHC patient and current McGill medical student whose collection of origami will be part of the exhibit. Diagnosed with a brain tumour at the age of six, Anita is no stranger to the patient experience. "Because of treatments and synthetic replacement hormones, I had a decreased energy and became quite lonely. I began folding origami as a way to distract from my illness, serve as a companion, and give me purpose in life," she explains. "Even today, it continues to help me to let out my stress in a creative way."

Followed as a patient at the Montreal Children's Hospital and then later at the Montreal General Hospital, both of the MUHC, Anita attributes the excellent care and positive attitude she observed from her clinical team as a source of inspiration to become a physician herself. Now a third-year medical student working at the Glen, she continues to practice her art from a new perspective. "Finding a positive distraction in a healthcare environment is not just a need felt by patients. I'm beginning to understand first-hand how stressful it can be from a professional standpoint as well," she stresses. "I believe that anyone dealing with medicine or illness needs some form of outlet. For me, it's origami."

For the MUHC, this "Journeys Through Healthcare" exhibition is a prime example of how we are continually striving to cultivate a truly healing environment. "These pieces have been selected for their visual qualities, the narratives of the artist, and for their potential to engage and insight reflection amongst our patients, personnel, and community members," says Karine Raynor, associate director and curator of the RBC Art and Heritage Centre.

Open to MUHC staff, patients, and members of the public, the exhibit will be on display until mid-May, 2016. To find out more, please visit the exhibition's website or Facebook page. To see more of Anita's origami, visit her Flickr page.

Related coverage:
CTV | McGill students create exhibit showcasing healing power of art

The Gazette | Art therapy at the MUHC: Drawing a safe space around cancer patients

March 23, 2016