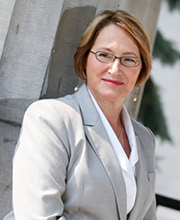 Dear colleagues,

As this semester comes to an end, I would like to thank you for all you bring to the McGill community through your hard work, leadership and commitment.

It has been an exciting fall. The launch of new initiatives, such as the Azrieli Centre for Autism Research and the Max Bell School of Public Policy, and new support for the Peter Guo-hua Fu School of Architecture and the Centre for Interdisciplinary Research on Montreal, have created great momentum at our University.

There have also been hundreds of grassroots initiatives by members of our University, selfless expressions of their commitment to creating a better environment, both locally and globally. These acts of generosity and humanity, big and small, are the seeds of a caring and inclusive world. Let us all hope that such acts will flourish and spread in the New Year, here and around the world.

Before you leave to enjoy a well-deserved break with family and friends, I wish you joy, good health and peace for 2018.

Sincerely,

Suzanne Fortier

Principal and Vice-Chancellor, McGill University

December 18, 2017