(WATERLOO, ONTARIO, Nov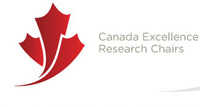 ember 28, 2011)—The Honourable Gary Goodyear, Minister of State (Science and Technology), today announced the launch of a competition to fund 10 new Canada Excellence Research Chairs.

The Government of Canada recognizes the importance of supporting leading-edge research and world-class researchers," said Minister Goodyear. "Canada Excellence Research Chairholders are some of the world's leading minds, and their presence in our universities will create jobs and long-term economic growth, as well as enable Canada to be at the cutting edge of innovative research."

The federal government is committing $53.5 million over five years for the creation of the 10 new chairs. Their work will enable Canada to be at the leading edge of research breakthroughs that are expected to generate significant social and economic benefits for all Canadians.

Launched in 2008, the CERC program was designed to attract and retain the world's best researchers. The first group of chairholders was announced in May 2010, and they have each demonstrated exceptional leadership in their fields of research at institutions across the country.

"The focus on the digital economy as a key area of research will help put Canada at the forefront of a field that is of vital importance to our future prosperity," said Chad Gaffield, president of the Social Sciences and Humanities Research Council of Canada (SSHRC) and chair of the program's steering committee. "The Canada Excellence Research Chairs Program helps Canadian universities compete in the global market for research talent, and this new competition will further strengthen Canada's hand."

Chairholders will be selected through a highly competitive and rigorous two-stage process. In Phase 1, Canadian universities will compete for the opportunity to establish chairs at their institution. In Phase 2, short-listed universities will nominate leading researchers to a limited number of positions. An independent selection board recommends the appointment of chairholders to the program steering committee, based on the highest standards of research excellence. Derek Burney, senior strategic advisor to Norton Rose OR LLP, and Shirley Tilghman, president of Princeton University, have been appointed chair and co-chair of the selection board, respectively.

"This announcement is very good news for the Canadian research community," said Suzanne Fortier, president of the Natural Sciences and Engineering Research Council of Canada (NSERC). "The presence in our universities of the Canada Excellence Research Chairs significantly strengthens Canada's research capacity and enables Canada to be at the cutting edge of innovative research."

"The new competition shows that Canada is serious about research," said Alain Beaudet, president of the Canadian Institutes of Health Research (CIHR). "The Canada Excellence Research Chairs Program is part of a powerful suite of funding programs that supports researchers at every stage of their career and enhances Canada's standing as a global centre of excellence in research, innovation and higher learning."

Further details about the competition are available at www.cerc.gc.ca.

For more information, please contact:

Stephanie Thomas
Special Assistant (Communications)

Office of the Honourable Gary Goodyear

Minister of State (Science and Technology)

Tel.: 613-960-7728

Michael Adams
Communications Advisor

Canada Excellence Research Chairs Program

Social Sciences and Humanities Research Council

Email: michael.adams@sshrc-crsh.gc.ca

Tel.: 613-944-1758

Cell: 613-219-7523