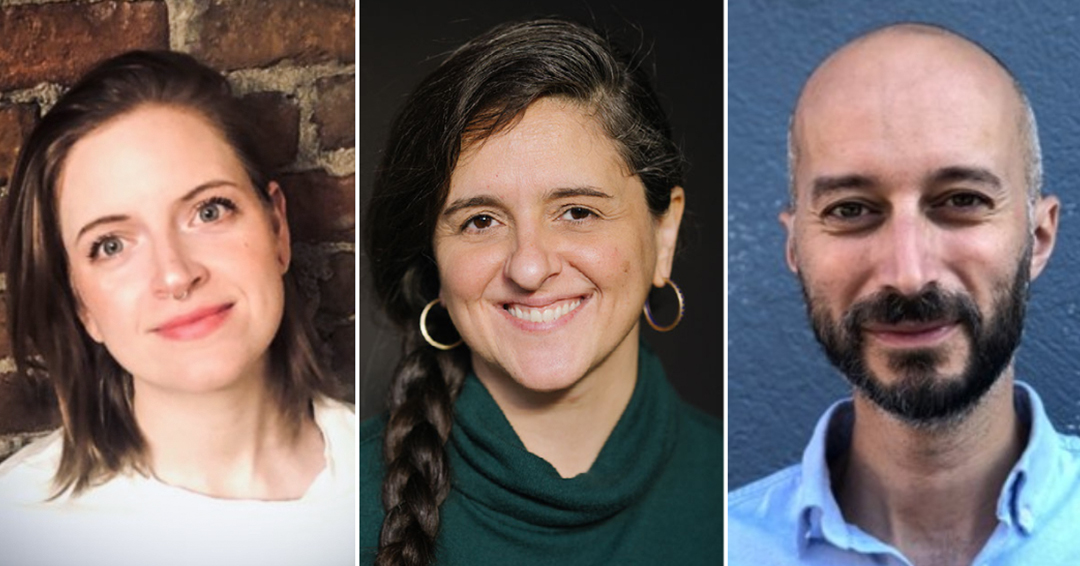 Three learners from the chronic pain management graduate certificate program receive an award recognizing their efforts to disseminate knowledge in chronic pain management   
The Gloria Gilbert Chronic Pain Award recognizes a student who has conducted an outstanding project related to pain and interdisciplinary chronic pain management and in recognition of the importance of leadership and innovation in the treatment of those with chronic pain. In 2023, three learners received this award for their projects completed in the elective course of the online Graduate Certificate in Chronic Pain Management Program. The elective course offers an opportunity for the learners to apply the acquired knowledge and skills learned in the program to an area specific to their practice.  
Emily Crowley (left), a clinical research coordinator in pre-habilitation, telehealth, and the design and testing of assessment questionnaires at the Research Institute of the McGill University Health Centre (RI-MUHC), worked on a project which explored the correlation between chronic pain and chronic obstructive pulmonary disease while considering the role of non-pharmacological intervention in the treatment of chronic pain for this population. She provided an extensive presentation with information and new evaluation tools to a local COPD research team. "I am humbled to have been nominated as a recipient of the 2023 Gloria Gilbert Chronic Pain Award as Gloria Gilbert's lifetime dedication to the advocacy for accessible, interdisciplinary chronic pain care is truly inspirational. I will be forever appreciative of the academic, professional, and personal growth I gained throughout this program, and aim to carry forward the compassionate approach to care I learned through this certificate," says Crowley.
Adriana Ferreira (centre) is currently completing a master's degree in public health and her physician's equivalency in Quebec. She has been working as an acupuncturist in Montreal since 2012. Dedicated to helping vulnerable populations manage their health and chronic issues, her final project explored acupuncture as a nonpharmacological strategy in the treatment of chronic pain. Her project included reflections and observations from a short internship in a local multidisciplinary clinical setting for young mothers in vulnerable situations. Ferreira would like to make changes in healthcare accessibility, especially for populations who live with health inequities like the elderly, and challenging pregnancies, and for children and First Nation populations living in difficult situations. "I am so grateful for this recognition, it means so much to be recognized for my hard work and encourages me to continue to strive for excellence to help even more people," explains Ferreira. 
Anthony Lopez (right) is an osteopath who is the owner of a multidisciplinary clinic in Montreal, Canada and works in France and Montreal.  He created and facilitated an evidence-based educational workshop using a collaborative game format for clients suffering from chronic pain. When asked what he enjoyed most about the program, "What I really enjoyed was the kind and professional team who were always so accessible, and of course, my shared work with colleagues and classmates, mostly on Zoom meetings."  
All three projects involved interdisciplinary approaches and reached an audience beyond the scope of their elective course by including presentations and the involvement of several clinical settings.   
Originally established in 2016, the eligibility for the Gloria Gilbert Chronic Pain Award was modified in 2023 to accommodate a growing number of excellent projects being completed in Chronic Pain Management at the School of Physical and Occupational Therapy, Faculty of Medicine and Health Sciences.