Proud. That's how neonatologist Dr. Thérèse Perreault feels after her third trip to Kigali, Rwanda, in September. Dr. Perreault, Associate Professor in the Department of Pediatrics at McGill University's Faculty of Medicine and Director of the Division of Neonatology at the Montreal Children's Hospital (MCH), was on hand to see pediatric resident Dr. Jocelyne Bukeyeneza win first prize at a pediatrics conference for a survey on neonatal resuscitation practices at the Centre Hospitalier Universitaire de Kigali (CHUK).

Earlier that month, Dr. Bukeyeneza had finished a busy two-month observership at the MCH arranged by Dr. Perreault as part of an ongoing partnership between the two teaching hospitals under McGill's Global Child Health Program. The CHUK's head pediatric nurse, Antoinette Mukandanga, also spent two weeks with the NICU team. The program is currently doing the required paperwork to bring Dr. Bukeyeneza back to the MCH for a fellowship.

The Global Child Health Program was launched in 2014. "Dr. Jean-Martin Laberge, a pediatric surgeon at the MCH who has been working at CHUK for years, first introduced us to the leadership there," explains Dr. Gillian Morantz, Assistant Professor in the Department of Pediatrics, co-director of the Global Child Health Program and pediatrician at the MCH. The other co-director is MCH pediatric emergency physician Dr. Jennifer Turnbull, also an Assistant Professor in the Department of Pediatrics. The twin aims of the program are to contribute to the health and well-being of children in low-income countries and to promote global child health education at the MCH among physicians, residents, nurses and allied health professionals.

"In 2014, the CHUK's then-Chief of Pediatrics, Dr. Lisine Tuyisenge, visited the Montreal Children's and met with Dr. Perreault and they identified neonatology, nephrology and nursing as areas that needed the most support at their institution," says Dr. Morantz.

Dr. Perreault's first trip to Kigali was a year ago, with NICU nurse Elissa Remmer. "The first visit was to observe, to assess the needs, to see what needed to be done, as well as to do some hands on stuff," says Dr. Perreault.


Going from a Montreal NICU to a Kigali NICU was a shock for Dr. Perreault and Ms. Remmer.  Dr. Bukeyeneza and Ms. Mukandanga were just as shocked when they came to Montreal. "Their initial reaction was to be blown away – by the equipment, the organization, the layout. It's very different from their reality," says Dr. Morantz.

But Dr. Perreault says Dr. Bukeyeneza was quickly able to focus on what she could learn and apply back home. "Some people would stay at the phase of being overwhelmed and say we'll never be able to do this, but she moved beyond that."

For her second trip Dr. Perreault loaded her suitcase with small equipment the NICU at the CHUK was lacking. But mostly she brought in some really low-tech fixes, particularly handwashing to aid better infection control. But that's not as easy as it sounds. "There is no running water in the NICU," notes Dr. Morantz. Dr Perreault says they don't always have alcohol gel, so staff frequently wash their hands in containers of water they bring in themselves. "There is also an overuse of antibiotics, so they have a high rate of antimicrobial resistance," says Dr. Perreault. "I would say we're missing a local champion. We hope Jocelyne can become the local champion."

Dr. Perreault says exchanges like this are a crucial part of global health. "How do you know what you can do differently if you've never seen anything different?"

She hopes that the knowledge and skills being gained at the CHUK will eventually be shared with the district hospitals from which most of their patients are referred. Dr. Morantz says in 2018 they are hoping to invite some district hospital physicians to Kigali for a training session on neonatal resuscitation. Dr. Bukeyeneza would also like to bring neonatal resuscitation mock codes using simulation manikins to the CHUK, where they already do simulations of older pediatric patients. "We supplied them with several manikins, including neonates," says Dr. Morantz.

The other two areas Dr. Tuyisenge identified as being most in need of the Global Child Health Program's support are nephrology and nursing. Dr. Martin Bitzan, a pediatric nephrologist at the MCH and Associate Professor of Pediatrics and Nephrology at McGill, is helping to set up peritoneal dialysis at the CHUK and he hopes to bring a CHUK pediatric resident graduate to the MCH in 2018 for nephrology training.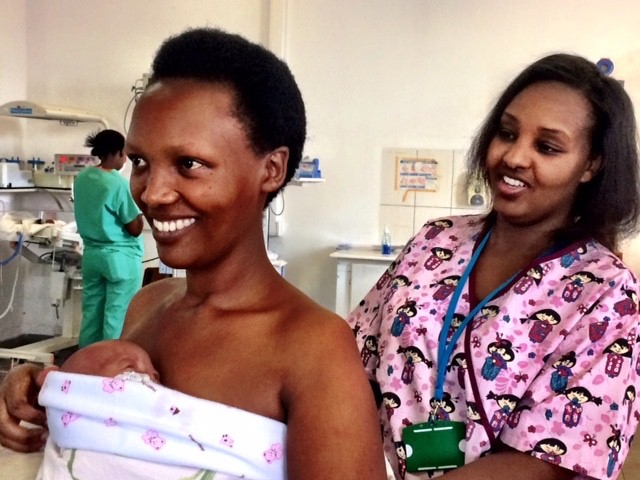 On the nursing side, Ms. Mukandanga and the nursing team are focusing on how the workload of the nurses is organized. The CHUK's NICU has around 30 beds and three nurses, so that's a 10:1 patient to nurse ratio. At the MCH, the NICU ratio is usually 1:2, or 1:1 for very sick babies. "At CHUK, the nurses do everything — from gavage feeding, cleaning isolettes, blood procurement, bringing samples to the lab, starting IVs, cleaning — which is unfortunate because they are not used to their best capacity," says Dr. Perreault. "They are overstretched, they work overtime but they don't get paid for it." One simple but significant change that has already been brought in is to ask the housekeeping staff to take over some of the nurses' cleaning duties.
At McGill, despite the very international focus of the program, many of the staff who take global health courses haven't been and don't necessarily plan to go to low-income countries. "Many are interested in working with vulnerable groups within Canada," explains Dr. Morantz. "Either children who are multicultural or children who are indigenous. Since we realized that was the interest of a lot of our participants we've included more topics on working with these populations. Unfortunately some of the health conditions we see in lower income countries are also relevant to our multicultural and indigenous populations." 

The Global Child Health Program receives support from McGill's Department of Pediatrics, the Montreal Children's Hospital Foundation, McGill Global Health Programs, the Bubbie and Nanny Global Health Travel Award, and the Peacock Family Foundation. A new memorandum of understanding (MOU) was recently signed by the CHUK's new Chief of Pediatrics, Dr. Aimable Kanyamuhunga, and Dr. Michael Shevell, Chair of the Department of Pediatrics at McGill University. The
2nd Global Child Health Skills Conference takes place
November 9-11, 2017. For more information please visit https://www.mcgill.ca/gchp/events
(Photos courtesy of Dr. Thérèse Perreault and Elissa Remmer)

November 8, 2017