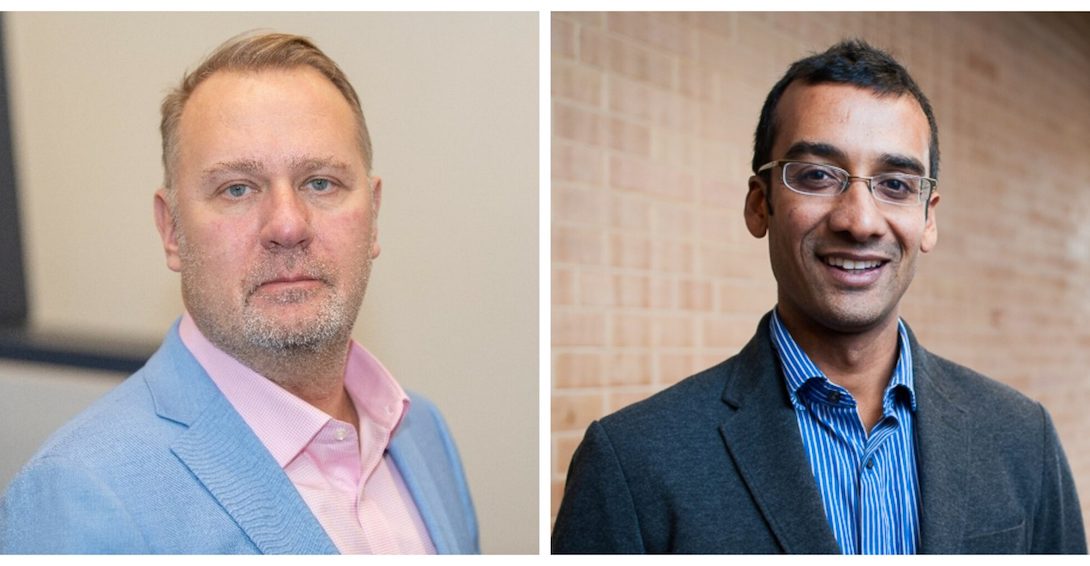 Funded projects aim to reduce the risks posed by chemicals to Canada's environment and to improve methods in precision oncology
Genome Canada has invested nearly $8 million in two McGill projects as part of a total national investment of $18.1 million in genomics-based research. Through public-private partnerships, these investments will help accelerate the commercialization of genomics and increase its real-world applications.
McGill researchers Niladri Basu (Department of Natural Resource Science) and Christopher Borchers(Department of Oncology) will lead the research endeavors with partners Environment and Climate Change Canada, and MRM Proteomics, respectively.
The funds were announced April 18 by the Minister of Innovation, Science and Industry, the Honourable François-Philippe Champagne, under Genome Canada's Genomic Applications Partnership Program (GAPP). GAPP was created to promote partnerships between industry end users, public end users and university researchers. This program helps to harness the potential of economics to increase the competitiveness of key sectors of the Québec economy. The program follows a cyclical process, launched two times per year. The scale of available funding ranges from $300,000 to $6 million per project.
McGill's funded projects:
Principal Investigators: Niladri Basu (Department of Natural Resource Science) in partnership with Rebecca Dalton (Environment and Climate Change Canada)
Total amount: $4,677,943
Canada's Chemicals Management Plan aims to reduce the risks posed by chemicals to Canadians and the environment. However, risk assessors at Environment and Climate Change Canada (ECCC) need improved toxicity testing tools that are more efficient and affordable, less dependent on live animal studies, and better able to accelerate the throughput of chemical risk assessment. Led by Niladri Basu, Professor of Natural Resource Science and Canada Research Chair in Environmental Health Sciences, the funded project aims to advance the existing EcoToxChip Test System so that it can be accessible and trusted, while also being consistent and reliable for informing regulatory decisions.
In partnership with ECCC, the team will validate these tools for use in a range of regulatory contexts. Ultimately, the project will deliver version 2 EcoToxChips for three commonly used test species (fathead minnow, rainbow trout, zebrafish) and an updated data evaluation tool (EcoToxXplorer.ca). This new made-in-Canada system for chemical risk assessment will reduce the cost and time for chemical testing as well as boost Canadian leadership in this area.
MutaQuant: A powerful proteogenomic phenotyping tool for precision medicine
Principal Investigator: Christopher Borchers (Department of Oncology) in partnership with MRM Proteomics
Total amount: $3,029,985 In precision oncology, the current method of screening for specific genomic mutations, even using transcriptomics (the complete set of all RNA molecules), has only moderate success in predicting the success of targeted therapies for cancer. In Canada, precision oncology genomic testing costs around $40 million per year for response rates of ~52 per cent. Because proteins are the main drug targets, genomics alone can often not clarify which mutations are biologically relevant in an individual tumour.
This project will develop mass spectrometry kits that decipher the impact at the protein level of ~1000 known cancer mutations, which represent the main cancer drivers and drug targets. MRM Proteomics and Agilent Technologies will commercialize novel, validated "MutaQuant" kits, provide education on use, as well as offering a sample analysis service. There is potential for significant cost savings by preventing non-effective cancer treatment and improving patient outcomes.