Mechanical Engineering Professor Mark Driscoll taps into his own experience with back pain to develop advanced tools that will train the next generation of spinal surgeons.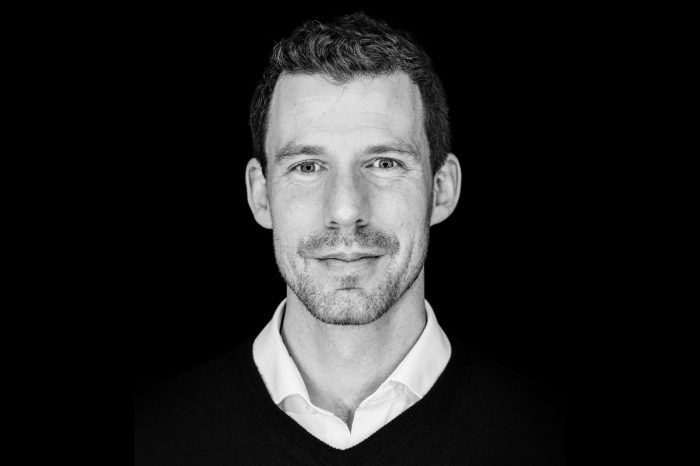 Source: By Junji Nishihata for Research & Innovation

Have you ever wondered what the future really looks like? Or wondered what it would be like to be able to touch it? Faculty of Engineering Professor Mark Driscoll does so on a regular basis. In fact, there is a machine in his lab in the Macdonald Engineering building that lets you do just that.

The machine looks simple enough. A round plastic base about the size of a grapefruit, with a hinged metal arm sticking out the side. At the end of the arm sits a plain Sharpie marker. On an adjacent computer screen, a virtual Sharpie floats above a spinning globe.

It's when you move the real Sharpie that the magic happens.

As you move your hand, the virtual sharpie moves in perfect unison. Sure, nothing remarkable about that. But when you bring the virtual Sharpie in contact with the spinning globe, you get feedback through your hand – a real kick in fact – as though you are actually touching something.

The resistance increases as you press harder and diminishes as you move the pen away. The connection between the visual and the tactile is so instantaneous and so strangely satisfying that you conclude there is only one thing you are really touching: the future.

Providing feedback through touch – like vibration mode on your mobile phone – is all part of what are called haptics. But for Mechanical Engineering Professor Mark Driscoll, haptics is just the beginning.

The Sharpie-global interface is merely a testing platform to prove the concept in Driscoll's lab. The real task is much more complex – how to perform surgery on the human spine. So imagine a scalpel instead of a Sharpie and human flesh instead of a spinning globe.

Fun fact about the human spine: there are only 26 vertebrae (if you count the fused sacrum and coccyx vertebrae as one each). Same number as the alphabet! Coincidence or…? For a self-confessed geek such as Driscoll, factoids like these are like popcorn at a movie theatre – a compulsive treat. "There are over 150 muscles involved in spinal control and it actually has four curves," he divulges during an interview in his office in the Macdonald Engineering building. "I could go on."

Indeed, the spine is something he has gone on about – for almost his entire career. A quick overview: BA in Engineering (McGill), PhD Fast-track in Biomedical Engineering (Ecole Polytechnique) while working on his own start-ups on the side and then five years in a new medical device start-up with three surgeons. He then returned to McGill as a Professor and continued innovating. Because at 27 patent applications and counting, of which many inventions he already successfully took to market, innovating is something Professor Driscoll does very, very well.

Throughout his studies and start-up days, he has kept a steady focus on the biomechanics of the human spine. A sublime feat of engineering or a miracle of biology, the spine is without a doubt one of the most essential skeletal systems in our body. Connecting the upper and lower body, and thus enabling our ability to walk, the spinal column is a conduit for more than one billion neurons contained in the spinal cord.

Driscoll's research looks at three key aspects of the various pathologies that affect the spine: screening, diagnostic methods and treatments. The jewel in the crown is a full-scale virtual reality spinal surgery training platform that he has been developing with external partners CAE Healthcare and DePuy Synthes (part of the Johnson & Johnson Family of Companies).

The platform will provide an immersive virtual experience to surgeons using augmented reality with robotic arms like the sharpie demonstration, precisely tuned to reflect the specific properties of the different types of tissue that are encountered in spinal surgery.

An AR training platform may seem like a kind of videogame for doctors, but Driscoll is quick to point out his system is entirely physics-based and biomechanically accurate. There are other platforms out there that use AR or VR environments, but not with the same accuracy as the system he and his partners are working on.

But despite the claims of engineering precision, it does raise another question: what is an engineer doing in the medical space? Aren't mechanical engineers supposed to design trains, planes and automobiles? For Driscoll, the answer is simple: "I've always seen a connection between engineering and medicine."

Digging a bit deeper, another more practical explanation emerges. "I came from a very sporting family – my parents were athletic, and my brothers and I were always involved in some sport or another," he explains. "I had an ankle injury from playing hockey that eventually led to my body trying to compensate for the injury, which resulted in severe back pain."

So is it an expression of the adage "if you want something done right, you better do it yourself?" To a certain extent. But Driscoll pushes back against the suggestion that engineers or robots could one day eventually replace doctors. "If I have an illness or injury, I definitely want to see my doctor. Further, the learned insight and empathy of a human being cannot be replaced with code."

Nevertheless, by looking at the body as a kind of machine, Driscoll is opening the door for a completely new range of tools to be used to diagnosis and treat that system. And opening doors is exactly what Driscoll does for his students. "I am passionate about teaching," he says as he explains he has several papers on the topic and is a frequent innovator in his own methods.

One instructional innovation he has devised is to have his students write their own exam question. In a complete turning of the tables, one of the questions in the mid-term exam for his course Machine Element Design (MECH393) asks the students to create their own problem and solution set. The best problem will then later appear in the final exam for the rest of the students. It's a brilliantly simple way to not only make people think, but to take ownership of their learning.

Final-year Mechanical Engineering student Alexander Scheffel is well aware of Professor Driscoll's teaching methods. He's taken courses with him a number of times during his undergraduate studies. Scheffel is also a member of a Capstone design team that Driscoll is advising. "His class is the most dynamic course I've taken during my entire time at McGill," he explains, referring to the frequent changes in content that Driscoll introduces in his programs. Driscoll is one of the few professors he's been able to build a relationship with.

Relationship building is actually something else that Driscoll teaches in his courses; learning the names of fellow students is actually one of the test questions in his trial exams. "Because of this, I knew more of the other people in my classes with him than I did in any of my other courses," says Scheffel. It's a mix of old- and new-school teaching that sets Driscoll apart from many of his peers – and makes him a popular professor among pupils.

Driscoll's graduate students are also fans of his approach. Part of the reason for this enthusiasm is because they are fully empowered in his commercial ventures as well – they have employee-level access to the labs at CAE Healthcare, for example, the company he has partnered with for his spinal training platform. He encourages their engagement and creativity – but he also is sure to keep their feet on the ground.

"Having been in the start-up scene, I know that many ideas will never make it off the ground, let alone become successful businesses," he explains. "I will tell my students often 'well you might be able to get a 1 or 2 percent royalty for that,' which they sometimes find surprising."

While his experience in business gave him valuable insight into the full lifecycle of innovation, he realized that it was not for him. "Creating new concepts and ideas, this is what I like to do," he says. "But the admin and sales, and all the other tasks that are crucial to business are just not for me."

His gifts as an innovator – and entrepreneur – are borne out by his collaborators. "What is unique with Professor Driscoll is that he brings a business mindset to projects," explains Emmanuel Daigneault, Leader of Industry Solutions and Strategic Partnerships at CAE Healthcare. "From my perspective, he is also a highly effective leader who is able to attract talent and build successful teams that he is able to motivate and engage."

His qualities in this area have been noticed by many – including the Ordre des Ingénieurs de Québec – who gave him the Hommage Émergence award in 2018, a prize for practitioners under 35 years of age. He was also profiled in their recent 100th anniversary brochure, amongst other engineers, identified to take Quebec through to the next century.

Several other organizations are also paying attention to Driscoll's talents, including NSERC, who have awarded him a Canada NSERC Chair in Design Engineering Interdisciplinary Innovation of Medical Technologies. The NSERC award gives him the chance to work with a wide range of cross-faculty student teams, who will each go on to present their projects at the McGill Design Day showcase. (Design Day is also the Capstone project for third and fourth year Mechanical and Electrical and Computer Engineering students.)

This year, 18 such teams have signed up, with each squad a combination of medicine and engineering students. Interdisciplinary collaborations like this are what gets Driscoll's blood pumping.

The current COVID-19 crisis also revealed his interest in collaboration – and his ability to think fast. Originally he had signed up to take part in the Code Life Ventilator Challenge organized by the Montreal General Hospital Foundation, in collaboration with the Research Institute of the McGill University Health Centre. But after having been initially confirmed to act as a judge in the competition, Driscoll could not resist the opportunity to do what he does best: assemble a team and come up with a creative solution.

With that, he quickly strung together a team of medical and engineering professionals and came up with functional prototype in the remarkable short time of eight days. It fully meets hospital-grade requirements, can be remotely monitored and can be assembled through a supply chain that has no gaps. All this and a projected unit cost of $2,000, which compares well to the market rate for ventilators at ten times that figure.

All of this and not yet 40 years old – the future does indeed look bright for some.

Driscoll is also looking ahead. After the spine, he has identified the hip-pelvis structure as his next target for intensive study. Considering his prodigious talents and capacities as a creator and innovator, there can only be two words to sum up this decision: stay tuned. This is one professor to keep an eye on.

May 13 2020