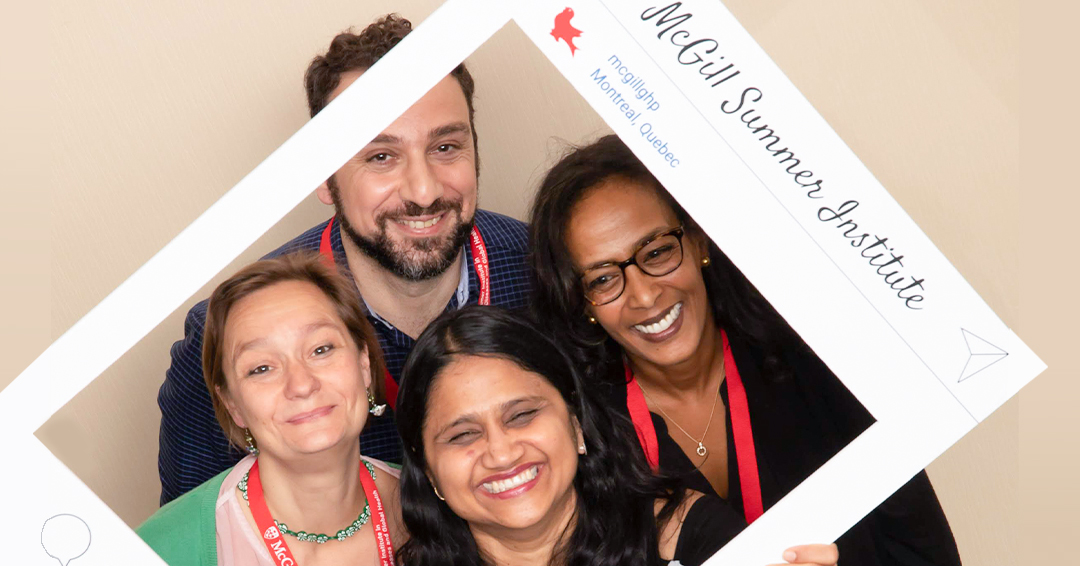 The Summer Institutes in Global Health offer accessible learning on global health topics
Every summer, hundreds of clinicians, public health practitioners and students gather to attend the Summer Institutes in Global Health. Attendees learn from leading researchers at McGill University and around the world about the latest trends in topics such as diagnostics, TB research, antimicrobial resistance, digital health, humanitarian action and global health rehabilitation.
The Institutes offer a series of short courses for professionals working in the field, or for students looking to supplement their curriculum. Programming is focused on universally applicable new knowledge, and providing opportunities to network with fellow global health professionals from around the world. The nature of the Institutes allows for unique interactions among a diverse group of participants, including industry leaders, NGO practitioners, academics, researchers and advocates, allowing for the exchange of ideas and perspectives from across the globe.
The Summer Institutes were first held in the summer of 2015 to bring the research and clinical strengths of McGill University and the Research Institute of the McGill University Health Centre to the world. To encourage participation from across the world, the Institute offers scholarships to cover registration fees for those living and working or studying in low- or middle-income countries.
"Offering short courses in accessible formats, with worldclass instructors, makes it possible to get information into the hands of those making decisions in communities around the world," says Charles Larson, adjunct professor and interim director for McGill Global Health programs. "With information comes agency, and with agency communities can own their health decisions and lobby their leaders for effective public health interventions."
The COVID-19 pandemic saw the Institutes courses go online in 2021, opening the classroom up to a larger cohort, reaching more communities. In 2021, 57% of students attending were from low- or middle-income countries. Courses for the 2022 program will be offered in hybrid (concurrent online and in-person) and online-only formats; course material will be recorded to accommodate learners from all time zones.
This story originally appeared in the School of Population and Global Health Magazine (2022)
Learn more about the Summer Institutes in Global Health
Hear what past attendees have to say about the Summer Institutes. Watch the video.
The 2023 Summer Institutes boasts 16 courses (our most ever!) — taught by McGill professors and internationally known guest speakers. All courses for 2023 are available online with six courses in-person for those who want to join us in beautiful Montreal. Visit the Summer Institutes website for course descriptions and registration.