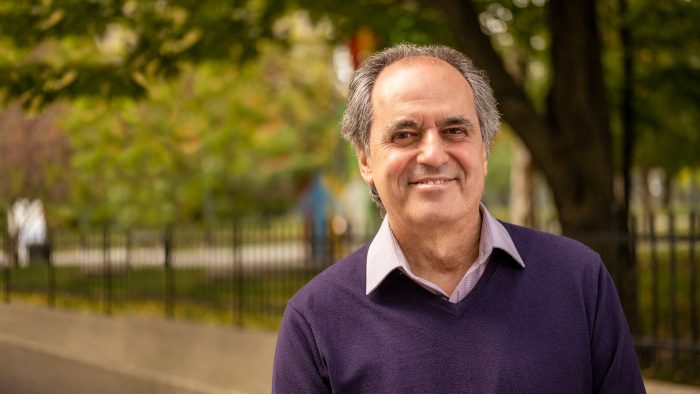 On November 9, the Ordre des infirmières et infirmiers du Québec (OIIQ) awarded the 2020 Badge of merit to Franco Carnevale, nurse emeritus, for his contribution to the advancement of nursing. The McGill University Health Centre (MUHC) wishes to congratulate him for this achievement and thank him for his many years of dedication to the Montreal Children's Hospital (MCH) and its intensive care team. 
Source: MUHC

Franco Carnevale has more than one string to his bow. Outstanding nurse, respected nurse manager of the MCH's Pediatric Intensive Care Unit (PICU), well-published author, dedicated researcher at the Research Institute of the MUHC and clinical ethicist in pediatrics, he has also been a full professor at the Ingram School of Nursing at McGill University for nearly 30 years. He has distinguished himself by his unique, multidisciplinary approach to nursing. Holder of a doctorate in philosophy and psychology, a master's degree in nursing and a second one in bioethics, he has found the common thread to combine all of these fields of interest and he integrates them into clinical practice. He has helped to bring a more humane approach to nursing care, particularly to the care offered to children and their families. His research focuses on pediatric ethics, the experience of seriously ill children and their families, and childhood disabilities.

An involved nurse
Dedicated and committed, he is involved in many initiatives:
Associate Member of the Department of Pediatrics and Pediatric Critical Care at the Montreal Children's Hospital-McGill University Health Centre.
Senior Scientist in the Child Health and Human Development Program of the Research Institute-McGill University Health Centre.
Founder and principal investigator of the interdisciplinary research group, VOICE (Views On Interdisciplinary Childhood Ethics), an international initiative based at McGill University.
Volunteer ethics trainer and counsellor for over 20 years at The Lighthouse Children and Families Care Home.
Chair of the pediatric palliative care ethics committee at the Shriners Hospital for Children of Canada.
Member of the Centre for research in ethics and associate member of the pediatric cross-cultural unit of the department of pediatrics at McGill University.
Director of the nursing research program at the Douglas Mental Health University Institute.
The Badge of Merit is awarded annually by the OIIQ to one of its members whose actions have contributed to the advancement of nursing care.  It is the highest distinction awarded by the Order.

For more information visit the website of the Ordre des infirmières et infirmiers du Québec. 
November 25 2020