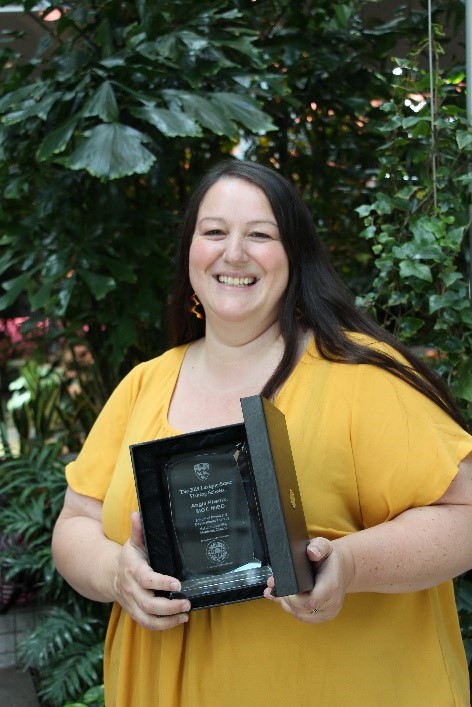 By Monica Slanik
 Ms. Angie Phenix, MOT, MIED, is the 2019 Lavigne-Smee Visiting Scholar, an award that provides the opportunity for a high-profile scholar and/or knowledge-holder to visit McGill University's School of Physical & Occupational Therapy (SPOT), to meet with students and faculty members and to foster the development of new research collaborations and perspectives.

A Métis woman, Ms. Phenix  is an Indigenous scholar and Occupational Therapist (OT). She completed her Masters of Occupational Therapy at the University of Manitoba and then her Masters of Indigenous Education at the University of Saskatchewan. While completing her second Masters degree she spent time studying antiracist theory, decolonizing education, and Indigenous epistemology, pedagogy, and resiliency. This theoretical framework has allowed her to piece together her own familial and historical context, her work as an OT, and to find a better path for the future. She has been committed to leading national initiatives to improve education and rehabilitation in Indigenous communities with the Canadian Association of Occupational Therapy for over a decade. She now works in northern Saskatchewan providing OT services to nine First Nations schools.

Subsequent to her visit to SPOT in late August 2019, where she delivered a presentation entitled, "What is cultural safety and why it matters as you go out into practice – where everyone should start in relation with Indigenous Peoples," we sat down with Ms. Phenix to ask her a few questions.

In your presentation to the faculty and graduating students, you used the term 'cultural safety.' Could you explain that term to our readers? 
Sure, although it is actually much easier to give examples of culturally unsafe practice than it is for me to define cultural safety.  One example would be when I was working in the Northwest Territories and used standardized screens or assessments that were not built on Indigenous epistemology or normed on Indigenous populations, I was practicing in a culturally unsafe manner. It took me a long time to speak out against this practice and I received resistance from other healthcare practitioners for doing so.

It takes patience and small steps, but some are now understanding and reconsidering approaches, or rethinking practice approaches.  When healthcare providers use the term cultural safety it is often unintentionally 'othering': assuming that the focus is on the other's culture. This leaves no analysis for how mainstream culture is implicit in producing culturally unsafe healthcare practice. There really is a need for the conversation around this to be opened.

You also identified the need for Indigenous awareness and how an increase in awareness can break down barriers for Indigenous people. As an Indigenous woman yourself, how does your cultural background help you to speak to others about this important subject?
I think that it is not so much bringing Indigenous awareness as it is about social accountability. Canada is a settler country that was colonized by other nations to the benefit of the settlers. Most healthcare practitioners benefit from these dynamics and do not do enough to break down the barriers that we are all implicit in maintaining. My own cultural background helped me to see the repercussions of this unfairness and speak out about it, however I think it is also my willingness, and others like me, to open the dialogue and start the conversation that is helping to expose or identify the barriers.

How are Occupational Therapists, or the practice of Occupational Therapy, in a position to improve cultural safety for Indigenous people?
OTs are actually well positioned to improve our work with Indigenous communities since we are supposed to have foundational underpinnings that are holistic. This perspective can move the profession in the direction of addressing systemic barriers that exist rather than focusing only on individual assessment like we have previously done.  I would also encourage OTs or any healthcare professionals working with OTs to consult the Occupational Therapy and Aboriginal Health Network to learn more about how we can improve our work https://www.caot.ca/site/pd/otn/otahn?nav=sidebar

If you could offer advice to novice and experienced healthcare professionals who work with Indigenous people, or people of a different culture than their own, what would it be?
Understand yourself and where you come from. Think through some of the tough stuff like how we, as Canadians, have access to the land via the treaties, what history do we have in our families with systems such as justice, health, and education.

Was society set up in a way that helped us succeed as a family/individual?  Think about and recognize that we all hold positions of power and privilege as well as oppression and reflect on your own individual set of circumstances and how you fit in the world.

We absolutely cannot understand how others view the world when we cannot understand how we do, first.

The Lavigne-Smee Visiting Scholar
The Lavigne-Smee Visiting Scholar was established in 2016 through a bequest from Mrs. Charlotte Lavigne, (DipPT 1959) and a gift made in memory of Mrs. Willie Ruben-Smee (DipPT 1965).  

Charlotte Lavigne was born in Montreal, and, after graduating from McGill as a physiotherapist, attended the Sorbonne in Paris to study French. She then began her career working in clinics in Lausanne, Switzerland and in Scotland. After a few years abroad, she returned to Canada to continue her practice. She was highly regarded by her friends and colleagues for her skills, especially in her specialty of Manual Therapy.

Wilhelmina (Willie) Smee grew up in Montreal and attended McGill University. After graduating as a physiotherapist in 1965, she worked at the Kingston General Hospital and then, after her children were grown, she re-certified and worked in Toronto at the North York Hospital and Seniors' Health Centre.

Both these exemplary clinicians were the role models of their time, and both felt strongly about their profession and their link to McGill, for which SPOT is very grateful.

Previous reipients of the Lavigne-Smee Visiting Scholar:

2017 – Rachel Kizony, PhD, The Use of Virtual Reality and Tele-Rehabilitation;

and

2018 – Sandra Alouche, PhD, Neurological Rehabilitation.

December 12 2019