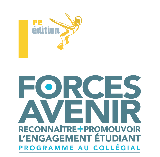 The 15th edition of the Forces AVENIR provincial awards competition is now underway in recognition of Quebec's university students contribution to the advancement of society.

The Office of the Dean of Students is receiving applications until March 28th.

In the past 5 years, McGill had 21 finalists at the provincial level and 11 have gone onto win awards, in both the individual and group categories, including Adam Hart MDCM '12, winner of the Personality Award Undergraduate last year.

We encourage McGill Medicine students to apply

March 5, 2013