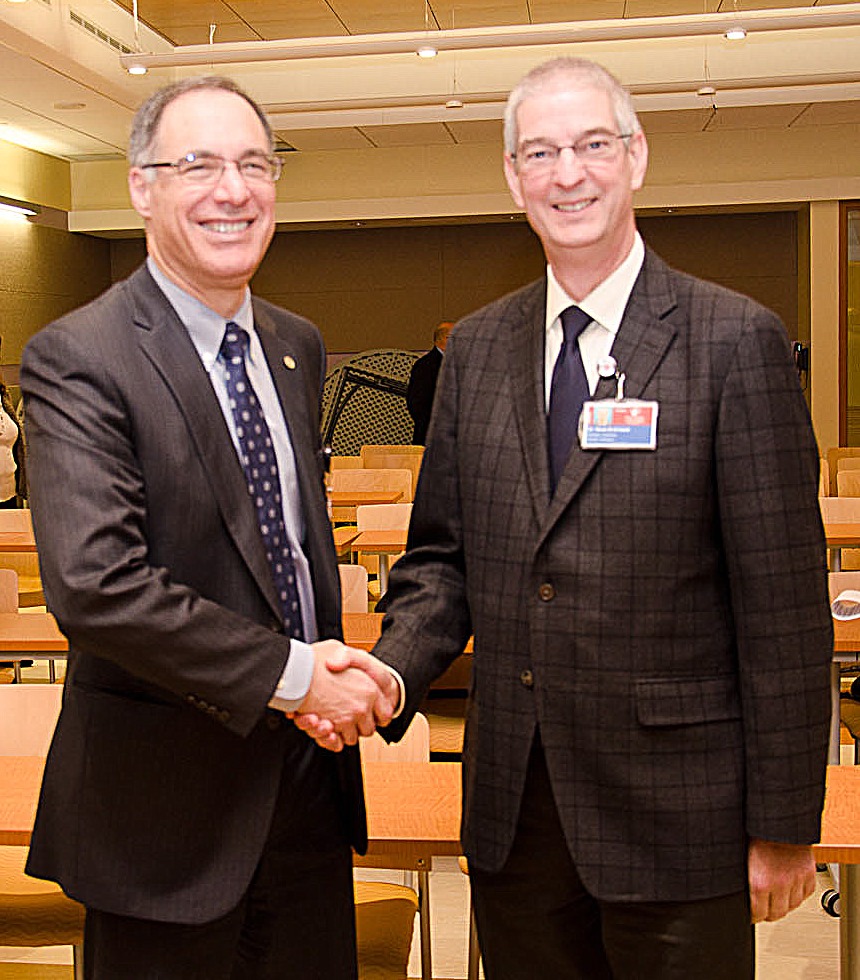 Montreal, Wednesday, December 16, 2015:  Shriners Hospitals for Children®-Canada is pleased to announce the appointment of René St-Arnaud, Ph.D. as Director of Research and the inaugural Francis Glorieux Chair in Pediatric Musculoskeletal Research.  Dr. St-Arnaud is leading a new growth phase in the history of Canada Shriners Hospital's Research Centre as he, along with seven investigators and their teams recently moved into a well-planned, spacious and inspiring facility on the 5th floor of the new hospital.

"I am extremely honoured to have received these two appointments. It is particularly poignant to be the inaugural recipient of the Francis Glorieux endowed Chair not only because this is one of the most prestigious academic appointments achievable, but also because Dr. Glorieux is my mentor," says Dr. St-Arnaud. "I am forever in his debt. He recruited me twenty-six years ago and has been amazingly supportive of my research. When I started my independent career, he generously introduced me to the leaders in our field of research, which led to numerous opportunities for scientific collaboration."

The $3-million endowed Chair, established at McGill University and based at Shriners Hospitals for Children-Canada is amongst the highest distinctions awarded to a scholar in recognition of past and potential original academic contributions. The endowment was made possible thanks to the generous donors who have supported the Exceptional Care for Exceptional Kids Capital Campaign. Donors include private companies and foundations as well as Shriners from across Canada and the North-Eastern United States. Today, representatives from Al Azhar Shriners (Calgary, Alberta), Khartum Shriners (Winnipeg, Manitoba) and Mazol Shriners (Newfoundland and Labrador) who collectively donated more than $555,000 towards the Chair proudly represented their region and fellow Shriners.

This is the first endowed Chair in the history of the Shriners Hospitals for Children -Canada. It was established in honour of Francis Glorieux, O.C, M.D., Ph.D., a brilliant scientific leader whose tireless effort and devotion have helped children around the world. Dr. Glorieux served as Director of Research at Shriners Hospitals for Children – Canada for 37 years until his semi-retirement. This endowed Chair represents a new permanent financial resource to advance the research, teaching, and care of patients.

"McGill is proud of its longstanding association with the Shriners Hospitals for Children – Canada, which has spanned four decades," says Dr. David Eidelman, Vice-Principal (Health Affairs) and Dean of Medicine at McGill. "Today, we are delighted to install Dr. René St-Arnaud as the inaugural Chair named in honour of Dr. Francis Glorieux, the Shriners' first researcher.  We are confident that under his leadership the Shriners Hospital will continue to conduct ground-breaking research for the benefit of the children and families we serve." 

Studying metabolic bone disease
Dr. St-Arnaud's field of scientific research is preclinical models of metabolic bone disease or disorders of bone strength, usually caused by abnormalities of minerals (such as calcium or phosphorus), vitamin D, bone mass or bone structure. He studies bone at the cellular level to better understand the mechanisms involved in the initiation and maintenance of bone and mineral metabolism with the goal of developing efficient drug therapies that will improve the quality and density of bone tissue. Such treatments would benefit numerous patients, particularly those with fractures and low bone mass, such as patients with osteogenesis imperfecta (brittle bone disease).

Committed to pioneering research
The Shriners Hospitals for Children-Canada Research Centre has a history of documented success in bedside-to-bench and bench-to-bedside research in genetics of metabolic bone disease. The research program has generated several major breakthroughs, patents and benchmark protocols, including:
The world's standard of care in the medical treatment of children with osteogenesis imperfecta;
Breakthrough treatment for an inherited form of rickets now adopted globally;
The only exclusively pediatric bone sampling and analysis laboratory (histomorphometry) in the world allowing for both research and diagnosis of rare diseases;
Fassier-Duval rods used to reinforce long bones in legs and arms; rods inserted through minimally invasive surgery extend as the child grows and are now the standard in more than 56 countries worldwide.
"In 1989, I recruited Dr. St-Arnaud to the Canada Shriners Hospital and I have had the pleasure of working with him for over 16 years," says Dr. Francis Glorieux, founder of the hospital's research program. "Dr. St-Arnaud is an exceptional leader with proven experience. He will guide the centre's team of dedicated scientists as they continue to make discoveries that will change treatment methodologies and improved the lives of countless children suffering from debilitating bone disorders."
New research centre and new equipment

At the new Research Centre the team of investigators will build on this tradition of excellence. The 29-thousand square foot facility occupying an entire floor of the new hospital offers twice as much space as at the legacy hospital. It houses eight spacious laboratories allowing the hospital to include researchers who were working off-site as well as welcome new investigators.  Each lab has access to tissue culture facilities and ancillary rooms for bench top equipment and microscopy, allowing scientists to fully utilize their research laboratory space.

A much-welcomed new addition to the research centre is a microcomputed tomography scanner (micro-CT), the most advanced in the McGill network.  It provides high-resolution, three-dimensional images of bone allowing researchers to determine the outcome of their experimental treatments. Previously, Shriners researchers rented time on a lower resolution micro-CT in another research facility.

"This will be a game changer for us. We used to rent time on a micro-CT in another McGill lab. Staff lost a lot of time travelling and waiting for test results. Now, we will have at our fingertips, 24/7, a machine that will provide us with top-notch images. We are quite excited about this new piece of equipment," says Dr. St-Arnaud. Additional platforms that will be established at the Research Centre include functional loading equipment to study the response of bone tissue to applied forces.

About Dr. St-Arnaud
Born and raised in Montreal, Dr. St-Arnaud earned his B.Sc. in Biochemistry from Université de Montréal and his Ph.D. in Physiology from Université Laval. He then trained as a PostDoctoral Fellow at University of Ottawa and at State University of New York in Stony Brook. He holds cross-appointments as a tenured Full Professor of Medicine, Surgery, and Human Genetics at McGill University, where he is also cross-appointed to the Faculty of Dentistry.

He holds seven US patents and has published 120 peer-reviewed articles and 41 book chapters or conference proceedings. He has supervised 41 graduate students and postdoctoral trainees, of which 24 were international.

Dr. St-Arnaud was awarded the Fuller-Albright Young Investigator award from the American Society for Bone and Mineral Research, the Outstanding Investigator Award in the Bone Field from the International Bone and Calcium Institute, and the Excellence Award from the Foundation for Research on Children's Diseases. 

About Dr. Francis Glorieux
Francis H. Glorieux's, O.C., M.D., Ph.D., career at Shriners Hospitals for Children spans 42 years of firsts. Dr. Glorieux, a trained Belgian pediatrician, came to Montreal to complete his doctorate and discovered a fascination for medical research. Richard Cruess, C.C., M.D., then recruited him to establish the first research laboratory in the system at Shriners Hospital for Children-Canada in 1973. In that first year, the hospital's research staff consisted of Dr. Glorieux and one research assistant, armed with a budget of $150,000, where today the Research Centre's funding stands at $4 to $5 million with a staff of 50. Dr. Glorieux's research over the last four decades has been nothing short of groundbreaking. He mapped out the gene responsible for vitamin D-dependent rickets type I and developed a hormone replacement therapy. Further research led to adapting the use of existing osteoporosis medications on children with brittle bone disease, discovering several more types of the disease in the process. From his graduate work under Charles Scriver, C.C., MDCM, he established a treatment program for Familial Hypophosphatemic Rickets which, 35 years later, remains the standard of care for this condition worldwide. Together with Dr. St-Arnaud, he mapped out and cloned the gene responsible for vitamin D-dependent rickets type I and developed a hormone replacement therapy. Further research led to adapting the use of existing osteoporosis medications on children with brittle bone disease, discovering several more types of the disease in the process.

Academically Dr. Glorieux's published works have had an important influence on a generation of researchers, having published more than 31 book chapters and more than 232 articles in leading scientific journals, including the Neuman Award from the American Society for Bone and Mineral Research and Honorary Doctoral Degrees from the Universities of Amiens and Lyons. In 2004, he was named an Officer of the Order of Canada for his outstanding contribution to Canadian society.

Dec. 17, 2015