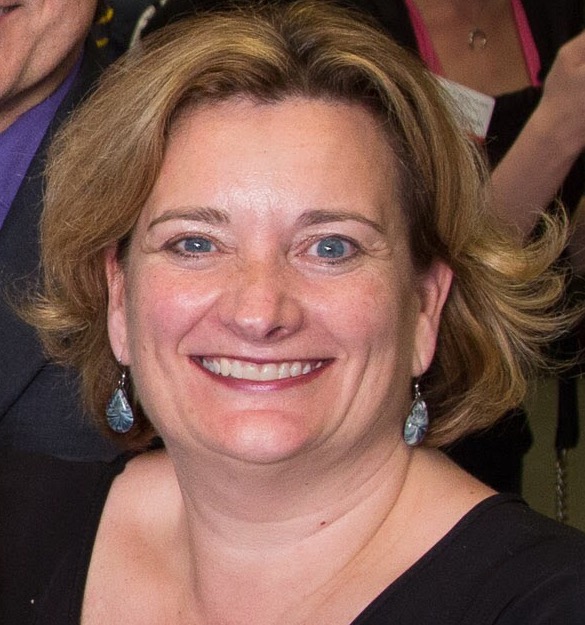 By Christina Kozakiewicz, Ingram School of Nursing

Our dedicated faculty members are the heartbeat of the Ingram School of Nursing (ISoN). On the occasion of International Mentoring Day 2019, Susan Drouin shares her passion for mentorship, leadership development, and much more. Prior to taking on a full-time position of Associate Professor and Director, Continuing Nursing Education at the ISoN in 2016, Susan was a staff nurse, a nurse manager, and an associate director of nursing in women's health, pediatrics, mental health, surgical services, and clinical and professional staff development. In January 2019, Susan was appointed Associate Director, Ingram School of Nursing-Graduate and Online Educational Programs.

International Mentoring Day
is celebrated every year on January 17, while honouring the legacy of Muhammad Ali, to mark the importance and power of mentoring, and how it contributes to creating a better world.
Why did you choose to become a nurse?
I had an interest in people and sciences from volunteer work with children with disabilities, and interactions with the professionals who provided them with assistance.

What led you to leadership development and mentorship (among your other) areas of interest? Why?
I had amazing teachers throughout my childhood and onward, and was welcomed into the profession of nursing by wonderful nurse educators during summer employment at the Montreal Children's Hospital (MCH) way back in 1981. They were so generous with their time, creating a safe learning environment where they consistently demonstrated their belief in my potential – despite the very little I was able to contribute to the care of patients and their families at that time as a nursing student. As I continued in my nursing career, many others opened doors, believed in my abilities, coached me, mentored me and provided all forms of support that I required. These continue to include, nurses, educators, physicians, administrators and friends and family.

This foundational learning experience as a newly minted registered nurse, to be guided in such a manner by other nurses, permitted me to observe and experience the direct benefits of such a supportive approach. I became highly motivated to share what I had benefited from with future nursing generations. From there, I pursued a more formal education in order to gain a better understanding of the barriers and facilitators in healthcare in service delivery and education sectors, to create a workplace or teaching environment that enables lifelong learning and engagement through mentoring and coaching.  That said—I fumbled, made many errors, but learned so much from those initial experiences, that I was able to stay motivated to continue to improve myself. Nursing careers span many years, and one needs to find a passion to nourish mind, body and soul, to continue to be engaged  in a 'caring profession.' Workplaces can be demotivating at times and politics quite brutal, so you need to keep yourself energized! For me – it has always been to ensure that I share my knowledge and ensure that I keep learning.

What motivated you to join the faculty at the Ingram School of Nursing?
I celebrated 25 years of teaching at McGill University in the fall of 2018! I was encouraged 25 years ago by Evelyne Malowany—then MCH Director of Nursing, to apply to become what was referred to at that time as adjunct faculty. I remember the interview—chaired by Professor Margaret Hooton in the classroom of Wilson Hall—with fondness. Evelyne sat next to me as the panel asked me questions. She was sitting so close—to provide support—that I could hear her breathing as I answered the panel's questions about what I wanted to teach, and how I wanted to be involved in the school of nursing. From there, I never stopped, and held positions of faculty lecturer, assistant professor, and associate professor. I have taught courses to undergraduate students in clinical settings, large lecture rooms, and now, for over 10 years, to graduate students, with a focus on courses related to nursing professional development.

While I was the Associate Director of Nursing at the McGill University Health Centre (MUHC) for the Women's Health Mission (1999- 2012), I also held a ranked teaching position within the Department of Obstetrics and Gynecology. In 2012, I left that role, and nearing the completion of my doctoral studies, I opted to apply to become the Associate Director of Nursing at the MUHC, for Clinical and Professional Staff Development. That experience really let me sink my teeth into the challenges of Continuing Nursing Education in practice environments. The MUHC moved to the Glen site in the spring of 2015, and the year leading up to that move provided me with the opportunity to work with online learning strategies, and collaborating on securing a learning management system for the organization's employees to gain access to online learning modalities from their homes and the multiple physical sites of the MUHC.

In the summer of 2016, the Ingram School of Nursing posted for new faculty and I, approaching now 30 plus years in teaching hospitals, decided to take the leap to full-time teaching. I was leaving a very familiar place to move to a new location, where I knew I would find like-minded educators who shared my values and beliefs of the roles and responsibilities of healthcare professionals. I wanted—in this last chapter of my nursing career—to share my knowledge 'upstream' in working exclusively with nurses and other learners  who will assume critical  positions in the future in this complex and demanding healthcare environment.

What do you love the most about your job?
I adore all the creative minds of the students and their 'can-do' attitudes. I can see such promise in them. I enjoy the university environment, where knowledge is a shared value and innovation is encouraged, as well as thinking outside of the box. My colleagues at the ISoN are a source of daily inspiration, and I benefit from their teaching experience as I try to become a better educator. I benefit from the research interests of the researchers within the ISoN and being part of this community of inquiry. The Faculty of Medicine and McGill University have many resources to assist faculty. The investments of financial and human resources are numerous, and there are so many workshops and guest speakers on such a range of topics. I have attended some wonderful presentations on Indigenous Ways of Knowing, Artificial Intelligence, and Canada's Immigration Policies, just to name a few.

What are the top three (doesn't have to be three, could be one, could be ten!) things you want people to know about nursing in general? And leadership development and mentorship?
Nursing is an amazing profession and nurses are, and can be, major-league players in health leadership. That said, we have yet, as a collective profession, to seize this opportunity. Our history, as a predominantly female profession and the continuation to lack of access to higher education (in Quebec and globally), for all registered nurses, has stunted our growth as a dynamic contributor on the global health stage.

We need nurses in practice and the emerging generation of future nurse leaders to speak up, and take their seats at the table. Equally, I think we need the opportunity  to be recognized by decision makers at all levels of society and governments, not only for the virtue of nurses as trusted individuals, but  recognized as knowledge workers and health professionals beyond the paradigm of service delivery as our main focus.

January 17, 2019