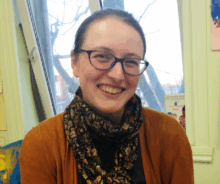 By Christina Kozakiewicz, Ingram School of Nursing

Our dedicated faculty members are the heartbeat of the Ingram School of Nursing (ISoN). Learn more about McGill Nursing educators via Focus on McGill Nursing Faculty. In recognition of #NationalNursingWeek and #MentalHealthWeek, Marjorie Montreuil shares her passion for mental health nursing and much more. Marjorie has clinical experience as a mental health nurse and clinical nurse specialist, both at the Douglas Mental Health University Institute. Within her program of research, she seeks to advance knowledge and practices in child mental health to address ethical issues of high relevance to clinical care. Marjorie joined the ISoN team of faculty members as an assistant professor in 2018.
Why did you choose to become a nurse?

When I started my studies at the university level, my goal was to work within the field of children's rights. I thus completed a baccalaureate degree in International Relations and Law, but felt the work was too far from children's views and experiences. This work was mostly on children and involved very few meaningful interactions with children. I started my career in nursing after working for a year as a volunteer in a children's hospital. This first-hand experience allowed me to meet nurses and learn about their work in supporting and helping children and families, which convinced me to pursue a career as a nurse. Already having an undergraduate degree, I applied for the Direct-Entry Master's Nursing program at McGill, and graduated in 2010. Nursing is at the crossroads of different disciplines and I particularly appreciate the focus on the whole person, on health (not just the illness) and the close and meaningful relationships nurses can develop with patients and families.
What is your area of expertise or specialization and why?

I initially started working as a nurse in youth mental health on an inpatient unit at the Douglas Mental Health University Institute, and then as a Clinical Nurse Specialist focusing more specifically on suicide prevention. It is through this work that I began to value more practical knowledge; I was mandated to develop knowledge-transfer projects and started reading more extensively about participatory action research. I developed a strong interest in research and wanted to address some of the ethical issues I was experiencing and witnessing in my clinical practice. One of the aspects that is most appealing to me in using a participatory approach to research is to find ways to give an active voice to people who are concerned by the issues being studied, and contribute to knowledge development with them. I consider this aspect as particularly important when it comes to children and people with a mental health disorder, whose voices have often been suppressed in research and can also go unrecognized within clinical care. I thus decided to continue my studies at the PhD level—under the supervision of ISoN professor Franco Carnevale—to contribute to advancing child mental health nursing care in partnership with children.
How did you come to this work? What led you to it?

Before becoming a mental health nurse, I initially worked on a child medical unit as a patient care attendant and nursing extern. However, I had really enjoyed the mental health clinical placement during my studies and decided to try child mental health as my first nursing position, which was a perfect fit for me!
What are the next steps/future directions for this work?

With my new position at McGill's Ingram School of Nursing, I am now developing my research program, which aims to address key ethical concerns in child mental health nursing to improve the care provided to children and their families. Specific projects I am currently working on—or which are on the horizon for the near future—include child suicide prevention, children as patient-partners in mental healthcare, crisis management with children and child mental health promotion within community organizations. In parallel to this work, I am also developing research methodologies to engage school-aged children within the research process.
Anything else you'd like to add?

Nursing is an amazing profession! It is a meaningful, rewarding and unfortunately too often under-recognized profession. Nurses represent the largest workforce within healthcare and we can really make a difference in people's lives. This includes improving people's mental well-being in any setting where there are nurses: everywhere!
August 14 2019