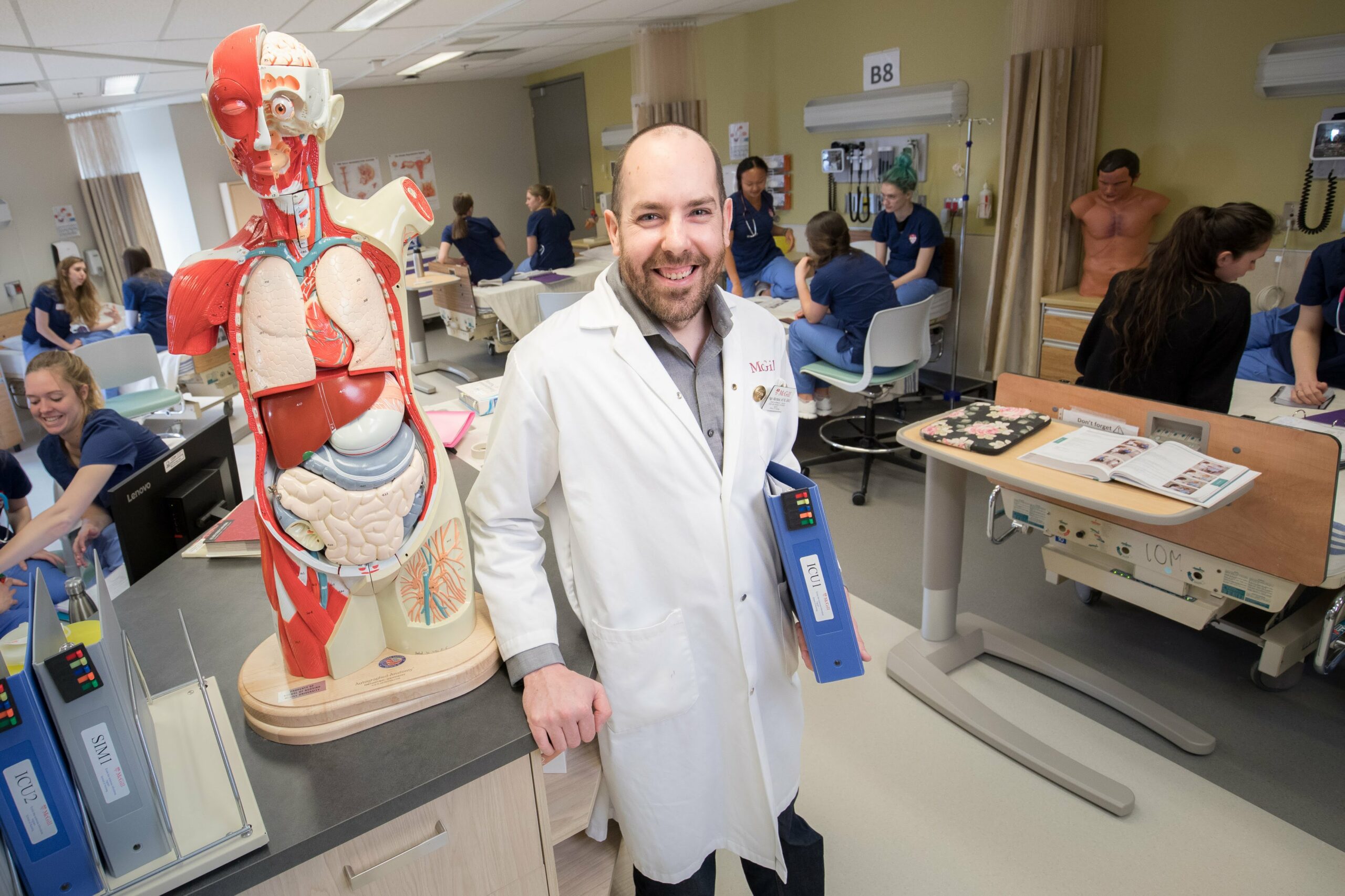 By Christina Kozakiewicz, Ingram School of Nursing

Our dedicated faculty members are the heartbeat of the Ingram School of Nursing (ISoN). Learn more about McGill Nursing educators via Focus on McGill Nursing Faculty. In this edition, Hugo Marchand shares his passion for critical care and cardiology nursing, and much more. Hugo Marchand, RN, BNI, CCNE is the Academic director of the Learning Laboratories at the Ingram School of Nursing. He has worked in ICU settings, in community and in research. As Academic director of the learning laboratories, he is involved in managing the personnel of the lab, direct teaching, development of simulation and evaluation.

Why did you choose to become a nurse?
Nursing was actually a second career for me. I first studied Political Science wanting to be a diplomat on missions overseas. After finishing that degree, I worked in a management job that I soon found was not really life changing, and I wanted to find a career where I could make a difference in people's lives. My father was a mental-health nurse, and I had always been intrigued by his work. When I decided to go back to school, Nursing was a first choice for me. From the first week of my clinical studies when I met my first patient, I knew I was in the right profession. The difference you can make in people lives as a nurse became a driving force for me. A few years later, I was working with a nursing student who remembered me as the nurse who had cared for her father when he was hospitalized, and that I was the inspiration for her to apply to nursing. This made me realize that I could share my passion with nursing students. That is what drove me to explore a career in nursing education.

What is your area of expertise or specialization and why?
I specialized in critical care nursing when I was working in the hospital setting, and have since specialized in simulation when I came to the Ingram School of Nursing. Actually, I initially thought that geriatric nursing would be my calling, but after doing my clinical placement at Institut de Cardiologie, I realized that I had found my place in critical care and in cardiology. Simulation was a second calling, and I believe that it allows us to better prepare students for the realities of clinical work.

What motivated you to join the faculty at the Ingram School of Nursing?
I completed my Bachelor of Nursing (Integrate) (BNI) program at the Ingram School of Nursing, and have always liked the teaching atmosphere at the school and at McGill, so when the opportunity arose for me to return to the School—initially as a clinical instructor—I jumped at the chance. I was also quite active in the Nursing Undergraduate Society (NUS) during my two years as a student, and had come to appreciate some of the faculty who had taught me, especially Francoise Fillion and Madeleine Buck, who were inspirations for me. Working with them, and our entire faculty, has been a great experience. The smiles I see on everyone's faces every morning, and people's dedication to their work is fantastic.

What do you love the most about your job?
I love the contact with students, and the teaching and the sharing of knowledge. I also believe it is our responsibility to share not only our knowledge but also our passion, professionalism and dedication for nursing. I am grateful to work daily with an amazing team in the Nursing learning laboratories. They have been working very hard, especially since our move to our new location in August 2017, toward building the capacity that we now have. Together, they make the difference, and they make our students' learning experience both unique and exciting.

What is something you want people to know about nursing in general?
Nurses have so much influence in people's lives. We can work with patients to empower them, advocate for them and work with their strengths throughout their experience of care.

February 20, 2019