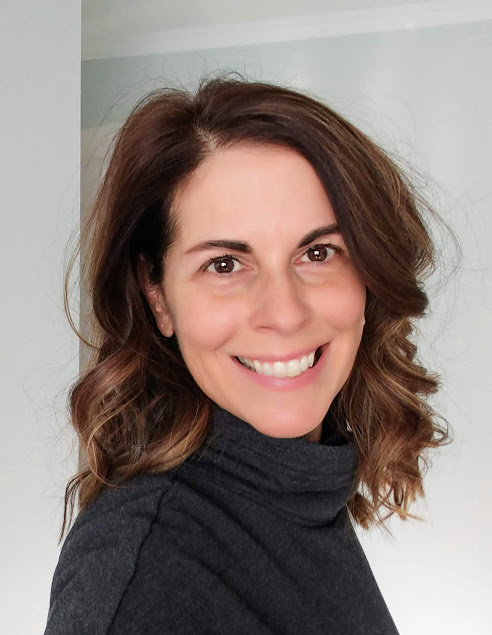 By Christina Kozakiewicz, Ingram School of Nursing

Our dedicated faculty members are the heartbeat of the Ingram School of Nursing (ISoN). Learn more about McGill Nursing educators via Focus on McGill Nursing Faculty. In this edition, Annie Chevrier shares her passion for nursing, teaching, and much more. Prior to taking on a full-time teaching position at McGill in 2013, Annie worked in various positions in acute-care health institutions. She has held several advanced nursing practice roles in several specialties, namely inpatient and outpatient medical-surgical nursing, internal medicine, and acute and critical care.

Why did you choose to become a nurse?
I think nursing chose me. I had envisioned a very different path for myself professionally in my early 20's. I had embarked on a Communications, Journalism and Marketing degree at Concordia University because I am an innately curious and passionate person about all things and all people. I love discovering and getting to know people and learning their stories. Throughout my studies in this field, I felt privileged to have people share their wonderful stories of love, strength, struggle, humanity, vulnerability and generosity.

Along the way on this initial journey, I discovered I also had an enormous desire to help, support and accompany others, and nursing appeared in my field of vision as a profession embodying everything that I held dear in terms of; values, objectives, science, knowledge, skills, all as tools to help others develop, enhance and sustain their health and wellbeing.

So I embarked, full-steam ahead, with all the  energy, dedication, passion, curiosity and resolve that I had, in trying to make a difference, one patient, one family, one colleague, one student at a time. It has been an amazing journey, and I feel extremely fortunate that I have been allowed to pursue many of my passions in the field of nursing. I have been able to collaborate with extraordinary and talented nurse scientists, educators, leaders, clinicians, and other healthcare professionals, alongside patients and families, and students.

The journey never ceases to amaze me. Nursing, for me, is a lifelong journey that sustains me with the energy to want to discover more, to contribute and participate in the innovations and development of nursing as a discipline, one that plays a crucial role in our society.

My journey and professional trajectory have, by all accounts, not followed the traditional path. I became a nurse in my late 30's, when nursing beckoned to me loudly and very insistently to return to school to acquire my nursing degree. So, after the invaluable encouragement of my family, I became a student once again.

I was the 'old lady' in class, as some of the younger students in my classes were in their late teens. It was a humbling experience, but one that provided me with the rare privilege of supporting and helping these young adults on their respective journeys of becoming nurses. We became a tightly knit group. I learned from them that's it OK to go with the flow, and they kept my tendencies to try to control things in check. And they, I think, learned from me that it's OK to not have all of the answers, and that learning is more about being open to possibilities, and being curious. We laughed a lot, we cried a lot, and we learned the power and healing that comes from friendship and generosity.

What is your area of expertise or specialization and why?
After completing my nursing studies, I found my wings, so to speak, when I became an Intensive Care Unit (ICU) nurse. It was in this area of specialized care that I felt I was finally able to articulate the fundamental scope of what nursing is to me.

Patients, families, and their health experiences have always fascinated me, and so, in everything that I do, I endeavour to develop the knowledge, skills and competencies required for the optimization of their care and health outcomes. Patient safety and quality of care have been at the forefront of my professional practice, and I have had the privilege of contributing and developing initiatives in the clinical area of patient care, namely diabetes and wound care, obtaining my Medical-Surgical Nursing (CMSNC) certification (CNA) in 2011.

My professional development and career trajectory soon took me on new and exciting paths after I graduated with my MScA in Nursing (McGill, 2010). I embarked on an advanced practice nursing (APN) role, and was further able to contribute to important initiatives in the improvement of patient safety and care; continuing education of staff nurses, and teaching new nursing students at the undergraduate and graduate levels.

What motivated you to join the faculty at the Ingram School of Nursing (ISoN)?
Again, I believe that teaching and joining the ISoN found me!

Although I felt extremely happy and fulfilled in my role as an APN in clinical practice and as a sessional faculty lecturer at the ISoN, a bright new challenge appeared on the horizon, one that I felt I needed to pursue.

At that particular time, the nursing profession as a whole was having to deal with some increasingly complex societal challenges. Easy, knee-jerk quick fixes seemed to be the operative solutions, but we needed to examine the profession as a whole and decide what needed to be done to address these challenges. More and more conversations and reflections were taking place on how educational institutions were preparing our future nurses for these realities. During that time, I remember the 2010 publication of Dr. Patricia Benner's seminal book Educating Nurses: A Call for Radical Transformation and its major influence on the nursing profession. I had been personally and professionally internalizing and externalizing the ideas articulated by Dr. Benner while teaching at the ISoN. Our students were and still are today, wonderfully talented, smart, motivated and curious, as they take the leap into the nursing profession. I knew that as educators, we were doing great things, but that we had a profound responsibility in ensuring that we were doing our utmost as an institution and as faculty to prepare them for the complex world of healthcare and nursing.

So, I took another leap in 2013 to full-time teaching! My goal was simple—and very ambitious—that I would contribute in any way, shape or form that I could to ensuring that our curriculum and our programs would be designed and implemented so that our nursing graduates would have the most excellent knowledge, skills and expertise to fulfill their social contract with society as nurses in practice.

I took this leap knowing that I would be working with some of nursing's most talented and innovative professionals whose collective contributions to the discipline have profoundly impacted the health and wellbeing of patients, families and communities worldwide. It is an honour and a privilege for which I am thankful every day.

What do you love the most about your job?
I love the creativity and passion that I see in all of my colleagues, every day, rain or shine!

The ISoN is a beehive of activity, a laboratory of sorts, where our imaginations, ideas and creativity help us create and develop pedagogy, research, as well as clinical and teaching innovations that will contribute to the advancement of nursing.

What is something you want people to know about nursing in general?
Nursing is uniquely positioned in the healthcare professions. Nurses are the only professionals who are with the patient 24/7, accompanying them across the continuum of care. Nurses have a holistic perspective of health, illness, and healing. The pillars of the nursing profession are patient/family-centeredness – empowerment – innate health and healing, and relational care.

Anything else you'd like to add?
Being a nurse is a unique privilege, one that comes with great responsibilities. Nursing is a science, and a discipline that requires its members to have skill, knowledge, and competencies for optimal health for patients, families and communities.

April 4, 2019