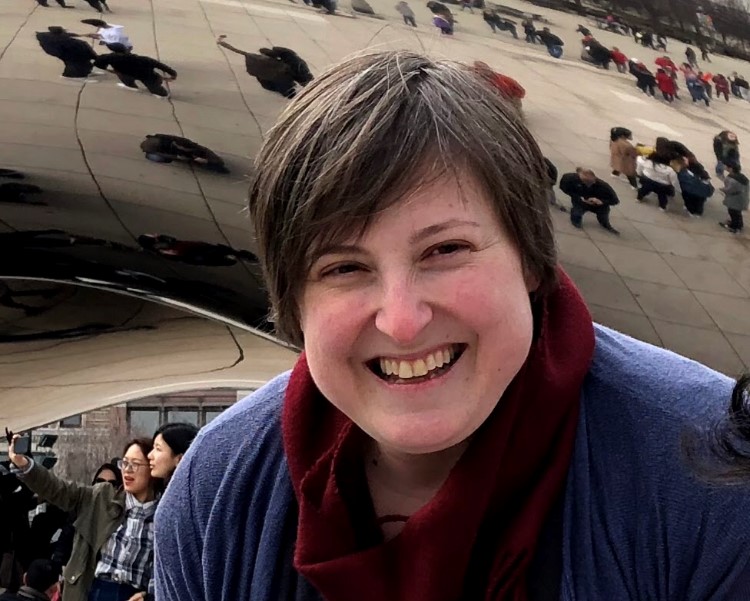 By Christina Kozakiewicz, Ingram School of Nursing

Our dedicated faculty members are the heartbeat of the Ingram School of Nursing (ISoN). Learn more about McGill Nursing educators via Focus on McGill Nursing Faculty. In this edition, Amanda Cervantes shares her passion for nursing and teaching, and much more. Prior to taking on a full-time faculty lecturer position at the Ingram School of Nursing (ISoN) in 2018, Amanda Cervantes began her nursing career as a nurse clinician in the Pediatric Intensive Care Unit at the Montreal Children's Hospital. During this time, she also taught for the School of Nursing as a pediatric clinical instructor for the Direct-Entry and BScN programs. She holds a Bachelors of Fine Arts in Theatre Production and Design from New York University.

Why did you choose to become a nurse?
I got my Bachelors of Fine Arts in Theatre Production and Design from New York University (NYU), and I lived in New York and worked on many, many different projects, mostly as a Stage Manager or Lighting Technician. I spent a lot of time on ladders in random experimental theatres around the city. I started to look at going back to school in international studies, since I have always been interested in migration and refugee issues. I took a job at the NYU Graduate Acting Department and started taking classes in the Political Science Department. I started to think about the next steps I wanted to take, and at this point, I was planning my move to Montreal, which included attempts at transferring to the Political Science departments at both Concordia and McGill, but not being accepted. At the same time, I was looking at various international organizations, and I could see that the required skills were directly related to health-care delivery, and so, I looked to nursing as a possible entry into international work.

I moved to Montreal and spent some time looking at nursing programs in the city, taking French classes, and settling in. I came upon the Direct-Entry Program at McGill through a happy web navigation accident, and even though I was concerned that my undergrad would not qualify me for application, I was encouraged by the people I met at the School to complete the prerequisites and apply. I returned to the US and completed one full year of science prerequisites, and then I applied to the Direct-Entry Program at McGill and was accepted, and so began my nursing life.

During my first year, I realized how limited my understanding of what nursing was. I was lucky to have a stage at the Shriner's during my first semester, where I realized that working with children was my passion. In doing a stage in the Intensive Care Unit (ICU) at the Jewish General Hospital (JGH), I found another passion with critical care. I got through the rest of my stages with adults, and then, out of sheer luck, I started my career in the Pediatric Intensive Care Unit (PICU) at the Montreal Children's Hospital.

I thought I would stay there for a bit and then start my international career, but I kept feeling like there was more to learn and never felt ready to leave. Also, my colleagues became an amazing work family. PICU Nurses Forever.

What is your area of expertise or specialization and why?
PICU. I love working with children. They are in the moment. If your intention is kindness, kids are usually quick to forgive the painful interventions. They are direct and unfiltered, and say the funniest things. They appreciate small moments. A silly song, a quick conversation about whether Chase from Paw Patrol is the best. Even the little ones respond to touch and voice. And families appreciate these little interactions as well. It is so easy to see the child through all the wires and tubes. I think there is an idea that PICU is all technology and really sick patients everywhere, and there are a lot of monitors and pumps, so PICU nurses have to be comfortable with technology. But everyone I work with does the job for the kids not for the machines. From a professional perspective, I love the autonomy and the team work in the PICU. The nursing assessment is taken very seriously. The teamwork in the PICU at the Children's is also extraordinary. There is minimal hierarchy and everyone's opinion is taken very seriously.

What motivated you to join the faculty at the Ingram School of Nursing?
I started doing clinical teaching for the school in 2015 and I loved it right away. I was always at the Children's—usually the surgical floor, they are awesome, shout out to them—I taught direct-entry and BScN students. My goal as a clinical teacher was to have everyone fall in love with nursing at the Children's the same way I did. Last year, the school posted a CAS Faculty Position with an emphasis on experience working with infants, children and adolescents, and I was ready to try teaching, so everything came together at the perfect moment.

What do you love the most about your job?
I love how the students ask me questions causing me to consider things I had never thought about. They challenge me to think differently about things. They remind me of how much I have to learn, and they challenge me to help give them to tools for them to keep learning as well.

What is something you want people to know about nursing in general?
Nursing is an amazing and diverse profession, and nurses are so diverse as people. Nurses do all kinds of different work as part of the profession, and I am always amazed when I go to conferences and hear the people in the room describing their work. Nurses are the funniest group of people I have ever worked with—and I have worked with people whose job it was to be funny.

Anything else you'd like to add?
I am new to the School and actually fairly new to nursing. It will be interesting to see how some of my answers to these questions change over time.

February 28, 2019