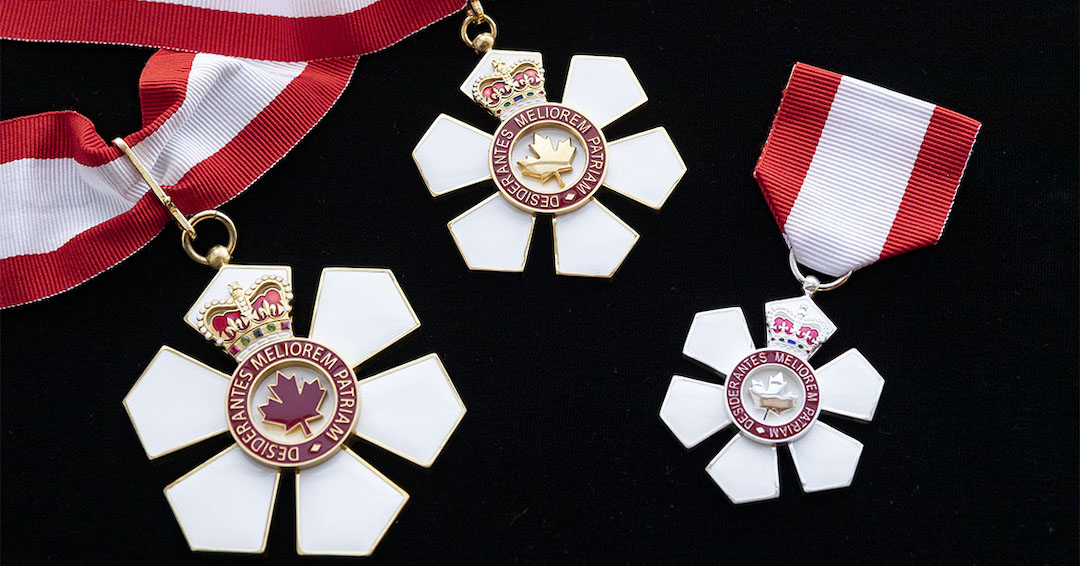 Richard Keith Reznick and Keith R. Walley honoured, along with five other members of the McGill community, by Governor General Mary Simon 
Her Excellency the Right Honourable Mary Simon, Governor General of Canada announced a total of 85 new appointees to the OOC on June 30. Seven members of the McGill family were among those appointed to, or promoted within, the Order: Daniel Weinstock, Alan Bernstein (DSc'10), Clément Gascon (BCL'81), Richard Keith Reznick (MDCM'1977), Susan Swan (BA'67), Keith R. Walley, and Samuel Weiss (BSc'78). See below for more information about these outstanding McGillians. 
"Today, we recognize individuals who have made an extraordinary contribution to our society," the Governor General wrote in her announcement. "A group of individuals who, through dedication and ajuinnata—perseverance—make our communities and our country better every day. At the same time, we must also acknowledge that work remains to ensure that Canadian honours better reflect the full diversity of our country.  Nominations continue to fall short of representing the excellence achieved by women, Francophones, persons with disabilities, and people from culturally diverse backgrounds.  We want to learn more about the contributions from Indigenous peoples, Black and 2SLGTBQIA+ communities, to truly honour the richness of our country. We encourage everyone to have a say in how we honour our fellow Canadians by nominating individuals that reflect the very best of who we are and want to be." 
The Governor General will present the honourees with their insignia at an investiture ceremony at a date to be announced. 
MDCM appointees: 
Richard Keith Reznick (Officer) 
OC citation: For his innovative contributions to the field of medical and surgical education. 
Richard Reznick is Dean Emeritus of the Faculty of Health Sciences at Queen's University. He served as President of the Royal College of Physicians and Surgeons of Canada from 2021 to 2023. He graduated from McGill with an MDCM in 1977. 
Keith R. Walley (Member) 
OC citation: For his innovative and translational research in the field of sepsis and septic shock. 
Keith Walley is a practising intensivist in the ICU at St. Paul's Hospital and a researcher at the Centre for Heart Lung Innovation in Vancouver. His research has facilitated the emergence of anti-PCSK9 therapies as one of the most promising treatments for sepsis. He completed his internal medicine residency at McGill in the early 1980s.  
Other McGill appointees: 
Daniel Weinstock (Member) 
OC citation: For his exemplary contributions to the advancement of political philosophy, public policy and social justice in Canada, as a renowned ethicist, philosopher and public intellectual. 
Over recent decades, Daniel Weinstock, Professor in McGill's Faculty of Law, has brought a distinctive voice to a number of public policy debates that have taken centre stage in contemporary Quebec society, bringing insights from moral and political philosophy to bear on issues ranging from equitable access to higher education, the accommodation of cultural and religious diversity within liberal democratic societies, and health equity. 
Weinstock joined McGill's Faculty of Law in 2012 but his connection to McGill goes back much further than that. As a student here in the early 1980s, Weinstock's teachers included the pre-eminent Canadian philosopher, Charles Taylor. After earning his BA in philosophy and political science, and MA in political philosophy, he headed to Oxford University in 1986. His doctoral studies there included a stint as a visiting fellow at Harvard University before he received his DPhil in political philosophy from Oxford in 1991. After postdoctoral work at Columbia University, Weinstock became a faculty member in the Department of Philosophy at Université de Montréal in 1993 before his eventual return to McGill some 20 years later. 
From 2013 to 2020, Weinstock served as Director of the McGill Institute for Health and Social Policy. He is currently the Katharine A. Pearson Chair in Civil Society and Public Policy in the Faculties of Law and of Arts. 
Alan Bernstein (Companion – promotion) 
OC citation: For his enduring impact on Canadian health research and science policy as a visionary leader and steadfast supporter of future generations of researchers. 
McGill awarded Alan Bernstein an honorary Doctor of Science in 2010 in recognition of his pioneering work in cancer research, stem cells and hematopoiesis (the process by which the cellular elements of the blood are formed), and his instrumental role in the transformation and promotion of health research in Canada. 
Clément Gascon (Companion) 
OC citation: For his exceptional contributions to Canadian law and for his deep commitment to destigmatizing mental illness, particularly within the legal community. 
Clément Gascon was appointed to the Supreme Court of Canada in 2014, serving until 2019. During his judicial career, he remained involved in legal education for lawyers of many provincial bars as well as for law students at McGill and elsewhere. He graduated from McGill with a Bachelor of Civil Law in 1981. 
Susan Swan (Member) 
OC citation: For her contributions to Canadian literature and culture, and for her mentorship of the next generation of writers. 
Susan Swan is a journalist and author whose critically acclaimed fiction has been published in 20 countries. Her 1993 novel The Wives of Bath was a finalist for the Guardian Fiction Prize and the Trillium Book Award. As a McGill student, she worked on The McGill Daily before graduating with a Bachelor of Arts in 1967. 
Samuel Weiss (Member) 
OC citation: For his groundbreaking discoveries in neuroscience that have led to novel approaches in the treatment of brain disorders. 
Neurobiologist Samuel Weiss is a professor at the University of Calgary and the Scientific Director of the CIHR Institute of Neurosciences, Mental Health and Addiction. His research has led to new approaches for brain cell replacement and repair, as well as to novel, experimental therapeutic strategies for brain cancer. He received a Bachelor of Science in biochemistry from McGill in 1978.